Saracens vs Munster: Billy Vunipola says there was 'no intention to hurt anyone' in supporting Israel Folau
Saracens' dominant 32-16 victory was somewhat overshadowed by the hostile reception that greeted Vunipola, with one Munster fan confronting the No 8 long after the final whistle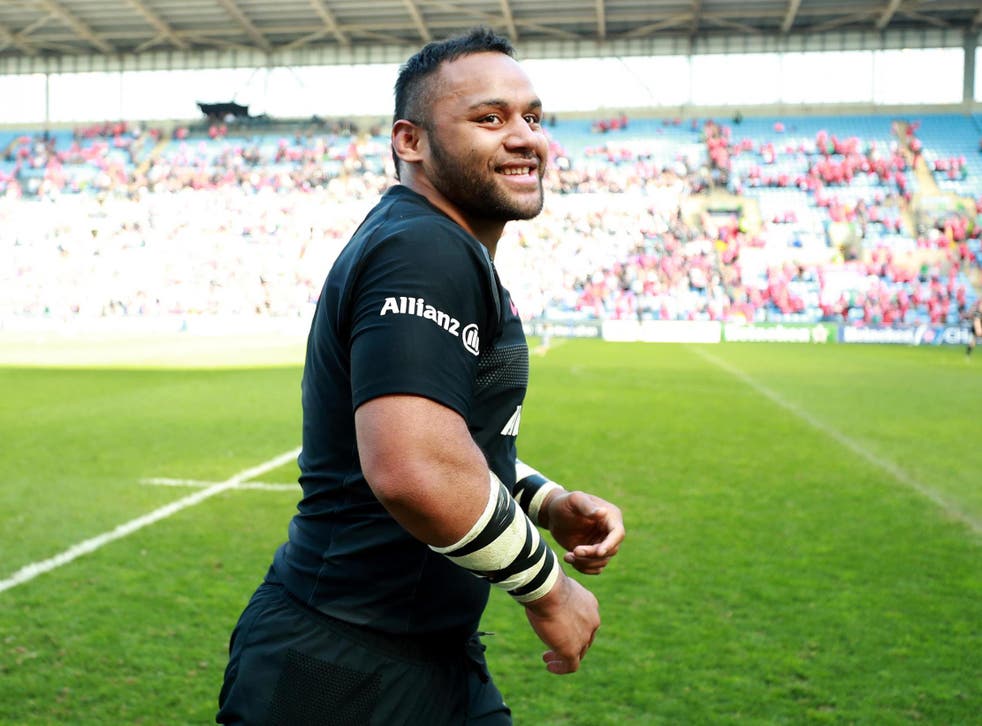 Billy Vunipola insisted in the wake of Saracens' Champions Cup semi-final win over Munster that there was "no intention to hurt anyone" with his comments supporting Israel Folau last week.
Saracens' dominant 32-16 victory was somewhat overshadowed by the hostile reception that greeted Vunipola, with one Munster fan confronting the No 8 long after the final whistle.
Vunipola, who made his 100th appearance for Saracens, was jogging around the Ricoh Arena to join his teammates in celebration while applauding those fans left in the stands, only for a man wearing a Munster shirt to run onto the pitch and gesture towards him before being restrained by stewards.
Vunipola – who was very much the centre of attention with rainbow flags scattered amongst the stands and boos from the Munster supporters every time he touched the ball – said that his support for Folau was never intended to hurt anyone.
"Behind closed doors I felt a lot of love, a lot of kindness shown to me and I am very grateful to be part of this team," Vunipola told BT Sport. "Hopefully we can just keep this going and keep up what we are doing.
Six Nations Team of the Tournament

Show all 24
"From my point of view I believe what I believe in, there was no intention to hurt anyone, that was never my intention and I am just glad to play, to be fit and hopefully we will see those guys in the final."
Munster refused to comment on the incident, which saw the pitch invader detained by stewards and held in the ground.
A European Premier Club Rugby spokesman said: "EPCR does not condone the entry of a spectator to the field of play. Following the regrettable incident at the Ricoh Arena, the spectator in question is currently being detained by the stadium authorities."
Saracens director of rugby Mark McCall elected to start Vunipola following the difficult week – in which he was given formal warnings both by Saracens and the Rugby Football Union – and stressed afterwards that he is keen to draw a line under the incident and move forwards by focussing on the rugby.
"Billy was outstanding today, so were all of his team-mates to be honest," McCall said. "We got all the big parts of our game right today and a great team effort.
"As a group we were determined not to let this week pass us by because we work incredibly hard to be involved in weeks like this one, games like this one. And we ended up having a brilliant week and you can see that in the performance today.
"You could see how tight we were today. The club dealt with it, it was dealt with decisively, it was dealt with quickly and it was dealt with, in my opinion, fairly.
"Then we just got on with the rugby and that's what we're here to do, get on with the rugby. We had a great week and played well today and now we look forward."
Vunipola added the final converted try to put the 32-16 result beyond doubt – following a Michael Rhodes try and 22 points from the boot of Owen Farrell – and repeat the 16-point victory they secured over Munster in the 2017 Champions Cup semi-final.
On that occasion, Saracens went on to retain their Champions Cup crown by defeating Clermont Auvergne in the final, but their European domination was ended by Leinster in the 2017/18 quarter-finals.
Yet with Leinster taking on Toulouse on Sunday to decide who will face Saracens in next month's final, full-back Alex Goode admitted that while it would be nice to get another shot at the reigning champions, they are not fussed about who they face.
"We spoke about throughout the campaign how we were disappointed to go out in the quarter-finals last year and that helped us fuel any fire in terms of being better and having that intensity," Goode said. "But I don't think it matters who we play, we just want to be out there and we're now in the final and that excites us. We'll prepare for whoever we play against."
Join our new commenting forum
Join thought-provoking conversations, follow other Independent readers and see their replies