Comment
I knew Sale Sharks' Steve Diamond was a bully - and now I know for sure
In September, Sam Peters wrote an article critical of Sale's Director of Rugby and his divisive coaching methods. On Saturday, Diamond sought him out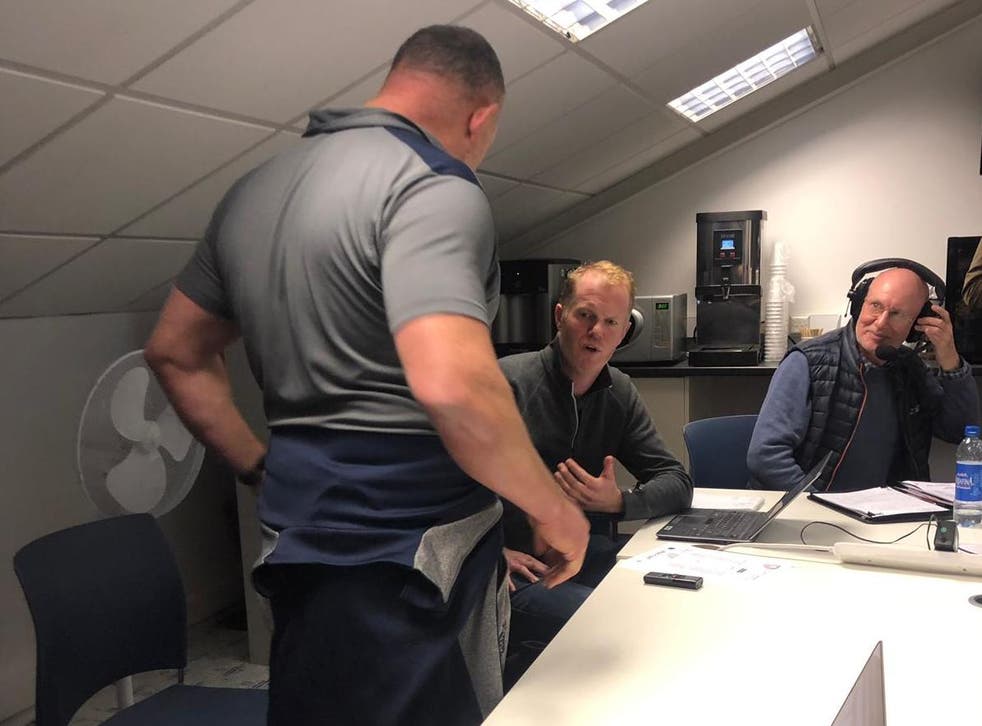 It took Steve Diamond less than three seconds after his formal media duties ended to find me in the Kingsholm press room.
I was, after all, sitting immediately next to the press huddle and listening closely to his answers.
The paper I was working for on Saturday, The Sunday Times, has little interest in the quotes-driven reports demanded by some newspaper desks so I saw no immediate requirement to ask a question. I was working on a tight deadline so I would only use quotes if they were back page material. As it was, they weren't. So I cracked on with my 600 word match report.
Suddenly I felt Diamond's presence.
"You not asking me any questions?" the 50-year-old director of rugby demanded as he stood over me at my work desk.
Sale Sharks rugby coach Steve Diamond clashes with Independent's Sam Peters
"No, I don't need quotes," I replied.
"You not asking me any questions?" he repeated.
"No, I don't need quotes," I said.
"No? No? What a pack of lies you wrote about me," he stated.
By "pack of lies" Diamond was referring to a piece I'd written in September for the Independent in which I was highly critical of his coaching methods, overly forthright interactions with his club's medical staff and general air of menace that exudes from every pore of his 18-stone body. You can read that article here.
The article, following Sale's defeat to Wasps, had been sparked by what I believed was bullying behaviour displayed by Diamond towards a young and inexperienced reporter in the post-match press conference.
Here was I on our first encounter since, almost 41-years-old and with 17 years of experience in the industry, experiencing precisely the kind of in-your-face, snarling intimidation I had criticised Diamond for in the first place.
I'd fully anticipated a response, but after Sale produced their best performance of the season in downing Gloucester at Kingsholm, I had thought for a brief moment even a man with his reputation may choose to let it go. I was wrong.
"Where was the lie," I asked.
"Loads of them," he replied.
"Where? Go on, name one," I said.
"Loads of them. Talking about HIAs," he said.
(I had reported comments made by Diamond to medical staff over an intercom system which had been in earshot of the press benches during the Sale v Wasps game as well as previous on-the-record comments by Diamond in which he criticised the Head Injury Assessment (HIA) process. I also reported on Sale's ongoing legal case with former player Cillian Willis which is expected to come to court in February. You can read that article here.)
"I heard them with my own ears," I said.
"No you didn't," he said.
"Yes, I did," I replied.
"No you didn't," he stated.
"Then why didn't your legal department get in touch?" I asked.
No answer.
For the record, the Independent did not receive a single approach from anyone connected with Sale Sharks questioning the veracity or accuracy of the original article published in September.
If things hadn't already taken a school playground turn then they were certainly about to. As if calling me out in front of my colleagues and friends while looming over me as I sat down attempting to do my job was not enough, Diamond then proceeded to "offer me outside" where the clear implication was we could settle things "as men".
My original article had criticised Diamond's "old school" methods, questioning if they were relevant or appropriate in what we must still pray are more enlightened times. After witnessing him scream, holler and abuse his way through the 80 minutes of a game let's not forget his team won in some style, Diamond was treating me just as I'm reliably informed he routinely treats many of his staff, players, player's agents and match-day officials.
There's a saying in our game "you couldn't make this up," and this felt like one of those moments.
"Let's go outside and have a proper chat," Diamond said to me, ushering me towards the lifts and stairwell.
"I'm talking to you here," I replied.
"Let's go out," Diamond said.
"No, no. It's alright. There's absolutely nothing you can say that you can't say here." I replied.
I had my suspicions what he meant by "proper chat" and I wasn't desperate to engage him in the physical confrontation he appeared to be hankering after.
But as he loomed over me, and repeated his demand, I felt compelled to go out.
"Let's do it," I said.
"Come on," he said.
Aware physical violence was a real possibility, I carried my dictaphone (which was still running from the press conference) as a means to protect myself if the seemingly inevitable happened. If I was going to be assaulted in the line of doing my job, I at least wanted the incident recorded and therefore available to be picked apart and judged by others further down the line.
"Why didn't you send your legal team down? Why didn't you put your legal team on us?" I repeated as we made our way to the exit doors in front of a stunned press room.
As soon as we turned the corner, he was in my face, although in truth I am not certain he realised beforehand that I am 6ft 3in tall and he couldn't quite strain his neck enough to achieve maximum effect.
"You fucking shithouse," he snarled before snatching the dictaphone from my hand and attempting to pull the batteries out.
You can hear a brief moment on the tape where I attempt to wrestle the dictaphone back from him and tell him what he is doing is tantamount to theft before the recording cuts out.
There then ensued a further confrontation in which bizarrely, Diamond repeatedly told me to "get your hands off me, get your hands off me" even though I never attempted to physically interact with him other than to retrieve my property.
It was clear Diamond thought the device was still recording and thought he could make it sound as if I was physically attacking him. There will never be any evidence of this occurring as, in fact, it did not. I have requested CCTV footage from Gloucester to prove no physical interaction occurred.
With Diamond's son Sam, who is also Sale's media and communications manager (I told you, you could not make this up), witnessing the entire event and doing nothing to intervene while long-serving and much-liked Sale club media man John Everton was also a witness, a growing crowd of my colleagues gathered at the exit door which led onto the stairwell above the players changing rooms.
Ben Coles, a trusted rugby reporter at The Telegraph, recorded the last moments of our interaction when Diamond, who let's not forget had asked me outside, can be seen repeatedly telling me to "go away" while I accuse him of being a "fucking bully", which I firmly believe he is.
"If you put your hands on me like that again I will have you arrested," Diamond states as he realises the incident is being videoed. For the record, I never laid a finger on him other than to retrieve my property.
"Unlike you, I am not a fucking bully," I tell him.
"Go away."
"You are (a bully), and I'm not intimidated by you." I add. "I am not intimidated by you my friend."
"Go away, go away, go away," he adds, seemingly forgetting how this confrontation began with his mildly sinister invitation for a "proper chat" in the stairwell.
"You are a bully and you know it," I repeat as Diamond moves towards the lifts, perhaps knowing the game is up.
"You're a bully, you're a fucking bully," I state again, perhaps overegging the point.
This continues for another few seconds with me repeating my comments and reminding him "you invited me out here" before being ushered away by freelance reporter Roger Panting.
As I sit here, writing this piece, I am still in a state of mild shock that Diamond should chose to engage me in this manner. I stand by every word I wrote in the original piece criticising his methods, his persona and his apparent willingness to use his imposing physical form to intimidate and bully anyone who crosses him.
In so many ways, what happened at Kingsholm on Saturday during and after the match – Gloucester had already by Sunday morning received multiple complaints about his behaviour which included berating third official Tim Wigglesworth at half time, shortly after screaming "fucking cheating bastards" at Gloucester's players and rowing with a disabled lady sat behind him after she asked him to curb his language – vindicated what I wrote back in September.
I believe Diamond and his methods are outdated and have no place in a sport I love.
I will be accused by some of having an agenda but my only agenda is to report what I see, what I hear and what I know. I have no axe to grind with Sale Sharks but clearly it has become personal with their director of rugby.
I've been asked countless times already if I'm going to make a formal complaint to the Rugby Football Union and the answer is; I'm going to think about it. Part of me wants to in order to show that rugby journalists won't be intimidated by Diamond's posturing "old school" methods and the other part of me does not want to drag things out beyond this article. That may be taken out of my hands.
Make up your own mind what you think of it all.
I know my view of Steve Diamond has not changed one jot following yesterday's confrontation.
P.S Well played Sale's players. Sorry this has overshadowed things slightly.
Register for free to continue reading
Registration is a free and easy way to support our truly independent journalism
By registering, you will also enjoy limited access to Premium articles, exclusive newsletters, commenting, and virtual events with our leading journalists
Already have an account? sign in
Register for free to continue reading
Registration is a free and easy way to support our truly independent journalism
By registering, you will also enjoy limited access to Premium articles, exclusive newsletters, commenting, and virtual events with our leading journalists
Already have an account? sign in
Join our new commenting forum
Join thought-provoking conversations, follow other Independent readers and see their replies