Tiger Manu Tuilagi will remain the centre of attention
Leicester colossus puts to one side talk of playing on wing for England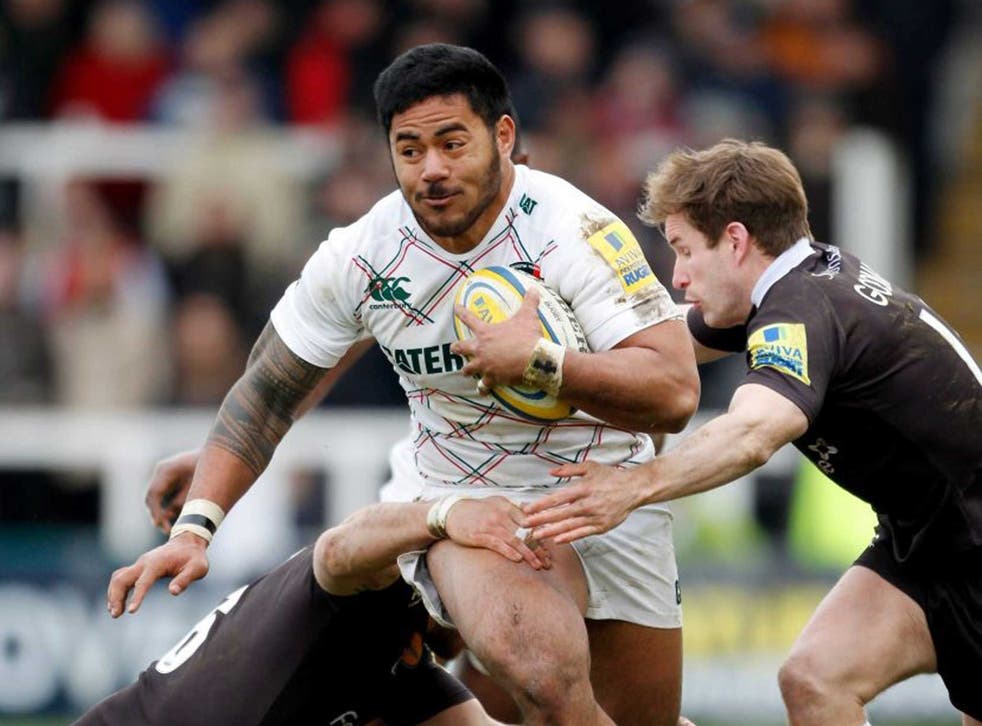 All the recent talk of Manu Tuilagi relocating his unique skillset to the wing with England was wide of the mark when the Anglo-Samoan colossus made his much-anticipated reappearance for his country as a substitute centre in Italy last week. And he will continue in the same position – the only one he ever expects to occupy for his club, Leicester – from the start against Exeter Chiefs today, as he ends a frustrating six months between matches at Welford Road.
Tuilagi may be the quickest player in the England squad over 10 metres but the 22-year-old has been forced to play a waiting game this season. In his last home game, in September against Newcastle, he tore a chest muscle making a touchline tackle.
It was thought that natural rest would do the healing, and Tuilagi was back lifting heavy weights before a scan in November showed the muscle needed reattaching to the humerus in his left arm. He went immediately for an operation in a London hospital and has a livid scar as the surface sign of a procedure that left him with two centimetre-long bolts buried in the bone.
Joel Tomkins of Saracens wore England's No 13 jersey in the autumn Tests – unconvincingly before he, too, was injured. Next in was Luther Burrell, an inside-centre at Northampton but for the Six Nations used one place further out in the England threequarter line, alongside Billy Twelvetrees.
The England head coach, Stuart Lancaster, has said that at next year's World Cup one centre will cover the wing. Tuilagi is the only candidate, having been a wing at school – scoring a try in a Twickenham cup final for John Cleveland College – and in Leicester teams below the first XV. But his senior career has always been at centre.
"I was prepared to cover all positions against Italy," Tuilagi said as he looked forward to a "massive three weeks" of Premiership meetings with Exeter and Northampton, plus a Heineken Cup quarter-final away to Clermont Auvergne. "And I had trained everywhere in the lead-up, with Jonny May, Jack Nowell and Mike Brown helping me out in the back field.
"But there's not much been talked [by England] about playing on the wing. It's not a big deal. To contribute in the team is all that matters to me."
Is there any likelihood of Leicester using him on the wing? "No," said Tuilagi, bluntly. "We have great wingers here. We have Niki Goneva, Adam Thompstone, Blaine Scully, Niall Morris. I don't think we'll need me on the wing. Niki has played centre this season and done it very well, but he's a specialist wing and he's there against Exeter."
Next Saturday Tuilagi will go head to head with Burrell at Franklin's Gardens. If tries were the only measure Burrell was a Six Nations success, scoring three in his first five Tests. But if much was made of him appearing cheesed off when substituted 13 minutes into the second half in Italy, it was conceivably a reflection on his performance.
Two eye-catching runs past Italian tacklers were counterbalanced by slack passing, a missed tackle on Michele Campagnaro and a butchered try. Tuilagi, who scored a try, has his critics for his passing and kicking, but his explosive pace can now be confirmed as a major factor in his favour ahead of the big centres' battle within the East Midlands derby.
"I do a lot of speed work at Leicester, with [strength and conditioning coach] Ed Gannon," Tuilagi said. "We work a lot on speed and power. My best time over 10 metres is 1.51 seconds." While rugby isn't a 100m race, the significance is in the acceleration, maximising Tuilagi's chances of breaking the gainline with his 6ft, 17st-plus frame.
The former Leicester and England captain Martin Corry believes Tuilagi's return is crucial to the injury-ravaged club making a 10th consecutive Premiership final. "Manu is so important for the way Tigers play, as a focal point in attack," said Corry. "When Manu isn't in the side we look lost. We need to get on the front foot, and the only one who does that consistently for us is Tuilagi."
As for the man himself, his aims are simple: "I just want to get back into playing and used to it week in, week out. We're not worried about our league position, we believe we'll make the final. We still have Tom Croft and Geoff Parling and Gonzalo Camacho to come back.
"Luther? You play against a mate from the England team and it's always good to see them – after the game. They understand and we understand we have a job to do for our clubs, and that's to do whatever it takes to win. But it's great for me playing against those great teams to test my skills, to see where I stand."
The Tuilagis keep coming...
Manu Tuilagi's nephews Brian, a 19-year-old back-row, and Freddie Jnr, 16 and a hooker or prop, are currently playing in the Leicester Academy as the seventh and eighth members of the Samoan family to wear Tigers colours, following Manu and his elder brothers Freddie, Henry, Alesana, Anitelea and Vavae.
Hugh Godwin
Register for free to continue reading
Registration is a free and easy way to support our truly independent journalism
By registering, you will also enjoy limited access to Premium articles, exclusive newsletters, commenting, and virtual events with our leading journalists
Already have an account? sign in
Register for free to continue reading
Registration is a free and easy way to support our truly independent journalism
By registering, you will also enjoy limited access to Premium articles, exclusive newsletters, commenting, and virtual events with our leading journalists
Already have an account? sign in
Join our new commenting forum
Join thought-provoking conversations, follow other Independent readers and see their replies