Toby Flood admits 'sleepless nights' over decision to quit Tigers and England
Fly-half has admitted it was "a very tough decision" to leave Leicester for a French club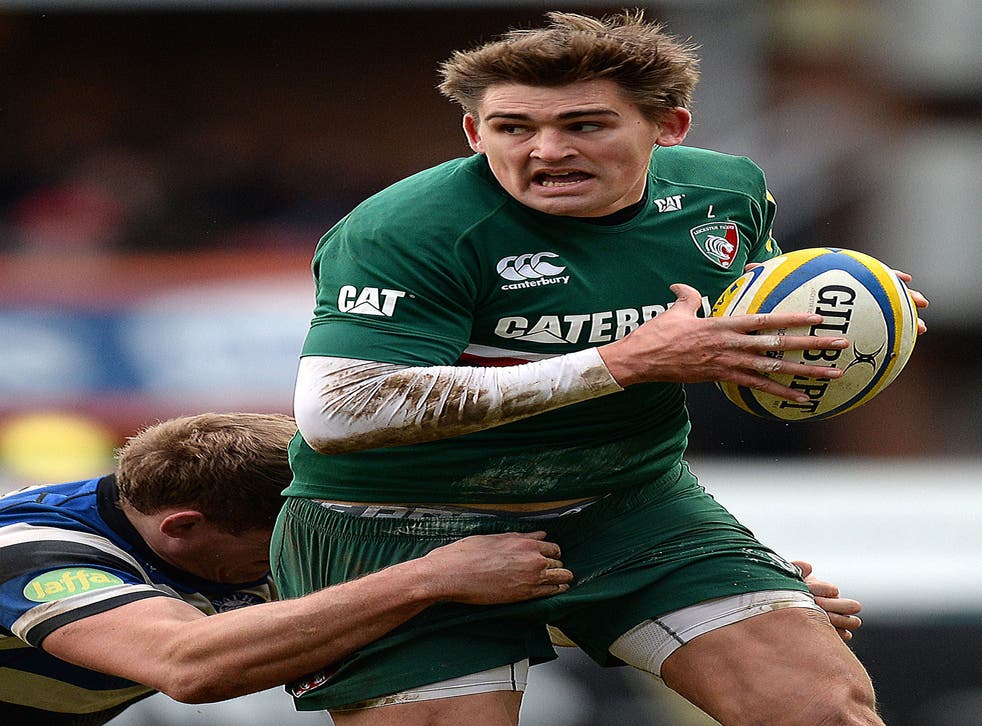 The aftermath of a morale-crushing loss in the Heineken Cup – Leicester's first defeat in 26 European matches in their home city since Munster won at Welford Road in October 2006 – was not the time to expect chipper responses from Toby Flood in his first comments on his move to a French club this summer. The Tigers captain and England fly-half had played a material part in the 22-19 win by Ulster that earned the visiting province a home quarter-final with Saracens while condemning Leicester to a runner-up's trip to Clermont Auvergne, who have not lost at home in more than four years.
Flood's new club next season is believed to be Toulouse, although French regulations stipulate he cannot confirm that for a few weeks, which added to his discomfort in speaking, apparently at the behest of Leicester, who were keen to get the subject aired – much as their director of rugby, Richard Cockerill, blurted the news out last month a matter of hours after Flood had tweeted he was still undecided.
"It was undoubtedly a very tough decision," said Flood, "and there were quite a few sleepless nights. The hardest decision was leaving behind the thing that ultimately you enjoy the most, a good bunch of boys at this club who want to work well for each other.
"Obviously, accompanying that were other bits and pieces. With England it was what opportunity you had, and certain situations surrounding terms and contracts. Ultimately, it came down to a decision of what I felt was right, for me now, for the next three, four, five years."
Flood has been immediately dropped from England's elite player squad, so while the usual batch of Tigers will join the national team today to prepare for the Six Nations Championship, he will be resting his sore knees and thinking only of the club. A ruinous Leicester injury list got no better on Saturday night, as Jordan Crane, Mat Tait and Graham Kitchener were forced off and England's front-rowers Tom Youngs and Dan Cole were named by Flood as among the "battered bodies", although that appeared only ordinary weariness.
Flood bemoaned his lack of "a sixth sense" at not seeing Ulster's Ruan Pienaar coming for the charge-down try that helped overturn a 10-point Leicester lead in the last 25 minutes. Pienaar's three penalties in the first half were matched by Flood's, as both teams sought the win that would earn them the prized home Heineken quarter-final. Flood's chip made a try for Niall Morris that helped Leicester go ahead 19-9 but they buckled under the weight of Pienaar's converted try and two more penalties, including a second of the match kicked from inside the Springbok scrum-half's own half. Ulster battered Leicester at the breakdown and with a proficient driving maul as well as kicking from hand a lot.
Flood said in convoluted terms that England's head coach, Stuart Lancaster, had left the door open to the 28-year-old being included in "certain squads" in the future. Did the 60-cap No 10, who was second choice behind Owen Farrell last autumn and has seen Bath's 20-year-old George Ford take his squad place now, grumble at being left out now?
"No, it's in the [England squad] contract, I knew it was something that could happen," said Flood. "I know that I wouldn't have been involved post-2015, [so] I think Stu's decision then was to move on and build the next generation of guys. It [not starting for England] certainly changes your perception of what's going on. I've been very fortunate to have been involved in two World Cups, one [in 2007] which was very successful, one [in 2011] which was not. Flip those around, you'd probably want to hang around. The way they fell, it makes things probably a little bit bitter in your mouth, so you have to be more pragmatic about your decision. I'm sure there'll be a pang of jealousy and a bit of annoyance that the guys are going to go out there and play those Six Nations games."
Flood has never stopped taking soundings from his old Newcastle and England team-mate Jonny Wilkinson, now thriving with Toulon, who are also thought to have shown an interest. "Jonny was in no way a deciding factor but I respect his opinion," said Flood. "He was very honest. He didn't say stay or go, he was just honest about what he felt about it, how he's enjoyed it, how he's not enjoyed certain parts.
"The huge temptation was to keep it safe and do what you know and stay at a great club and a great environment. If I did that, if I stayed for another three or four years, I'd have missed my chance to go and explore something I wanted to do for a long time."
Ulster are this season's only quarter-finalists to have won all six pool matches and they will attempt to be the first team to win the Heineken Cup with that record. "A lot of great teams have been in this situation and not gone on," said Johann Muller, the captain who led them to the 2012 final. "Saracens are a great side. They totally outplayed us last year."
Join our new commenting forum
Join thought-provoking conversations, follow other Independent readers and see their replies