Wasps vs Harlequins match report: Charlie Matthews steals show for Quins as Wasps suffer sense of deja vu
Wasps 16 Harlequins 23
Chris Hewett
Sunday 26 October 2014 22:18 Comments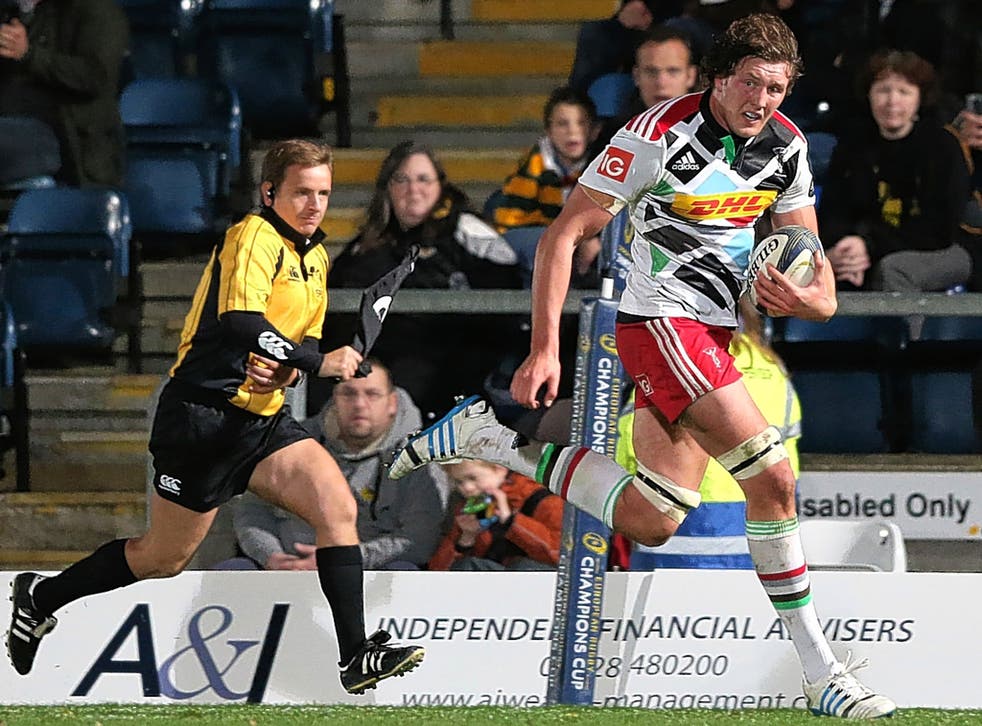 We already knew that Wasps had grown terminally tired of their tenancy in a nondescript corner of Buckinghamshire: why else would they have taken the dramatic decision to relocate in Coventry, severing their last remaining age-old links with London in the process? As of Sunday evening, they are now officially tired of Harlequins as well – and one Harlequin in particular. If they ever see Charlie Matthews again, it will be many years too soon.
Unfortunately for Joe Launchbury and company, the elongated beanpole of a lock forward is likely to be around for quite a while, being only 23. Those are not the only numbers on Matthews' side, either. At 6ft 8in, he can win line-out ball in his sleep; at well over 18st, he can make his presence felt in the scrummage. What is more, there were times yesterday when he looked capable of covering the length of a rugby pitch in 11 seconds flat.
Last month, as Harlequins were piecing themselves back together after a humiliating Premiership defeat by Saracens in front of their own supporters at the Stoop, it was Matthews who raised the tempo, cranked up the heat and restored some credibility with a passionate display full of fire and fury. The opposition that day? That would be Wasps.
He dished out more of the same here, with knobs on. Matthews scored one galloping try in open field, should have grabbed another and generally made a thorough nuisance of himself in pretty much every department.
In one second-half attack, he handled three times, each contribution a complete contrast with the last. First there was a powerful carry, complete with a cleverly delayed flick off the floor to keep the move going; then there was a cut-out pass off the left hand; then there was a fierce drive at close quarters. Had Danny Care, the England scrum-half, not fumbled in the act of scoring, the hotshot lock would have had full value for his efforts.
No matter. Harlequins immediately made an unholy mess of the Wasps scrum and then treated their hosts to a repeat performance, nailing a game-clinching penalty try as a result. The man doing the hard labour in the engine room on the tight-head side? You guessed it.
"I've said this a million times: Charlie's best is three, four, five years down the road," said Conor O'Shea, the Quins rugby director. "He's a genuinely big man, but he has to get used to his body.
"He's beginning to understand his game, the need for aggression in his position, and he's a very good line-out forward. The time he's spending at the coalface now will be extremely valuable and stand him in really good stead."
Given Matthews' progress in recent weeks, some Quins watchers might be surprised that James Horwill, the Wallaby lock who led Australia against the British & Irish Lions last year, is being linked with a move to south-west London. There again, an ambitious club needs as many quality boilerhouse merchants as it can lay its hands on. "I don't even have a budget signed off and the board meeting is still some time off," said O'Shea. "But am I interested in top-class players? Yes." It was not much of a denial, or even a denial at all.
There was much to admire about Quins – and not just at the sharp end, although the job they did on what had appeared to be a fast-improving Wasps front row was startling, not least because the England loose-head prop and club captain, Joe Marler, had withdrawn from the match with a strained quad muscle. Behind the scrum, they were able to draw on the game-managing supremacy of the All Black outside-half Nick Evans, who even now would push very hard for a Test place in pretty much any country of his choice.
His goal-kicking really hurt Wasps. Two early penalties acted as settlers for the visitors and after the home side had taken the lead with a very odd try on the half-hour – it is not every day that a scrum-half as slight as Joe Simpson can be spotted ripping the ball off a flanker as strong as Luke Wallace and disappearing over the line with barely a finger laid upon him – it was Evans who maximised Matthews' try down the left with a perfectly struck conversion from the touchline. He also nailed a tough left-sided shot just after the interval to keep his side ahead of the curve.
As a consequence of all this, it is Quins rather than Wasps who can legitimately plan a serious challenge for a knockout place in this inaugural European Champions Cup.
They will have to find a way past the Dubliners of Leinster, with who they have – how shall we put it? – a rich and colourful history, and the back-to-back matches between the two shortly before Christmas will be very serious contests indeed. But who is to say that Chris Robshaw and the rest will not prevail? They may have suffered a scratchy start to the domestic campaign, but they are beginning to motor now.
And Wasps? Years ago they mastered the art of bagging major trophies without a scrum or line-out worth a light, but they will not be winning anything much with set-piece displays like this one. "We looked a flat, really tired team out there," confessed their boss, David Young. And to think it's only October...
Wasps: Try Simpson; Conversion Goode; Penalties Goode 3. Harlequins: Tries Matthews, penalty; Conversions Evans 2; Penalties Evans 3.
Wasps A Masi; C Wade, E Daly (C Bell, 27-33), A Leiua (Bell, 71), T Varndell; A Goode (Miller, 6-11 and 67), J Simpson; M Mullan (capt, S McIntyre, 64), C Festuccia (T Lindsay, 61), L Cittadini (P Swainston, 64), J Launchbury, B Davies (J Gaskell, 57), A Johnson (T Young, 64), S Jones, N Hughes.
Harlequins M Brown; M Yarde, M Hopper, G Lowe, A Tikoirotuma; N Evans, D Care; M Lambert, D Ward, K Sinckler (W Collier, 55), C Matthews, G Robson, L Wallace, C Robshaw (capt), N Easter.
Referee M Mitrea (Italy).
Register for free to continue reading
Registration is a free and easy way to support our truly independent journalism
By registering, you will also enjoy limited access to Premium articles, exclusive newsletters, commenting, and virtual events with our leading journalists
Already have an account? sign in
Join our new commenting forum
Join thought-provoking conversations, follow other Independent readers and see their replies