RFU reject hosting football to further dent Chelsea's options as Steve Brown confirms Twickenham is not for sale
Steve Brown insists the Rugby Football Union will not entertain offers to buy Twickenham after seeing Shahid Khan's surprise move for Wembley Stadium
Jack de Menezes
Thursday 26 April 2018 20:20 Comments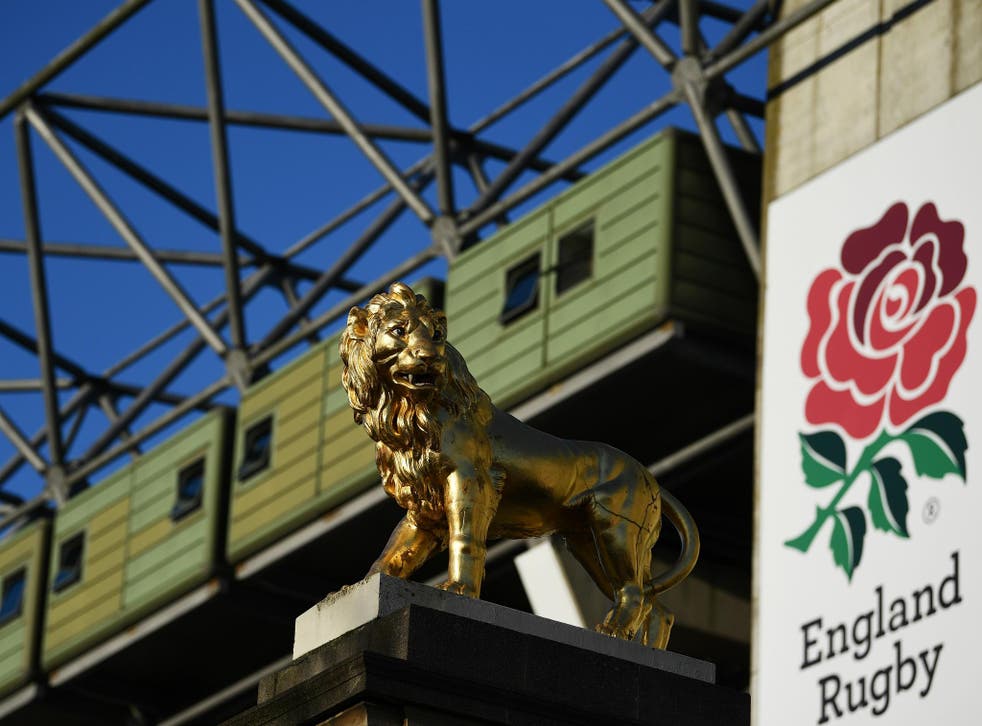 Chelsea will not be able to call on Twickenham if they are refused access to Wembley Stadium while they redevelop Stamford Bridge after the Rugby Football Union categorically stated that they will not open their doors to football for the foreseeable future.
Thursday's remarkable revelation that Shahid Khan, the owner of both Fulham Football Club and NFL franchise Jacksonville Jaguars, has offered £800m to buy Wembley Stadium from the Football Association has cast major doubt on Chelsea's ability to rent the ground as a temporary home in a similar vein to Tottenham's current deal.
Spurs are homed at Wembley while they redevelop White Hart Lane in a move that should be completed later this year – although not in time for the start of the new season – and having been given the green light in January to move forward with redevelopment plans by the Hammersmith and Fulham Council, Chelsea hope to move out of Stamford Bridge at the end of the 2019/20 season for up to four years.
Wembley Stadium is the obvious candidate to host Chelsea's Premier League schedule, but Khan's sudden attempt to purchase the stadium could see the Blues prevented from using the ground as the American billionaire is looking to host more concert and event days there to maximise its commercial output – meaning Chelsea would need to reach an agreement with the owner of their nearest rivals , Fulham, should the purchase go through.
While that may financially be in the interest of Khan, their desire to use a temporary stadium for up to four years could hinder any attempt to bring the Jaguars over to the United Kingdom permanently, given that the NFL holds a 17-week regular season and four-game play-off series throughout the autumn and winter – coinciding with the first half of the Premier League campaign.
And if Chelsea harboured any hopes of taken home games to Twickenham – something that the RFU have already played down – Thursday's unequivocally clear statement from its chief executive Steve Brown left little to the imagination, adding that they have no intentions of following the FA in selling their own home.
"We haven't really thought that through," Brown said. "We are committed to rugby here - big and small – as well as the NFL, and at the moment, we don't have any plans for football at all.
"Just to be really clear – we have an arrangement and an agreement with the local authority that we will stick to the sports that I have mentioned. Football isn't on our radar for this stadium."
He added: "It's not something that is on our radar and we have no consideration of selling Twickenham or even entertaining those thoughts. We haven't been approached at all, either."
That leaves Chelsea facing three difficult options: either play at the home of one of their Premier League rivals in Spurs or West Ham at the new White Hart Lane ground or London Stadium respectively, or take games out of London considerably to Stadium MK, home of League One side MK Dons.
While the RFU have no intentions of bringing football to Twickenham, they have committed to taking international rugby back into the north, and The Independent understands that Manchester is currently leading the race to host one of England's four Rugby World Cup warm-up matches next year.
"We are looking between the north-west and north-east," Brown added, with Newcastle's St James' Park also in the running against the Etihad Stadium and Old Trafford in Manchester. "Both present great situations and we have tested both in the World Cup. We had a fantastic response to the World Cup game in the north-west. We have to negotiate and agree where.
"Lots of people want to buy a ticket - they just won't have to pay as much for a hotel and train.
"The big thing for me, is really, I was quite surprised with the impact of England playing in Manchester at the World Cup. The game [against Uruguay] didn't mean anything and it wasn't a great time for England, but the impact, to see the response that we had through social media and the feedback from customers – I said at the time we shouldn't rule this out.
"We make a significant return on games at Twickenham – we wouldn't look to make a ton of money from a game at a different part of the country. "
Currently England make around £10m from each test held at Twickenham, a sum that will increase now that the RFU have announced their first significant ticket price hikes in more than two years that will see the most expensive tickets on sale this autumn for £195 when the All Blacks visit Twickenham. But while the north would jump at the chance to stage a regular match from the Six Nations, Brown quickly ruled out that prospect.
"That would be more tricky because of the nations of the Six Nations and where they sit," he added. "I would rather treat this as a test and see where we go. I wouldn't completely rule it out, but there is a lot more we have to do."
The RFU are close to announcing who England will face ahead of the 2019 Rugby World Cup, with a decision due to be made in the coming months.
Register for free to continue reading
Registration is a free and easy way to support our truly independent journalism
By registering, you will also enjoy limited access to Premium articles, exclusive newsletters, commenting, and virtual events with our leading journalists
Already have an account? sign in
Join our new commenting forum
Join thought-provoking conversations, follow other Independent readers and see their replies