Chris Robshaw captaincy - RWC 2015: Decision-making is not the only shadow over England skipper
Questions have been asked about Robshaw's role as captain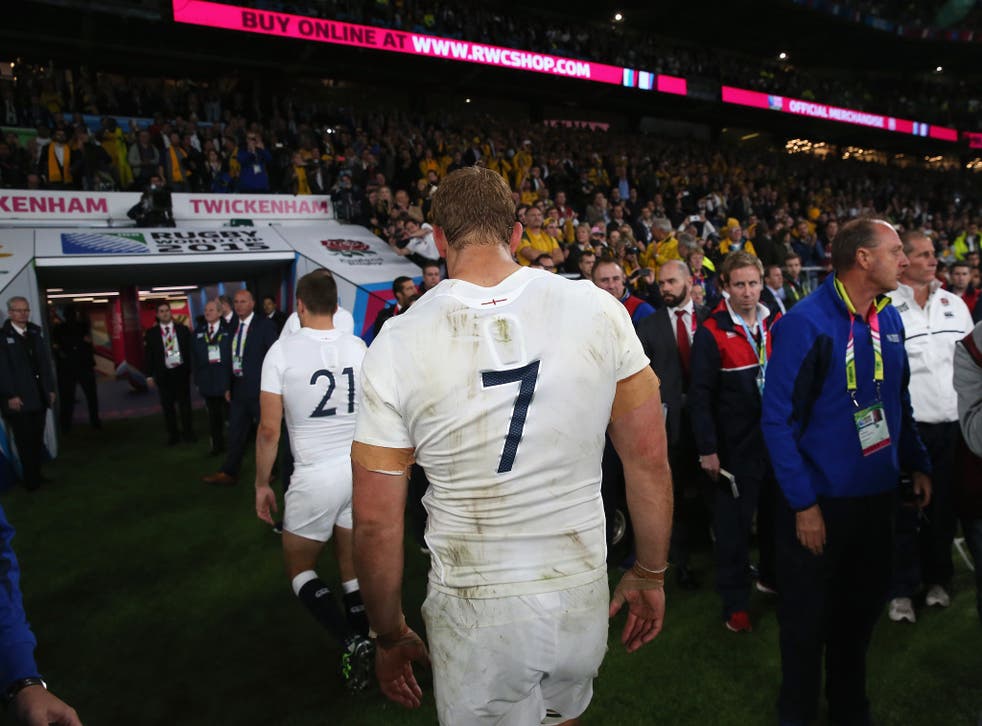 Chris Robshaw's term as England captain not only took the number of Tests he has been in charge past that of the great Martin Johnson, but also gradually took the heat out of the questioning so often raised about the Harlequin's place in the team as openside flanker, as well as its public face and leader. The debate is set for a reheat now.
Throughout the months of conjecture about whether Robshaw's workaholic, tackle-all-day qualities were suitable to a World Cup-chasing back row, the quietly-spoken man from Croydon stayed dignified. He also maximised his commercial opportunities, signing a tranche of sponsorship contracts – and who can blame him, when he is engaged in a short career that pays a small fraction of Wayne Rooney's wages?
The debate eventually died down, with Steffon Armitage exiled in France and no other English No 7 sustaining a strong enough case to turf Robshaw out of the team, but the doubts remained.
First, there was the decision-making. On a handful of big occasions with club and country, Robshaw's thinking in the pulse-racing moments of tactical dilemma has been far from unimpeachable. The problem resurfaced almost inevitably in the pivotal World Cup defeat to Wales, when England should have kicked a 78th-minute penalty to tie the scores, not into touch for a line-out thrown to the front, where the odds were overwhelmingly against scoring. That decision, based on trying a front peel – Wales targeted England's lifters and poured through and over the white jerseys like water over Niagara – would have been shared with the line-out leader and the kickers. But it was Robshaw's responsibility to see the potential of a draw and act accordingly. If England had got it, they would still be in the World Cup today.
Any sportsperson could empathise if Robshaw's heartfelt motivation in that do-or-die moment was grabbing a lead England felt should already have been theirs. But the point of high achievers is that they overcome troublesome emotion and make the percentages work in their favour.
England vs Australia player ratings

Show all 30
Johnson's captaincy was marked by an ability to fight on all fronts simultaneously: battling opponents, leaning on the referee, working out tactics, rallying the team. On Saturday evening, when Owen Farrell was giving England the hurry-up under the posts after an Australian score, it may have been Robshaw wisely delegating – or possibly a natural leader and talker taking over.
The French referee's body language as Robshaw queried several second-half decisions was of dismissive weariness, not the respect earned by Johnson and, latterly, Wales' Sam Warburton and New Zealand's Richie McCaw.
None of this is to blame Robshaw, who has done all he can, from working on his foot speed to taking public-speaking lessons. The most obvious question is: who else could have been doing the job?
For a while the flanker's role looked destined for Matt Kvesic of Gloucester but he stalled through injury and playing in a poor club pack – something unlikely ever to hamper Australia's Michael Hooper and David Pocock, or any New Zealander.
As for the captaincy, there is a circular argument that can leave you dizzy. First, the player must be worth his place in the team, almost to the extent of being a definite starter every time. Playing in one of the positions less likely to be substituted during the second half is an advantage, although some teams are happy to have a hooker in charge, such as Australia's Stephen Moore and Argentina's Agustin Creevy.
Other required qualities are clear communication, coolness under fire and a personality solid as granite that cannot be sliced apart by the media. The list of English candidates may not be long, but there could be a vacancy soon.
Register for free to continue reading
Registration is a free and easy way to support our truly independent journalism
By registering, you will also enjoy limited access to Premium articles, exclusive newsletters, commenting, and virtual events with our leading journalists
Already have an account? sign in
Register for free to continue reading
Registration is a free and easy way to support our truly independent journalism
By registering, you will also enjoy limited access to Premium articles, exclusive newsletters, commenting, and virtual events with our leading journalists
Already have an account? sign in
Join our new commenting forum
Join thought-provoking conversations, follow other Independent readers and see their replies