Dylan Hartley in race to be fit for new season as England captain returns from five-month concussion lay-off
Hartley has not played since 17 March after suffering a concussion, with the hooker yet to return to full fitness ahead of Northampton's opening match on 1 September
Chris Ashton had a 'glint in his eye' over England return says Eddie Jones
Dylan Hartley remains in a race against time to be fit for the start of the season after returning to the England squad for their pre-season training camp this weekend following five months out with concussion.
The England captain missed the final three months of last season after suffering a concussion in the final Six Nations match against Ireland in March, the second serious head injury in as many years. Having passed the return to play protocols, Hartley still needs to regain his physical fitness before the new campaign begins at the end of the month, having been put through his paces in a four-day training camp in south-west London that concludes today.
Hartley was able to take part in team training sessions on Saturday and Sunday morning, but the decision was taken by head coach Eddie Jones and his backroom staff to put Hartley on an individual strength and conditioning programme for the afternoon session in order to improve his physical fitness.
Premiership Team of the Year

Show all 16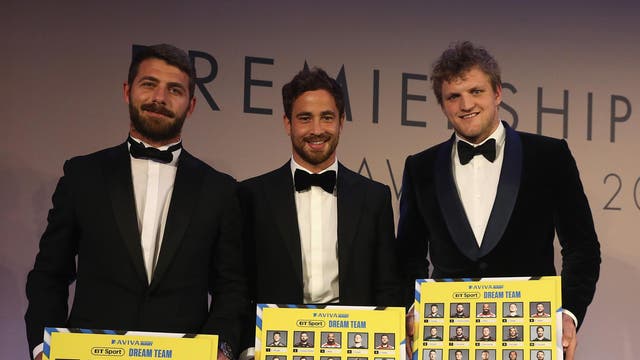 Asked if he'll be ready for Northampton Saints' opening game of the season against Gloucester on 1 September, forwards coach Steve Borthwick said: "That's ongoing as he progresses through the process. The start of the season is a month away so he's progressing. I think everything's going well at this stage.
"As ever, you've got to progress through your training, obviously he had a good spell out of the game and for any player who has a good spell out of the game for whatever reason there is always a progression through the different aspects of the game to be physically prepared, and that's the same for any player coming back from any player for any amount of time.
"We come in [to camp] with a clear picture of what we want from all players but it's always assessed. He trained well this morning, there's always a post-training assessment for what we do the next training session and we decided to do some conditioning training this afternoon.
"There's been a progression through [contact], he's within a stage of doing that – back with his club for a short period of time in team training – and there's always levels and you've got to progress through those levels. There's a lot of players who weren't with us in South Africa and there's been great enthusiasm from the guys that are young and those that are not so young."
The 44-man squad that Jones named in mid-week for the training camp was immediately whittled down to 43 when Exeter Chiefs prop Alec Hepburn withdrew due to a pre-existing injury, and he was soon joined by teammate Luke Cowan-Dickie after an assessment on a knee injury upon arrival. The Northampton prop Paul Hill was also sent home with a shoulder injury that he suffered with his club.
With the start of the new season kicking off England's final Rugby World Cup preparations, Borthwick will join Jones and scrum coach Neil Hatley on a 12-day trip to Japan tomorrow where they will coach Japanese Top League side Suntory Sungoliath's in Tokyo. Borthwick has already met with a number of Premiership clubs and the players who missed out on the summer tour of South Africa, and the Japan trip is the latest step in Jones' grand plan to lift the Webb Ellis Cup in the same country next year.
"I came back and picked the brains of coaches in this part of the world, and went around the clubs, saw as many of the clubs as I could," Borthwick added. "We clearly had a lot of players who had been with us but weren't with us in South Africa for lots of reasons because of injuries, so it was an important time having not seen them for six weeks to make sure you go see the players and chat to the coaches around the club.
"As of Tuesday, [I'm] going to Japan, so Eddie, Hats and I are going out to Japan for 12 days. We're going to coach, it's about three weeks before when the World Cup time of arrival conditions, so it's good for us to coach together as a coaching team, so doing bits of that and looking at different aspects. Hats hasn't been to Japan before, I lived there for about 18 months and coached there for a few years and Eddie spent a long time there, but it's different conditions there.
"We're going to a little bit with Suntory and different squads there just to work with different players. It's great to coach, I love coaching and it's great to coach as the three of us there, and experience Japan with Hats. Hats is a guy who when you sit next to him at a game and it's two degrees and he's sat in a polo shirt so I'm looking forward to seeing him in 30-odd degrees and I don't know what humidity."
Join our new commenting forum
Join thought-provoking conversations, follow other Independent readers and see their replies