England 25 Wales 21 reaction: Awesome Maro Itoje can only get better
Itoje has been spectacular throughout the tournament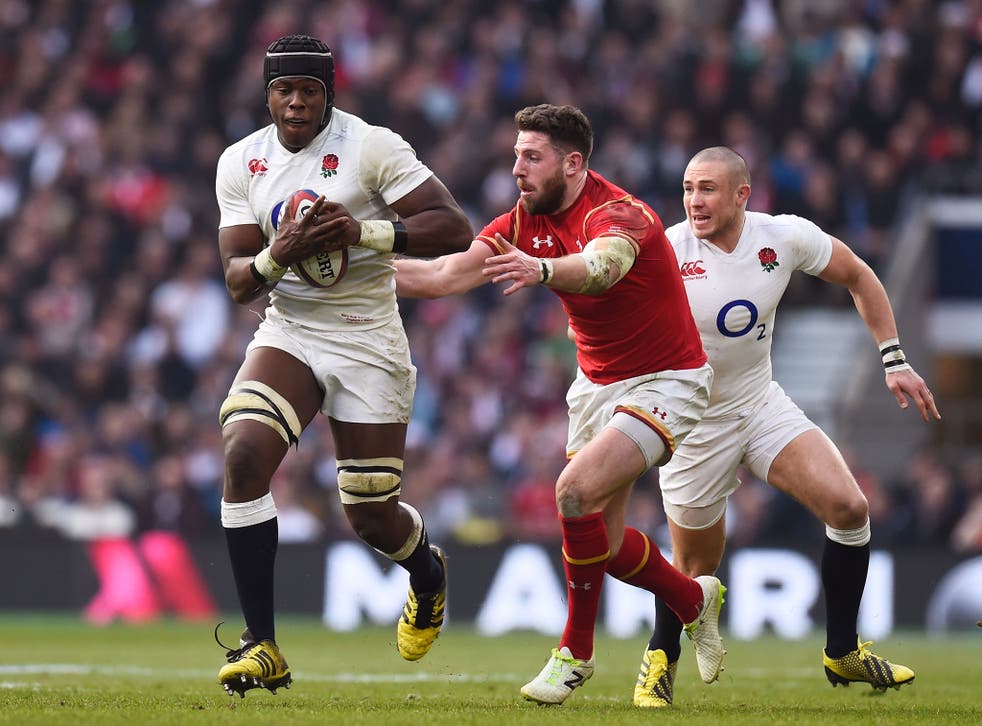 Maro is the man
The introduction of Maro Itoje has been one of the spectacular successes of this England campaign. It is not just the athletic ability this young man brings to the game but the rugby intelligence which has been part of a greatly improved display at the breakdown, regarded as one of England's most vulnerable areas before the Six Nations began.
Here he was named man of the match after a performance, particularly in the first half, which featured line-out steals and heavy-duty carries. But he showed in the second half an ability to scrap too, which all the best locks must do – they have to get their hands dirty, and Itoje certainly does that.
But you look at the way that he, George Kruis and James Haskell carry the ball and see the influence of the coaching panel. They all run now at something like 45 degrees, building better momentum, choosing their own moment to go to ground and presenting Ben Youngs with quick ball.
Not only that, Itoje can win ball on the ground and, in that way, compensate for the absence of a genuine openside flanker or groundhog. That is a huge asset, even though breakdown work is a team responsibility rather than the province of one or two individuals, and throughout this championship England have steadily improved, in technique and understanding. Itoje, still only 21, can only become better.
Coaching confrontation
Eddie Jones wins the battle of two immensely experienced southern-hemisphere coaches because of the difference he has made to England in a short period. That first-half display shows the influence that not only Jones but Steve Borthwick and Paul Gustard have had – just look at the line-out, where England had so many options that Wales did not know where to defend.
The variety, speed of thought and deed, left Wales clutching at shadows, and that was reflected on the scoreboard at half-time when England led 16-0. Jones would have been delighted by his players' accuracy and skill across the board. You could tell every player knew his role in every scenario, building a cushion which, ultimately, proved just enough.
Wales, starved of possession, were the opposite of what Warren Gatland would have wanted, but the second half showed that England remain far from the finished article. They lost their discipline on their own line, they were warned about the possibility of a yellow card and that duly arrived.
When Tomas Francis did not suffer the same fate – and we may well hear more about his incident with Dan Cole – England could not get their back-three wide enough to compensate for the absence of one defender. Then there were echoes of the World Cup game last September, when Wales found space around the edges and scored a brilliant set-piece try. That suggests, at the same time, that England are not where they wish to be in terms of fitness, but if you are going to win a Grand Slam, there are bound to be some wobbly moments along the way. This was England's wobble.
Captain shows his class
Once Dylan Hartley got his first few media engagements as England captain out of the way, all of them harking back to past misdemeanours, he said that he would lead by example. I think that in this championship we have seen the true Hartley emerge, both on the field and off it.
When the game ended and England could breath a sigh of relief, he was sitting on the replacements' bench. His first act was to walk across to the Wales bench and shake hands with his opposite number, Scott Baldwin, and that reflected well both on him and on rugby union as a game which can exude class.
Then he walked on to the pitch, showing all the signs of a leader not getting carried away with the result. I've known Dylan since he was a young man at Northampton and he's a realist, he knows his side has won nothing yet – apart, of course, from a Triple Crown, which is far from the be-all and end-all it once was.
This game highlighted his ball-carrying and his ability to give and take a pass,which he has not always been required to show in England colours. Remember that Dylan has not played that much Test-match rugby recently, and sometimes he has missed tackles through over-exuberance, but he's doing what he needs to do now with no sideshows.
Good return from the ref
Craig Joubert, the South African official, was – in some people's eyes – returning to the scene of the "crime", at least for Scots who felt he cost their country a World Cup semi-final last autumn. Yesterday he never got in the way of what both sides were trying to do, and that is the sign of a good referee.
Join our new commenting forum
Join thought-provoking conversations, follow other Independent readers and see their replies