The Independent's journalism is supported by our readers. When you purchase through links on our site, we may earn commission.
England must develop free-flowing attack if they are to win next Rugby World Cup, says Eddie Jones
Jones has warned England must get 'in front of the wave' if they are to avoid getting left behind by southern hemisphere sides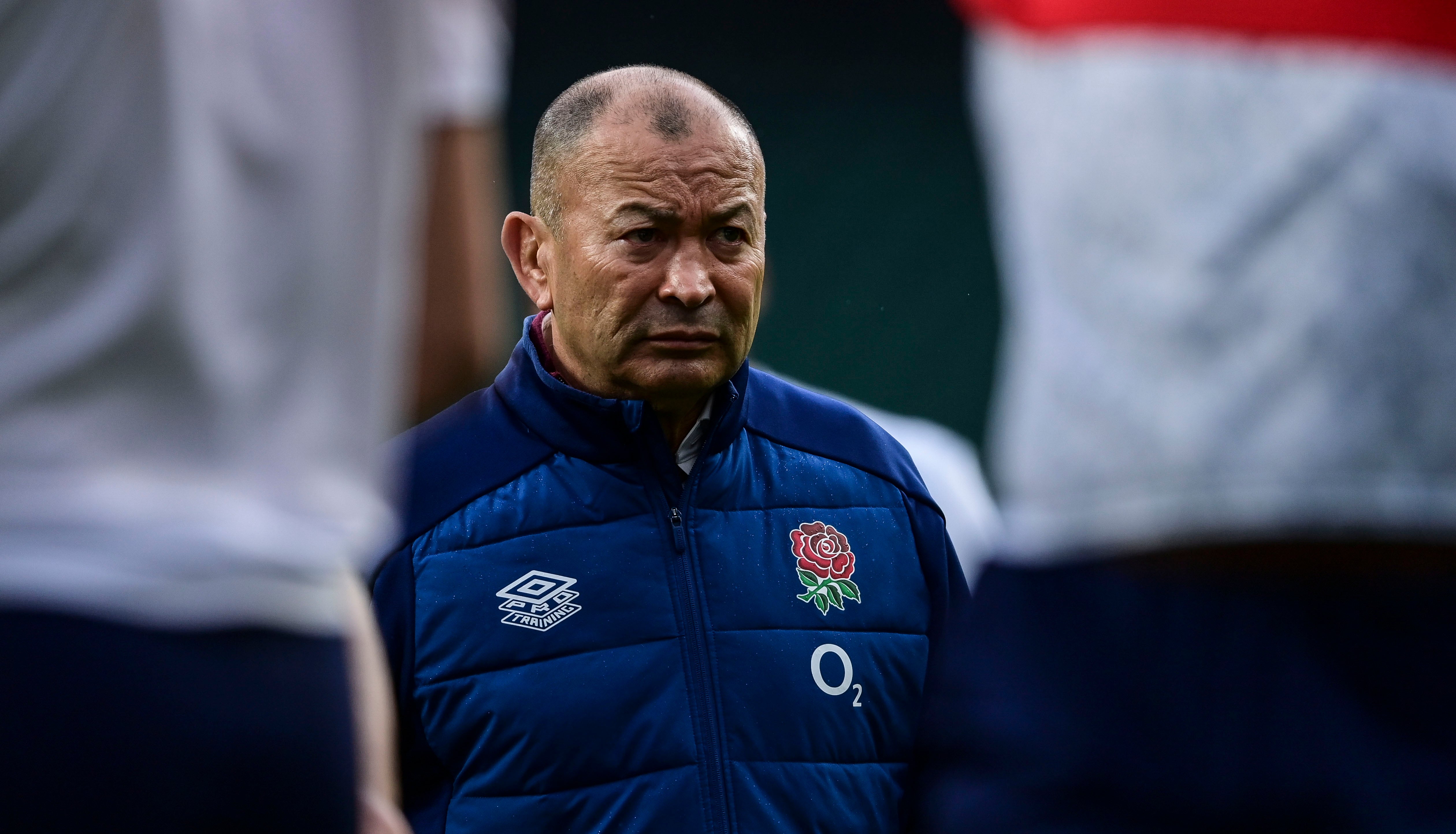 Eddie Jones has declared that evolving England's misfiring attack will be key to any potential triumph at the 2023 Rugby World Cup, insisting that New Zealand "run World Rugby".
The last year may have shown the folly in making sweeping, long-term predictions, but England's head coach is looking ahead nonetheless. Even in the middle of a Six Nations campaign Jones is reading the tea leaves, and believes that developing England's attack to be able to match the all-court game of the All Blacks and the burgeoning force of hosts France will be crucial.
Jones has often described the patterns of rugby as cyclical, and that for now we are in what he describes as a "kicking cycle", which will in time give way to a more open, free-flowing "running cycle", and points to the hiring of former England Sevens head coach Simon Amor to oversee England's attack as a proactive move.
"We are trying to get in front of the wave, because English rugby is generally fairly organised and fairly structured. We know at the World Cup in 2023 that there is probably going to be a stronger direction in terms of more ball-in-play, more unstructured play, and we have got to start preparing for that now.
"We know World Rugby is run by New Zealand. They dictate what laws we have. You have just got to look at the Super Rugby laws for New Zealand, it is all about making the game faster, making the game more unstructured.
"Certainly with the appointment of Simon [Amor], that was a factor in appointing him. We want to start being able to play that sort of rugby if that becomes the standard fare."
Amor arrived ahead of the 2020 Six Nations, and has endured a disrupted first year in post. England's attack has struggled for fluency in the last 12 months, like many of their Northern Hemisphere counterparts, particularly in an autumn that was criticised for largely turgid play lacking in the intensity one expects from international rugby.
While the likely one-off Autumn Nations Cup failed to capture the imagination in largely empty grounds, there have been signs of improvement at the beginning of this Six Nations. Data from Optashows that teams are actually kicking more than in the autumn, but it is generally with greater attacking intent and purpose, with Antoine Dupont, Stuart Hogg and Louis Rees-Zammit among those particularly catching the eye.
There have, however, been limited signs of England's own path towards the sort of strides Jones is keen on making. They are offloading less often than any side other than Ireland, and against Scotland the attack was entirely stagnant. The bonus-point win over Italy offered some new attacking shapes, though another error-ridden, clunky overall performance, while the familiar sides selected certainly suggested it will be evolution rather than revolution.
Jones, an Umbro ambassador, is quick to emphasise how demanding the last year has been: "The coaches who have come into the team now don't have the benefit of the interaction with the players because it is so limited. It has been a tough time for coaches. Simon is progressing well. He is dedicated, full of tenacity and he has got to keep working at his craft."
Given former England captain Bill Beaumont was last year re-elected as chairman of World Rugby and both the Rugby Football Union (RFU) and Premiership Rugby Limited hold significant sway and financial power, it is a curious statement from Jones to say that he and his side are devoid of top-table influence.
There are elements of truth to his claims, however, with recent news of potential investment in NZR illustrative of its global profile and might. Technology investment firm Silver Lake are reportedly close to a deal for a 15 per cent stake in NZR that would value the governing body at close to US$2 billion (£1.42 billion). CVC Capital Partners, who now have stakes in the Gallagher Premiership, Pro 14 and the Six Nations, are another private equity investor believed to be looking at NZR as part of potentially wider plans to take over and transform the sport.
While not immune to the impacts of the pandemic, New Zealand's Covid-19 response has allowed crowds to return and normal life has largely resumed over the last few months. The second edition of Super Rugby Aoetaroa begins next weekend, though is without a broadcaster in the United Kingdom.
Laws to be trialled in the competition include a goal-line dropout when an attacking player is held-up over the line, and a captain's referral, similar to those employed in cricket and tennis. Some law trials from last year have been retained, including the ability to replace a red-carded player after 20 minutes.
"New Zealand are the most influential country in the world. They have all the power, they dictate what sort of laws come in, and we just follow," Jones explained. "You look at all the laws that are trialled, where are they generally trialled? Super Rugby.
"The rest of the world then decides they want them because everyone becomes infatuated with Super Rugby. That's the challenge for the rest of the countries, to get a bit of influence."
Rugby coverage is brought to you in association with QBE who help businesses build resilience through risk management and insurance. For more information go to QBEEUROPE.com
Eddie Jones is an Umbro ambassador. For more information visit:www.umbro.co.uk/rugby or follow @Umbro_Rugby on Instagram.
Join our commenting forum
Join thought-provoking conversations, follow other Independent readers and see their replies