England need to keep cool heads in cauldron
O'Driscoll's midfield partnership with D'Arcy can drive Ireland's bid to confirm the superiority of green power in Dublin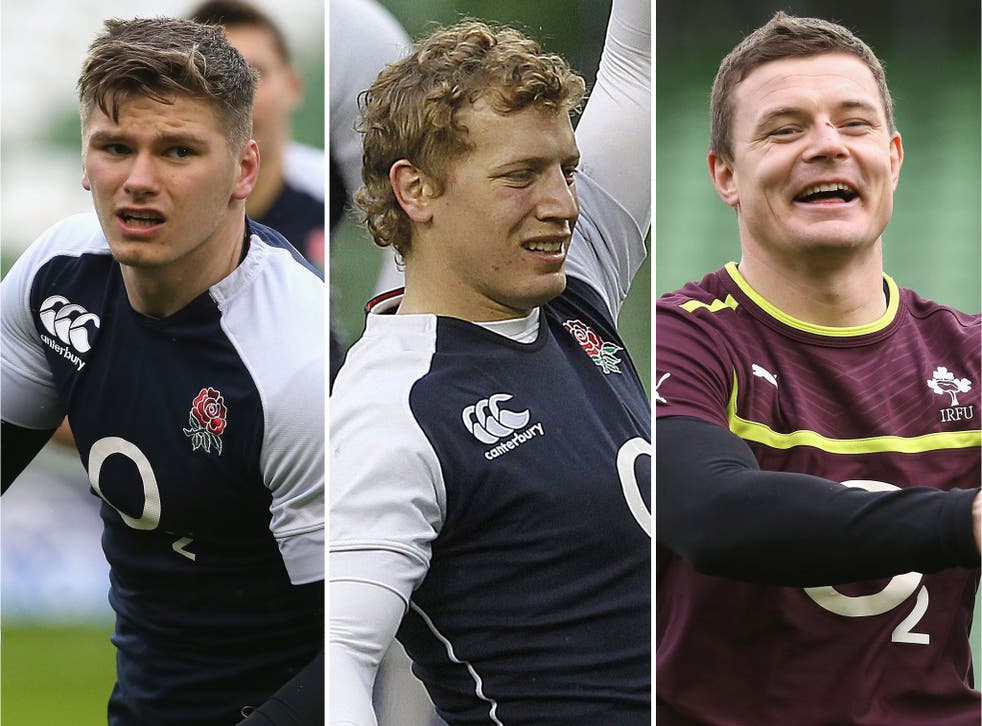 Someone must have been passing round the Blarney Stone, because neither of today's teams in the Six Nations' battle of the unbeaten have been shy of talking tactics in the build-up. England's focus has been on Ireland's favourite tackle, the so-called "choke". The Irish are impressed by the flowering of the Red Rose backs.
Ireland's former coach, Warren Gatland – who will be at the Aviva Stadium in his role as head coach of the British & Irish Lions – thinks a different kind of "choke", the weight of expectation on the men in green, may assist England. As for the runes of history, there are statistics to point in every direction.
England's overwhelming advantage in playing numbers suggests the record of seven Ireland wins in the past nine Six Nations meetings – and in all the past four in Dublin – is not far off a miracle. The past 10 seasons of the Heineken Cup, too, point to Irish domination: the provinces have 45 wins and a draw in 78 meetings with English clubs. On the flipside, 16 of England's 23 players today have never lost to Ireland in a Test. For most, the freshest memory is the 30-9 rout at Twickenham last March, the first meeting of the two countries under the Stuart Lancaster coaching regime.
Gatland, speaking at the Aviva Premiership Hall of Fame in midweek, said his roles coaching Connacht and Ireland in the late 1990s had put him "in at the start" of the shamrock revival, kick-started by the Irish Rugby Union's decision to bring foreign-based players home and strengthen the provinces.
"When you didn't have European competition," said the New Zealander, who later coached Wasps and Wales, "England was seen as this big brother, the dominant figure. Psychologically it had an impact, almost like an inferiority complex. Then all of a sudden you start playing them and it's, 'Well, they're not that good, we can beat them'." Brian O'Driscoll, Ireland's eminent centre and some people's idea of the world's greatest, hinted at the non-sporting subtext whenever green clashes with white. "It depends on your parents' attitude as to whether they had more of an interest when Ireland played England," he said. "For me, it's always been a big game because of the proximity and the history between the countries, but largely because of the quality of England." In fact, O'Driscoll has won his last seven matches against England, plus Heineken Cup finals against Leicester and Northampton in 2009 and 2011. He missed Twickenham last year and the friendly in 2011.
Temperament is one factor. Both England's scrum-halves have lost their rag, and the result, in Dublin. A yellow card to Ben Youngs for chucking the ball away in 2011 followed Danny Care's sin-bin in 2009 for a crass shove in Marcus Horan's back.
"I don't think we understood what was coming at us [in 2011]," Youngs said of the 24-8 loss when England needed a win for a Grand Slam. "A lot of young guys from that squad are two years wiser now."
Mike Catt, England's skills coach, said: "Many of our guys are having their first time at the Aviva Stadium. We really have to avoid getting caught up in the emotion of it."
O'Driscoll's midfield link with Gordon D'Arcy remains intact, and D'Arcy said: "You look at traditional England teams with big, heavy packs: mauling, hitting rucks – and then big backs that like to do the same.
"But they have a greater variety in their armoury this time. Both nines and the two 10s are very influential in different ways. They like to get their centres banging into the 10, 12 channel, and they like to attack that seam between the 12's inside shoulder and 10's outside shoulder, and between the 10 and the seven."
D'Arcy praised the contribution of Manu Tuilagi in that role, so may be relieved to see the Samoan-English centre on the bench, with Brad Barritt and Billy Twelvetrees retained from last week's 38-18 victory over Scotland.
Ireland won 30-22 in Cardiff, where their wing Simon Zebo's flick of the foot to make his try had England's Chris Ashton mystified. "I thought, 'Why has he done that?' " Ashton said. "That just wouldn't be your reaction – you would try and catch it. He is a skilful bloke and he is a left-footer, which helps."
Ashton scored against Scotland and against New Zealand in December, so he is aiming for a hat-trick. "Being in a team with people who put you in the right places and give you the opportunities gives you confidence," he said.
The scrummaging will be enthralling, while England look to their trio of playmakers – Owen Farrell, Twelvetrees and full-back Alex Goode – to outdazzle Ireland's Jonny Sexton. There is O'Driscoll's expert pilfering after the tackle – and then there is that "choke": grappling the ball-carrier high and preventing him going to ground.
"We've got to rip an arm out quickly," Goode said, referring to an English arm, in case you were wondering. "If you wait two or three seconds you're in trouble." Good, quick possession was on Catt's mind. "[Flanker] Sean O'Brien, O'Driscoll and [hooker] Rory Best are exceptionally good at slowing down the quick ball you want. Our players have to recognise when it's front-foot ball, or neutral or negative."
As for the newly neutral Gatland, he is tickled by the neighbourly niggle. "I have some great friends in the west of Ireland and they had this thing that they hate the English," he said.
"And I used to laugh to myself and think, 'How can you hate the English when every week you watch Coronation Street and EastEnders and you've all got your favourite football team as Arsenal, Man United or Liverpool'." And his prediction?
"The bookies are right to call it a scratch game. I think it will be a fantastic game, and a close and a tight one. Stuart Lancaster, to be fair to him, has kept this England squad grounded.
"They will come into Dublin under the radar, with the weight of expectation on Ireland, and that may favour England."
Robshaw, O'Driscoll and Heaslip in race to lead Lions in Australia
Midfield
Centres Brian O'Driscoll and Gordon D'Arcy have 200 Ireland and Lions caps between them. England's Brad Barritt made his Test debut last year and the running, passing, footballing Billy Twelvetrees made his last week. While Manu Tuilagi waits to launch his skittle-scattering runs from the bench, Barritt will aim to outdo O'Driscoll's workrate.
Scrum
The revised regulation permitting three front-row substitutes may suit Ireland after the injury that forced off prop Mike Ross early in last year's 30-9 loss at Twickenham. England's No 1 loosehead, Alex Corbisiero, is absent so Dan Cole, Tom Youngs and Joe Marler will have to prove themselves anew. England's second row is a stone heavier than Ireland's.
Captaincy
The word "Lions" is unavoidable. If Chris Robshaw gets a win and a couple of big calls right he will leap ahead of O'Driscoll and today's Ireland captain, Jamie Heaslip, in the bid to head this summer's tour. A blasting performance off the scrum with shrewd reading of the big decisions could see Heaslip's stock rise.
Goal-kicking
Two proud peacocks at fly-half will want to run things and nail their kicks. Owen Farrell has converted 37 of his past 41 kicks for club and country. Jonathan Sexton (nicknamed 'Johnny Cash' since news of his move to Racing Métro, knows the wind in the Aviva Stadium well.
Ireland v England: Past 10 Seasons
2004 Twick; 6 Nations - Ireland won 19-13
2005 Lansd Rd; 6N - Ireland won 19-13
2006 Twick; 6N - Ireland won 28-24
2007 Croke Pk; 6N - Ireland won 43-13
2008 Twick; 6N - England won 33-10
2009 Croke Pk; 6N - Ireland won 14-13
2010 Twick; 6N - Ireland won 20-16
2011 Aviva Stad; 6N - Ireland won 24-8
2011 Aviva Stad; Fr - England won 20-9
2012 Twick; 6N - England won 30-9
Register for free to continue reading
Registration is a free and easy way to support our truly independent journalism
By registering, you will also enjoy limited access to Premium articles, exclusive newsletters, commenting, and virtual events with our leading journalists
Already have an account? sign in
Register for free to continue reading
Registration is a free and easy way to support our truly independent journalism
By registering, you will also enjoy limited access to Premium articles, exclusive newsletters, commenting, and virtual events with our leading journalists
Already have an account? sign in
Join our new commenting forum
Join thought-provoking conversations, follow other Independent readers and see their replies