Eddie Jones accepts England will have to get used to coronavirus impact as he waits on three players' test results
England boss is without players from half of the Premiership for his first training camp of the season, while he will also be forced to shake up his plans in the injury-enforced absence of Manu Tuilagi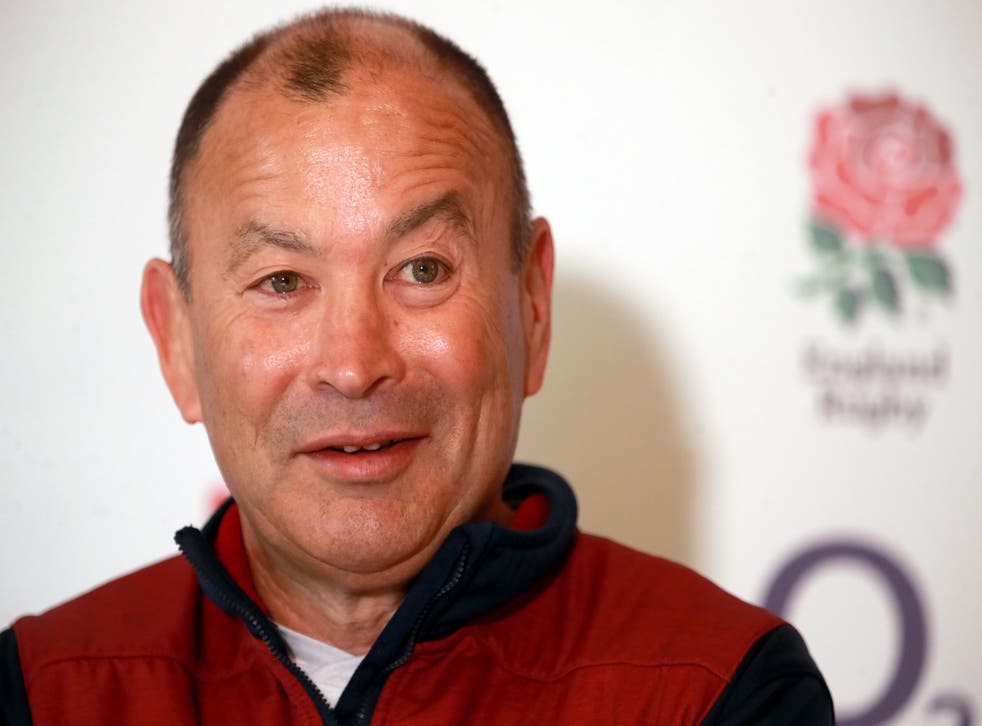 Eddie Jones admitted that he will have to get used to positive coronavirus tests disrupting his preparations after waiting on three of his latest training squad to get the all-clear to join up at their London base.
The run-in to the English rugby season has been overshadowed by Sale's 19 positive coronavirus tests, 16 of which came among the playing squad ahead of their final weekend clash with Worcester Warriors. The Premiership was forced to postpone Sunday's clash and rearrange it for Wednesday due to health concerns among Worcester and Public Health England, and should Sale register a single positive result during Tuesday's testing, they will forfeit the match and a potential place in the semi-finals.
Jones said he is not aware of the details involved in the saga, but admitted it is something he is already experiencing the repercussions of after seeing himself limited to picking from just half the Premiership clubs for his 28-man training squad, with no players featuring from the top four as well as Sale and Worcester due to club commitments.
Additionally, the Australian was also waiting on the test results of three players among those who gathered at Twickenham's Lensbury Hotel, where England will base themselves for the final Six Nations match against Italy and the ensuing Autumn Nations Cup.
"It's a matter of adapting, there's going to be more changes, and we anticipate that, so we've just got to ride with it," Jones said on Tuesday. "Work out what we can do, work out what we can't do, and take it on board.
"All I try to do is select the players that are available, so that's all I've been worried about.
"We're looking at three players today whether they will be available to be selected, we'll find out this morning and then we'll just wait and see.
"Look I think this is going to be the way it is at the moment. I just saw in (England's) football (team) they had three players unavailable this morning, they can't go into Gareth Southgate's camp.
"It's a fact of life at the moment, that's what we have to deal with, we can't get too worried about it, we're not too obsessed about it.
"We'll just take the players that are available, and work with those players."
One of those players not available, unfortunately, is Manu Tuilagi. The Sale centre underwent surgery on an torn Achilles tendon this week and is set to miss the entire autumn programme as well as next year's Six Nations, robbing Jones of one of his main weapons of attack.
Tuilagi enjoyed his longest run in the national team over the course of the last two years since the 2012/13 season, but suffered a serious injury in Sale's recent victory over Northampton Saints that will not only rule him out of England duty for the foreseeable future, but will impact his British and Irish Lions tour aspirations next summer too.
For England boss Jones, it is a major blow after seeing the Samoa-born centre add an extra dimension to their side, having scored seven tries in his last 16 international appearances and causing much bigger problems for the opposition.
"We'll miss Manu greatly," Jones said. "He's been a terrific team-mate, terrific team player, and we feel for him.
"But we move on, we'll find other alternatives and other ways of playing.
"He was the focal point of our attack, and we have to find other ways of having focal points of our attack."
The current 28-man squad - pending the three players yet to be granted access to the camp - is unlikely to remain intact for long, with the losing Premiership semi-finalists set to become available for next week's three-day camp at the same London base.
Join our new commenting forum
Join thought-provoking conversations, follow other Independent readers and see their replies