Eddie Jones admits England are 'not good enough to win the World Cup' ahead of Grand Slam decider
The Red Rose face Ireland, who Jones said will be playing with 'no fear of failure'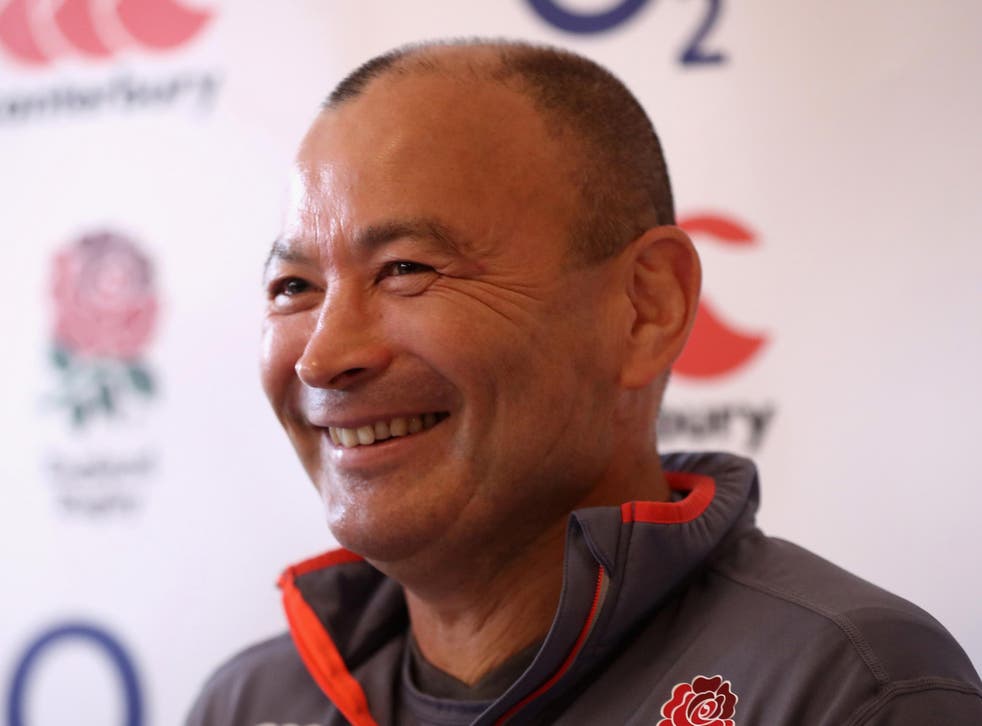 Eddie Jones has admitted England are "not good enough to win the World Cup" in 2019, despite being currently ranked second in the world and one game away from back-to-back Grand Slams.
The Red Rose travel to Ireland this week as they look to set a new world record for consecutive victories with 19, after equalling New Zealand's record with the hammering of Scotland at Twickenham to secure the Six Nations title last weekend.
But Jones, whose target has been winning the World Cup in Japan in 2019, believes England do not have the number of leaders to lift the trophy, although they do have more now than when he took over.
England vs Scotland player ratings

Show all 30
"We don't have the density to win the World Cup, in terms of leaders," Jones told the media on Thursday.
"But we've progressed a long way in the 14 months. We've gone from 1 or two self-reliant players, to three or four, and maybe five or six. But we're not good enough to win the World Cup."
In winning 19 in a row, England would put themselves amongst some of the best sides in history, but Jones was keen to impress that it was as much as an achievement for former head coach Stuart Lancaster as it is for the team.
"It won't be an achievement for me, it'll be an achievement for the team. We're all in this together. The guy who should get a lot of credit for the success is Stuart Lancaster."
England's trip to the Aviva on Saturday will be their toughest of the championship so far with Ireland – who lost to Wales last weekend – having nothing to play for, other than the satisfaction of preventing Jones' men from making history.
And the Australian said having nothing to lose makes Ireland an even more difficult task to negotiate.
"They've got no fear of failure, they were favourites and now they're out of it.
"They're a threat because they're a very good team. Any team that beats the All Blacks is a very good team, and everyone in the Six Nations has one good performance in them. We've seen that."
England welcome back Billy Vunipola to the starting XV after making his try-scoring international return from a knee injury off the bench against Scotland last week.
"Billy's done well since back in the squad, he's done very well since his return, and he's got the fitness now.
"Billy's got the energy, he's got certain qualities so we're happy to have him back.
"Where he left off in the autumn, he was certainly a very good player. He's got to start again, get back on the horse and it needs to be a very big horse to hold him."
Elliot Daly keeps his place in the team despite going through the return to play protocols after being on the wrong end of a tip tackle which ended his afternoon against Scotland early.
The Englishman remains on the wing, with Anthony Watson starting on the other instead of Jack Nowell, with Jones challenging his side to go out and achieve "greatness" in Dublin.
"The team's embraced it. To go from where we are to greatness takes a great endeavour, it takes persistence. It's like climbing up a mountain, the higher you go, the ground gets unstable, the air gets thinner, it gets harder, the blood gets thinner. It's the same as the sporting ladder and sometimes you need to stop and look at what's ahead of you, and at times we haven't done that and that's my fault."
Join our new commenting forum
Join thought-provoking conversations, follow other Independent readers and see their replies