'Half-cut' Barbarians embodied their true spirit to down England in record victory, reveals Pat Lam
The Barbarians overcame unfamiliarity and sore heads to inflict England's biggest ever loss on home soil in a nine-try 63-45 victory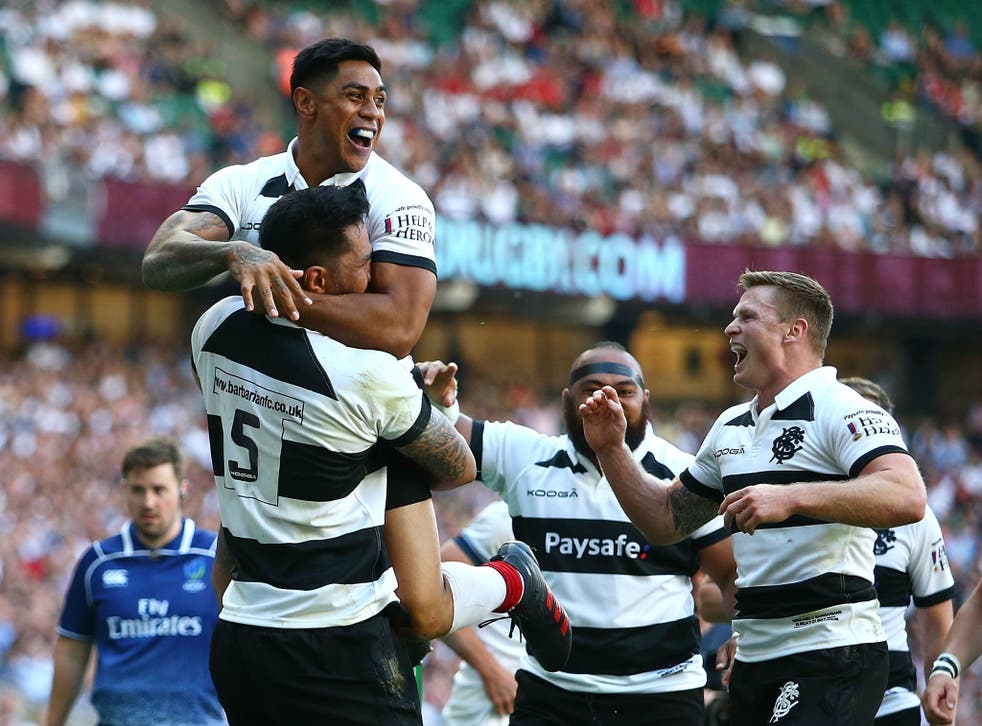 The embarrassment of England's record defeat by the Barbarians was magnified by head coach Pat Lam's revelation afterwards that his squad had trained just three times all week and entered the match "half-cut", following their late-night exploits this week.
The Barbarians spirit was on full display on Sunday as the invitational side ran in nine incredible tries against an England side that Eddie Jones admitted were "shocked" by the opening exchanges in which they conceded three tries in the first 12 minutes.
The eventual 63-45 victory, the most points conceded at home in England's history, could have been off-set by the fact that Jones was without 15 Saracens and Exeter Chiefs players that will come into the camp on Monday, but Lam's revelations after the match did more than just add to the weight of embarrassment.
"We did a bit of work before we came in and we looked at opportunities," the Bristol Bears head coach Lam said. "I brought my coaching team with me. When they asked me to do this I looked at it and I've been involved in it before [Barbarians] and I knew that we were going to honour the tradition of getting to know each other but we only had three training sessions.
"So I said if I'm coming I need to bring Jonathan Thomas and my analysis guy and he was key because I knew even though they might be half-cut in the morning they could still see the pictures."
The match was all the more remarkable in that Chris Ashton, the exile currently playing for Toulon and thus unavailable for England selection, scored a 25-minute hat-trick back at his former stomping ground. After revealing that he was dressed up as a hippy for the team's 'bonding' night out earlier in the week, he joked with Lam about how much he actually remembered from his first Baa-Baas experience.
Asked how many sessions he had actually had, Ashton asked Lam, tongue firmly in cheek: "It was two?"
"It was three," came Lam's response. "It was funny because I said to them, 'Fellas that was a really good training session but I know that some of you probably don't even remember it. But you can look at the pictures!"
Ashton added: "Training was good. I thought that with the players that we had, as long as Pat put the structure in place, as you saw we had the players to add the extra to it. It's amazing. I was amazed how quickly we managed to pick it up and everyone knew their roles really quickly. "
Ashton still has two years left to run on his lucrative Toulon contract and hopes of a shock return in time for next year's Rugby World Cup look slim to none, with England head coach Jones stressing that the only way he can be selected is if he returns to the Premiership.
But that did not stop Lam from trying to tee up his next big signing at Bristol. "I do have a paper. When this guy wants to come home there will always be a place with me! I'll be waiting for him."
Register for free to continue reading
Registration is a free and easy way to support our truly independent journalism
By registering, you will also enjoy limited access to Premium articles, exclusive newsletters, commenting, and virtual events with our leading journalists
Already have an account? sign in
Register for free to continue reading
Registration is a free and easy way to support our truly independent journalism
By registering, you will also enjoy limited access to Premium articles, exclusive newsletters, commenting, and virtual events with our leading journalists
Already have an account? sign in
Join our new commenting forum
Join thought-provoking conversations, follow other Independent readers and see their replies