Women's Rugby World Cup final 2014: England finally end 20 years of hurt with triumph over Canada
England 21 Canada 9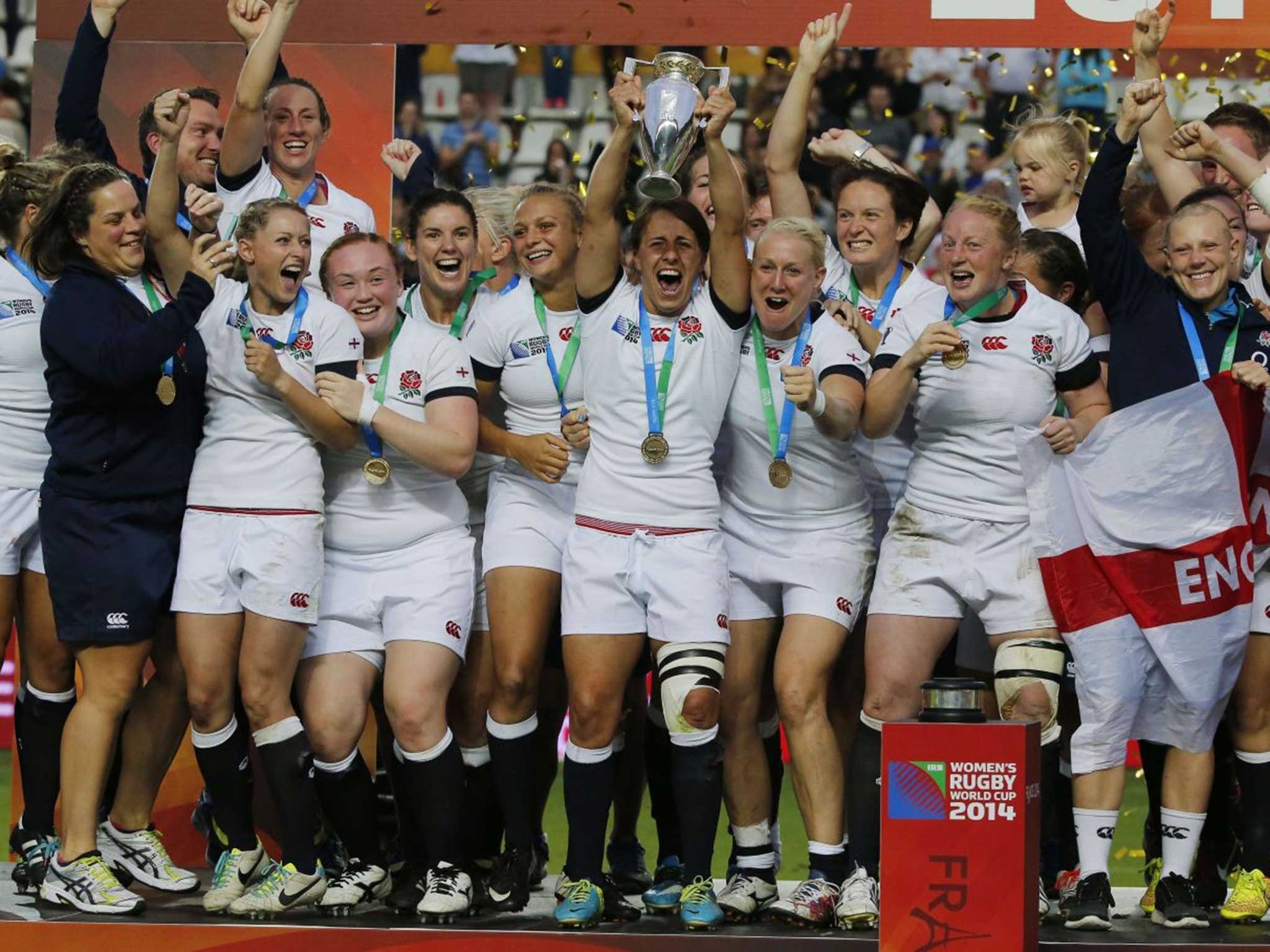 They had been hurting for 20 years, largely from pain inflicted by battalions of cold-eyed furies from All Black country across four World Cup cycles, so when England's women finally reclaimed the global title by beating the devil-may-care counter-attackers from Canada in Paris on Sunday night, the explosion of joy was comfortably matched by the surge of relief.
It was nobody's idea of a classic – there was too much nervous tension, leading to too many unforced errors from hardened players who would have expected better of themselves – but when the grandest prizes are at stake, style seldom gets a look-in.
Having lost the previous three finals to New Zealand, and the 1998 semi-final to the Black Ferns, the win here was all that mattered.
A smartly constructed first-half try from the Bristol full-back Danielle Waterman – precisely the kind of score her father Jim, a resident member of Bath's pantheon of No 15s, might have bagged for himself – and a solo crossing from the goal-kicking Lichfield centre Emily Scarratt deep in the final quarter were the scores that counted. Yet it was the most celebrated England player of them all, the flanker Maggie Alphonsi, who did most of the things that really mattered.
From start to finish, the 30-year-old Saracens forward's work at close quarters, particularly on the deck, was in a class of its own.
Alphonsi had a hand in Waterman's try, delivering a sweetly-timed scoring pass after running a precise line in support of the lock Tamara Taylor, but her loudest statements were at the tackle area, where she stripped the Canadians bare. Seventy-odd caps into an international career that has had its share of disappointments, she brought everything she had to the table here.
"That first try involving Maggie, Tamara and Danielle was something special: they were all playing in their third World Cup final," said Gary Street, the head coach, with deep satisfaction. "It's no secret that the last defeat in 2010 [13-10 by New Zealand in the final] really hurt us, so this time we just had to do it. The only thing in our minds was to go through the tournament and out the other side."
It was hard to imagine a more fitting stage for the seventh and most captivating of these competitions, only one of which had been won by England, way back in 1994. The Stade Francais club ground on the western outskirts of the capital was traditionally more of a blood-stained bullring than a pristine greensward fit for the buccaneering adventurers of French rugby: now, following a supremely inventive redevelopment, it is one of the most eye-catching union stadiums in Europe. If red-rose representative sides of a certain vintage grew to hate the old place, these latest visitors love the new place to bits.
Yesterday's main event had some standards to meet, not least because the Black Ferns, as the previously all-conquering New Zealanders have long been known, featured prominently on the support bill. Quite how they failed to make the final is a mystery.
In obliterating the United States 55-5 in the play-off for fifth place, the dethroned champions showed many of the characteristics rugby aficianados have come to associate with generations of their countrymen – pace, skill, ruthlessness, a heightened appreciation of the full range of the game's possibilities. They also possessed an outside-half, Victoria Subritzky-Nafatali, who not only sounded like an entire back division, but played like one too. Not that the Americans were completely bereft. Their miniscule full-back, Meya Bizer, spent the first half of the game tackling with real aplomb.
France centre Marjorie Mayans' defensive work in midfield which pretty much decided the bronze-medal match 25-18 in the hosts' favour against Ireland, was even better. All things considered, then, the tone of the final was set long before kick-off, and when Hilary Leith, a Canadian tight-head prop the size of Saskatchewan, stampeded through two-thirds of the England front row in the opening exchanges, it was clear that the physicality of the struggle would live up to anticipation.
England were less than the sum of their parts: during a scratchy third quarter, the most spirited of the Canadians – the No 8 Kelly Russell, the breakaway forward Karen Paquin, the centre Mandy Marchak – caused sufficient damage to give Magali Harvey a sight of the sticks. As a result of her kicking, there were only two points between the sides at the hour mark. But the excellent Scarratt's try seven minutes from time brought the priceless gift of calm to colleagues who had become just a little frazzled.
So what does it mean in the great scheme of things, this victory for the teachers, vets, plumbers and physiotherapists around whom a high-achieving squad has been built?
"It could be the tipping point for women's rugby, not just at home but worldwide," said Street. But for the outside-half and captain Katy Mclean, it was a triumph in itself. "We were the ones who created this bubble and the ones who earned the right to be in it," she said, explaining her decision to reject any idea of an eve-of-match shirt presentation from some high-profile member of rugby's "other" gender. "I didn't want anyone from outside the group." Quite right too.
Scorers: England – Tries: Waterman, Scarratt. Conversion: Scarratt. Penalties: Scarratt 3. Canada – Penalties: Harvey 3. England: D Waterman (C Allan 46-51); K Merchant (Allan 69), E Scarratt, R Burford (C Large 77), K Wilson; K Mclean (capt), N Hunt (L Mason 77) ; R Clark, V Fleetwood (E Croker 58), S Hemming (L Keates 53), T Taylor, J McGilchrist (R Essex 53), M Packer (A Matthews 64), M Alphonsi, S Hunter. Canada: J Zussman (J Sugawara 75); M Harvey, M Marchak, A Burk, J Dovanne (B Waters 59); E Belchos, E Alarie; M-P Pinault-Reid, K Donaldson (L Russell 45), H Leith (O De Merchant 69), L Blackwood, M Samson (K Mack h-t, M J Kirby 74), J Murphy, K Paquin, K Russell (capt). Referee: A Perrett (Australia).
Join our commenting forum
Join thought-provoking conversations, follow other Independent readers and see their replies