England Women players handed 28 full-time professional contracts by RFU in response to angry backlash
After losing their full-time contract following the 2017 Women's Rugby World Cup in controversial circumstances, the RFU has awarded professional deals to 28 members of Simon Middleton's EPS squad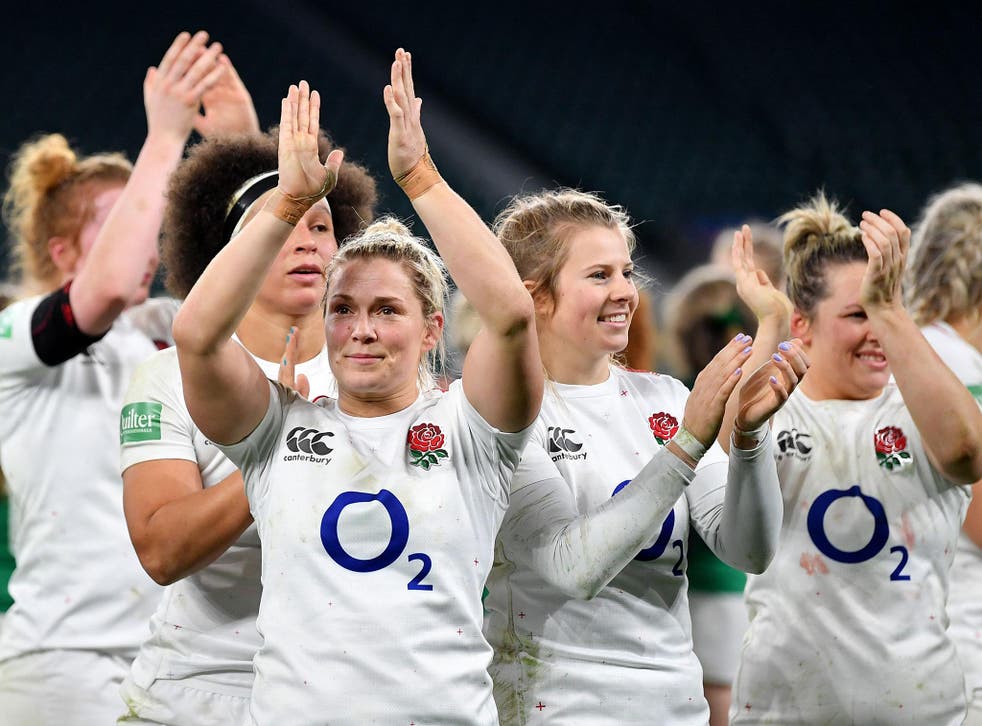 A landmark day for the Rugby Football Union saw full-time professional contracts awarded to 28 players who make up the bulk of Simon Middleton's England Women squad for the upcoming Six Nations championship, in what are the first professional deals to be handed to female 15-a-side players.
The RFU already boasts a professional Sevens set-up that had been tasked with attempting to win the Rugby World Cup Sevens in San Francisco last year as well as targeting Olympic success at Tokyo 2020, but the governing body received intense criticism in 2018 following the withdrawal of support for the 15s side the previous year.
As a result, the RFU announced that the first full-time professional contracts for the 15s side would be awarded from the start of 2019, which includes 2014 Women's Rugby World Cup winners Katy Daley-Mclean, Sarah Hunter, Marlie Packer and Vicky Fleetwood, among many of the 2017 World Cup finalists. The RFU also confirmed that, as previously announced, World Cup winners Natasha Hunt and Emily Scarratt will return to 15s from the Sevens programme, along with rising talent Jess Breach.
Middleton hopes that the introduction of the full-time contracts will provide a boost to the development of the best young talent in the country – something that the RFU also hope to capitalise on as they look to double the number of female participants by 2021, increase the number of women's teams by more than 75 per cent to 800 along with 400 active women's clubs, and increase the number of women referees, coaches and volunteers across the sport as a whole.
"The introduction of full-time contracts will take time to embed but will unquestionably help us to accelerate the development process," Middleton said. "This is a huge opportunity and we recognise the expectation that comes with the investment. It is now down to us as a management and playing group to meet those expectations."
Rugby internationals – team of the autumn

Show all 15
The first task for Middleton's squad, which also includes seven other players within the Elite Player Squad (EPS) – including 2017 World Cup finalist Amy Cokayne to allow her to continue her commitments with the Royal Air Force – will be to prepare for the Six Nations that kicks off next month. With the schedule mirroring that of the men's championship as well as the Under-20s, England open their campaign in Dublin against Ireland, with Middleton's side looking to wrestle the title back from France after losing their grip on it last year.
However, the long-term aim remains the 2021 Women's Rugby World Cup, which will take place at the home of the reigning champions and side that beat England two years ago in New Zealand.
"I am confident that this group of players have the potential to grow into the world-class squad we will be looking to take to New Zealand in 2021," Middleton added.
"Congratulations to all those selected, every player has worked hard to rightly earn their place. As a player and management group, our immediate focus is very much on the Six Nations and the continued development of what is a still a very new squad of players."
RFU Head of Women's Performance Nicky Ponsford added: "At England Rugby we want to be driving standards in women's rugby through everything we do. Full-time contracts help to ensure we have the access to players to develop them and allow them and fulfil their potential.
"We look forward to continuing to work with the clubs in developing this group of players and continuing to grow the Tyrrells Premier 15s at a domestic level."
England Women elite player squad for 2019
Backs: J Breach, R Burford, K Daley-Mclean, A Dow*, Z Harrison, T Heard, N Hunt, C Macdonald*, S McKenna, L Riley, E Scarratt, E Scott*, K Smith, L Thompson, L Tuima, C Williams.
Forwards: Z Aldcroft, S Beckett, S Bern, H Botterman, J Brown, R Burnfield*, S Brown, B Cleall*, P Cleall, A Cokayne*, V Cornborough, L Davies, V Fleetwood, S Hunter, J Lucas, C O'Donnell, M Packer, E Perry*, A Scott.
*Denotes EPS agreement player.
Register for free to continue reading
Registration is a free and easy way to support our truly independent journalism
By registering, you will also enjoy limited access to Premium articles, exclusive newsletters, commenting, and virtual events with our leading journalists
Already have an account? sign in
Register for free to continue reading
Registration is a free and easy way to support our truly independent journalism
By registering, you will also enjoy limited access to Premium articles, exclusive newsletters, commenting, and virtual events with our leading journalists
Already have an account? sign in
Join our new commenting forum
Join thought-provoking conversations, follow other Independent readers and see their replies