Joe Marler attempts to clarify claim he would seek out yellow and red cards to be banned for England games
The Harlequins prop claimed getting himself banned ahead of England camps would give him 'an easy way out without actually pulling the trigger'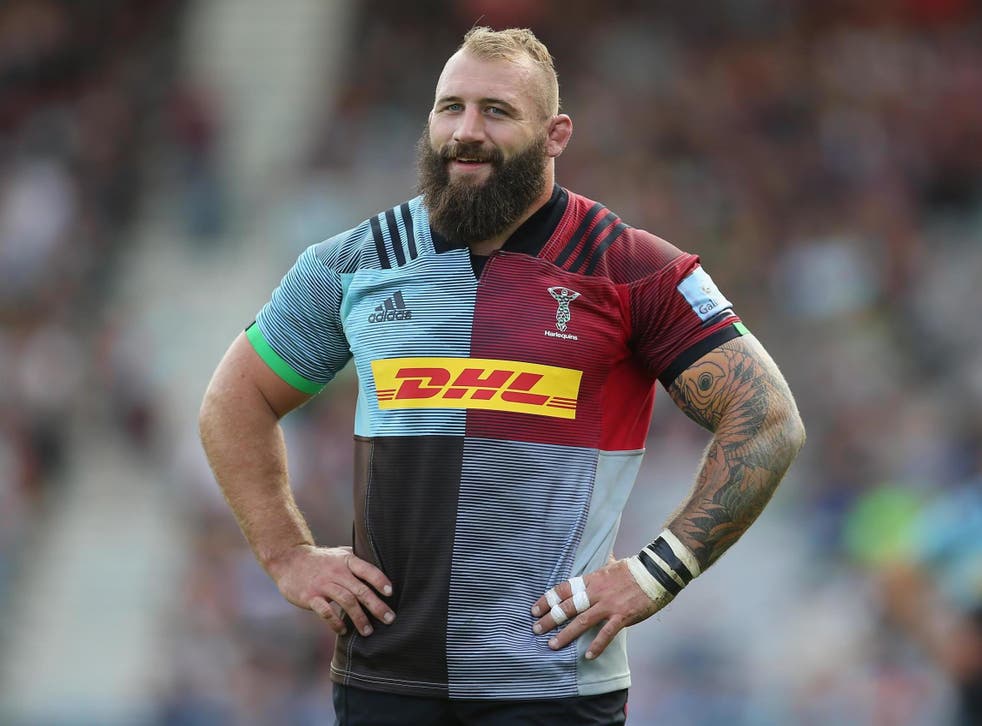 Joe Marler has attempted to "clarify" comments he made on Tuesday that suggested he intentionally looked for yellow and red cards in order to be banned for England matches, such was the anxiety he would get ahead of international matches.
The Harlequins prop announced his international retirement last week at the young age of 28, having lost the desire to play for his country. Marler was left out of the recent training camp in Bristol due to "personal reasons", and made his decision public last Wednesday having won 59 caps during his six-year career.
Speaking on The Rugby Pod about his decision, Marler said that panic would begin to set in the weeks leading up to an England camp, which resulted in him giving away more penalties than normal or looking to pick up cards from the referee that would often lead to a ban, whether subconsciously or otherwise.
Premiership in pictures - round three

Show all 6
He said: "The anxiety I would get about having to leave and go away again would start to manifest itself in giving away even more dull penalties and looking for outs, looking for a yellow card, looking for a red card, because if I could pick up a ban, that's an easy way out without actually pulling the trigger."
Marler was suspended for the first two Six Nations games this year after he was handed a six-week ban for a dangerous clearout on Sale Sharks flanker TJ Ioane, and has a endured a career littered with disciplinary issues and numerous suspensions. He also received a yellow card in Harlequins' defeat by Bristol for a forearm to the shoulder/neck area of scrum-half Andy Uren.
"The Bristol game (before he took the decision) I played like an absolute helmet, which often happened around England time," he added.
""I said 'I can't keep doing this rollercoaster'. It's not fair on my family, it's not fair on the club.
"I'd had enough. I've got a young family. My boy's four and a half, he's just started school. My little girl's two and a half. And we plan on having more - having a nice big family.
"I really enjoyed my time with England, I really enjoyed playing international rugby, but my family is my priority. As soon as I had kids it completely flipped my perspective of life."
Last season he was reprimanded in September for grappling with England teammate James Haskell – ripping his scrum-cap off in the process – and spraying water in the then-Wasps forward's face, before being banned for three weeks after striking Will Rowlands with his elbow in a European clash against the same club the following month.
He missed the opening autumn international against Argentina as a result, which lends weight to what Marler said on Tuesday.
But the loosehead prop issued an attempted clarification about his comments, claiming that he was trying to reveal his "occasional irrational behaviour" and that he "never deliberately" attempted to get himself banned.
"I would like to clarify my comments on @TheRugbyPod this morning that have been taken out of context," he wrote on Twitter. "I have never deliberately done anything on a rugby pitch – or off it – to get a ban I was simply reflecting on my occasional irrational behaviour when England camps were looming and trying to understand my actions a little bit better."
Marler will not face any action from the Rugby Football Union, but his comments will not have gone down well with given that they cast a bad light on his approach to the game, given the potential for serious injury by those on the receiving end of his actions.
Join our new commenting forum
Join thought-provoking conversations, follow other Independent readers and see their replies