Rugby World Cup 2015: Luther Burrell and Jonathan Joseph back on England's centre stage
The pair will resume their Six Nations midfield partnership against France in Paris this weekend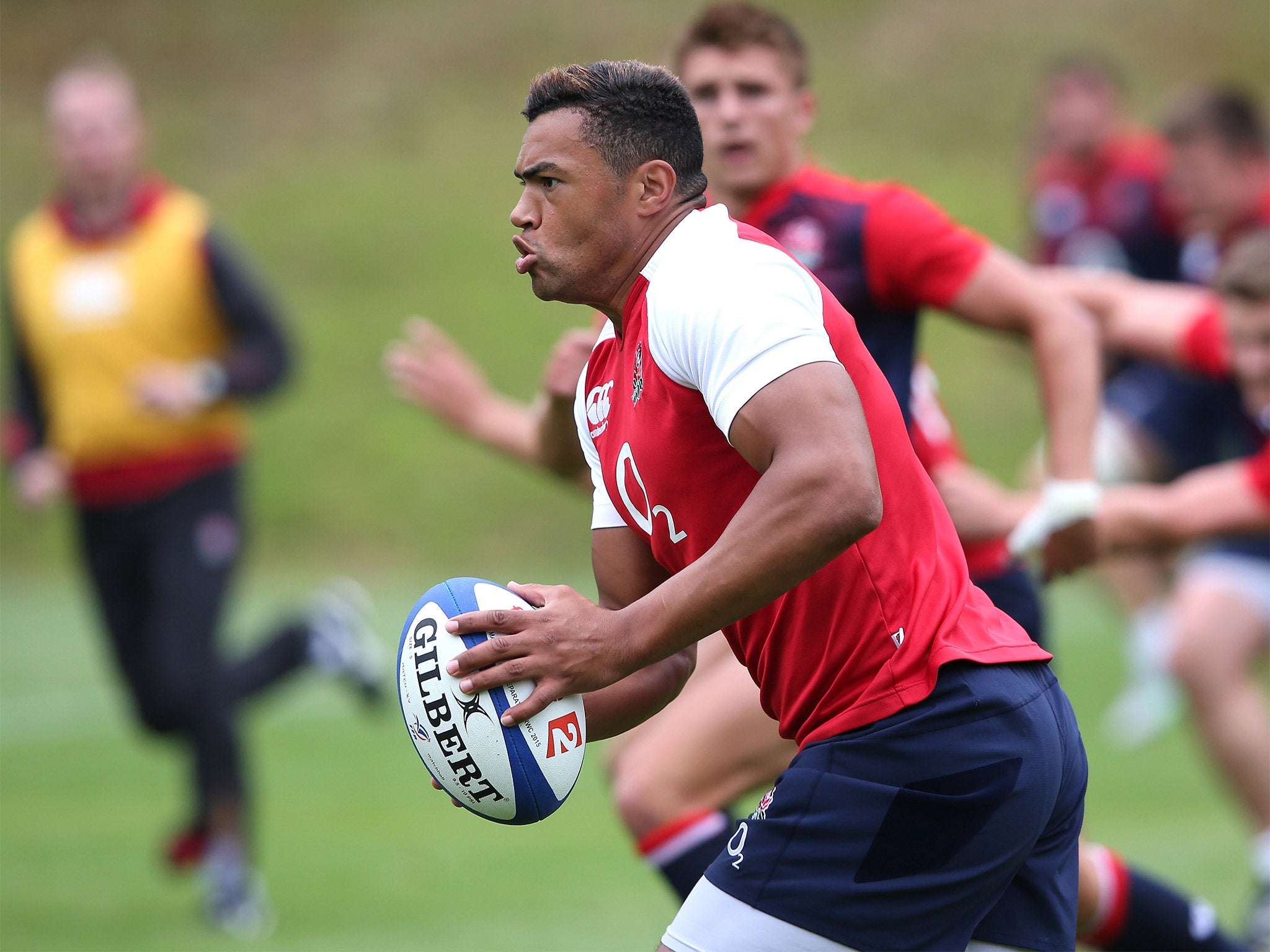 Luther Burrell and Jonathan Joseph will resume their Six Nations midfield partnership when England cross the water for their penultimate World Cup warm-up contest in Paris on Saturday night, but the talk – as it tends to be on every day of the week with a "y" in its name – was all about Sam Burgess.
Stuart Lancaster, the head coach, flatly denied that the rugby league refugee's selection for the global tournament was preordained, but it seems written in the stars nonetheless.
The question is whether Henry Slade, the other debutant centre involved in the home victory over the French four days ago, will also make the cut. If he does not, it will take some believing: the youngster from Exeter played some brilliant stuff at Twickenham – rather more brilliant than anything produced by his alarmingly limited but infinitely more celebrated partner – and it is reasonable to suggest that without him pulling the distributive strings, none of England's three tries would have been scored. The very idea that all this might not have been enough is too depressing for words.
Lancaster stopped well short of stating that the West Countryman would be among the eight players due to be packed off home when the final decisions on the shape of the elite 31-man squad are made next week. Indeed, he indicated that there was more chance of both Burgess and Slade surviving the cull as a result of their performances last weekend than there had been before that game.
But he also mentioned that in his face-to-face review meeting with Slade he had spent at least part of it talking of the opportunities that would be open to him once this World Cup is done and dusted: hardly the newcomer's subject of choice, if truth be told.
Slade may well consider himself a good bet to be a senior red-rose player when the global jamboree moves to Japan in four years' time, but just at the moment he is far more interested in events due to unfold in four weeks' time.
"I think it's fair to say that I now see picking both Sam and Henry in the final squad as a smaller step than I did this time last week," Lancaster commented. "But for that to happen, someone like Luther has to miss out and I think he might have something to say about that in Paris."
With Joseph and Brad Barritt certain to claim two of the four centre places on offer, it seems Slade and Burrell are in OK Corral territory, with Burrell the one in possession of the gun.
O2 give away 50,000 England Rugby shirts
Show all 4
Neither Burgess nor Slade will be involved in France – a selectorial gamble in itself, given that they have barely played 100 minutes of international union between them. But Lancaster feels he owes the likes of Burrell and Billy Twelvetrees, productive players in the England midfield over the last couple of seasons, the chance to stake a claim.
On his own admission, the coach has found this midfield conundrum fiendishly difficult to solve, and it will even be bewildering if Twelvetrees chooses the City of Light to emerge from the darkness of maginalisation by scoring a hat-trick off the bench.
At one delicate point in the discussion, the coach reacted sharply. Asked what he might say to those who take the view that Burgess was guaranteed selection long ago – an understandable suspicion, given how little the cross-coder has offered as a midfielder since joining Bath last autumn – he replied: "Perhaps they should listen to my 'one-to-one' with him this morning. The message to all the players is that this is one of the most competitive positions, that everyone will have to earn the right to get in. I've never made any promises to any player. Least of all Sam."
Amid the thick fog enveloping the centre selection, there was a hint of clarity in the propping department. Alex Corbisiero, a world-beater of a loose head when the British & Irish Lions triumphed over Australia in 2013, is by no means certain to recover from an outbreak of sciatica in his hip in time to train next week and if he fails to feature in those squad sessions, he will disappear into the gloaming.
"We do still have the Ireland game on 5 September but the call has to be made before then," Lancaster said. "Unfortunately, the decision about playing him in Paris was taken out of my hands and the clock is ticking.
"Alex has done everything the other props have done in camp and he's certainly been pushing Joe Marler and Mako Vunipola, but equally we need to ensure we make the right decision about our fifth prop, because he might have to play on both sides of the scrum and needs to be robust."
Join our commenting forum
Join thought-provoking conversations, follow other Independent readers and see their replies