Rugby World Cup 2015: There's no way back after England exit, Stuart Lancaster has to go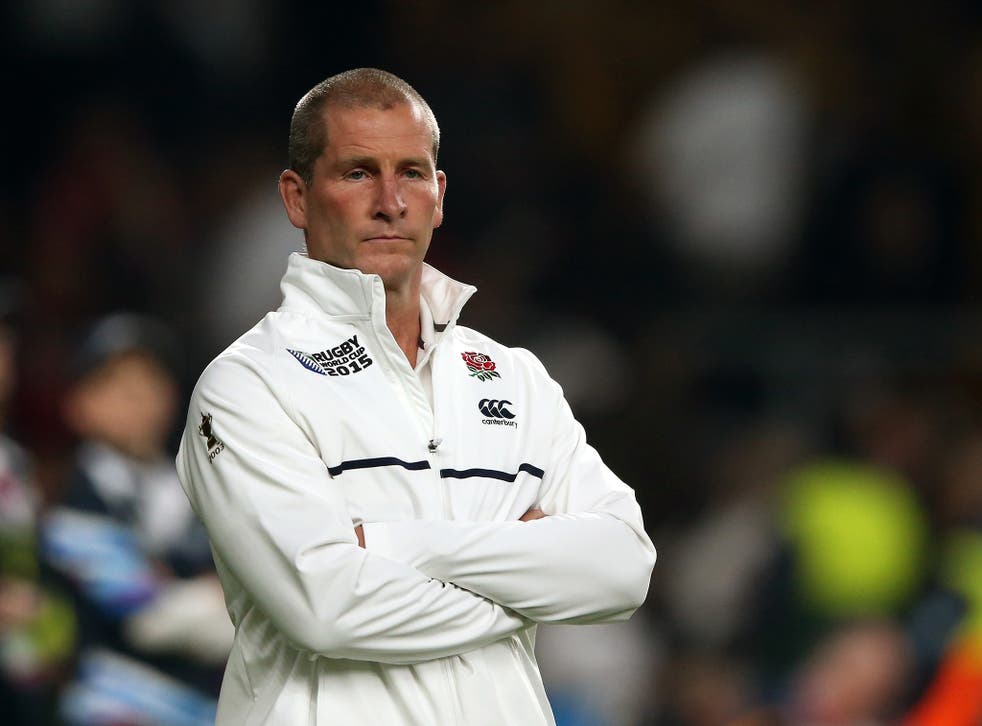 There will be calls after England's hideously early World Cup elimination for Stuart Lancaster to stand down as head coach or be fired from a Rugby Football Union contract that has five years left to run.
The noises from Bill Beaumont, chairman of the RFU, on the morning of the game were placatory: wait and see, maybe have a review. But they won't have to search for justification for a change. Even before the World Cup started, Lancaster and his team had failed the goals in the RFU's strategic plan for 2012-13 to 2016-17 of being ranked first or second in the world at this time, and first by next season.
It was Rob Andrew, the RFU's head of professional rugby – unofficial title, chief of stickability – who said on the eve of the World Cup that this England team would peak in three years' time, not now. Not that I would care to guarantee the burgeoning generation led by Joe Launchbury, Anthony Watson, Jonathan Joseph, Henry Slade and Maro Itoje won't be broken men by the time Japan 2019 comes around, such is the savagely tough life playing in the Premiership and for England, but Andrew had, and has, a point.
What about Ian Ritchie, the RFU chief executive, whose tenure has seen healthy financial figures? Not getting out of the pool is a terrible blow to prestige and to the hoped-for rugby legacy. Who knows what blood may soon be on the walls of Twickenham's corridors of power? Kevin Bowring, the head of coach development and a mentor to Lancaster, has already announced his retirement.
Lancaster could resume his existing, parallel job as head of international performance, overseeing player development, and allow a new head coach in. Ironically, his adeptness at articulating his experiences would make it easier for any newcomer to take his legacy and improve it.
If England need a worldly-wise hard head, take your pick from Nick Mallett, Jake White, Wayne Smith and Warren Gatland, who have all been linked before, and add Joe Schmidt and Michael Cheika to the fantasy shortlist. If the RFU choose to stay English – and in 40-odd years of England head coaches, they always have – candidates include Jim Mallinder and Rob Baxter and not many more. Some will want Sir Clive Woodward in an overseeing role. Sir Ian McGeechan and Conor O'Shea were in the panel that chose Lancaster. Might "Geech" fancy a grey-haired go himself?
Lancaster correctly attacked the creeping sense that playing for England is an easy-come, easy-go minor luxury. He promoted youngsters wherever possible. He lost Dylan Hartley and Manu Tuilagi when he least needed to; ditto the injured Joseph before last week's loss to Wales. But Lancaster also declared in his first statements as head coach in early 2012 that he favoured a linking openside flanker and a footballing No 12, and ended up with neither.
There was the Sam Burgess affair – a stunningly left-field and needless selection of a player unsure what he was doing. Slade should have been promoted over Burgess, and earlier than this summer. But where were the alternative No 7s to Chris Robshaw? Matt Kvesic? Injured or dragged down by Gloucester's form. Andy Saull? Drifted out of Saracens to Newcastle. Tom Rees? Brilliant but retired early, injured.
Oh, and Steffon Armitage. Now here's where we may find the rub. It is essential England's clubs are front and centre in the most stringent of navel-gazing. The clubs share in the finances of the national team but do they play how England need them to, and do they produce enough fresh, highly skilled players? Bath's coach, Mike Ford, was quick last week to slam England for "picking a team not to lose" against Wales. True, maybe, but spectacularly unhelpfully timed by a club man.The number of overseas players in the league is at a record level while those who go to France are ostracised – thus ruling Armitage out – yet no English club have won the European Cup since 2007.
It was never nailed on that England would make it through their World Cup pool, the toughest any hosts have faced. Only five of yesterday's 23-man squad had played in a World Cup before – way below Wales and Ireland – which brings to mind the serial failures endured by England's glory team before they reached the nirvana of 2003.
From Richie McCaw's All Blacks in the World Cup to Toulon, Munster, Leinster and Leicester in Europe, they succeeded by failing first. The most resonant example is Woodward keeping his job after exiting the 1999 World Cup in a Paris quarter-final, with Martin Johnson, Lawrence Dallaglio, Jonny Wilkinson and all those future greats. Those whom the rugby gods wished us to revere, they first made losers.
But Lancaster had too many advantages to make that argument stick. It is impossible to argue for him to continue.
Register for free to continue reading
Registration is a free and easy way to support our truly independent journalism
By registering, you will also enjoy limited access to Premium articles, exclusive newsletters, commenting, and virtual events with our leading journalists
Already have an account? sign in
Register for free to continue reading
Registration is a free and easy way to support our truly independent journalism
By registering, you will also enjoy limited access to Premium articles, exclusive newsletters, commenting, and virtual events with our leading journalists
Already have an account? sign in
Join our new commenting forum
Join thought-provoking conversations, follow other Independent readers and see their replies