Rugby World Cup 2015: Tom Wood apologises for England exit after Australia demolition
Blindside flanker Wood admits England fell well short of expectations after crashing out of the World Cup before the pool stage has finished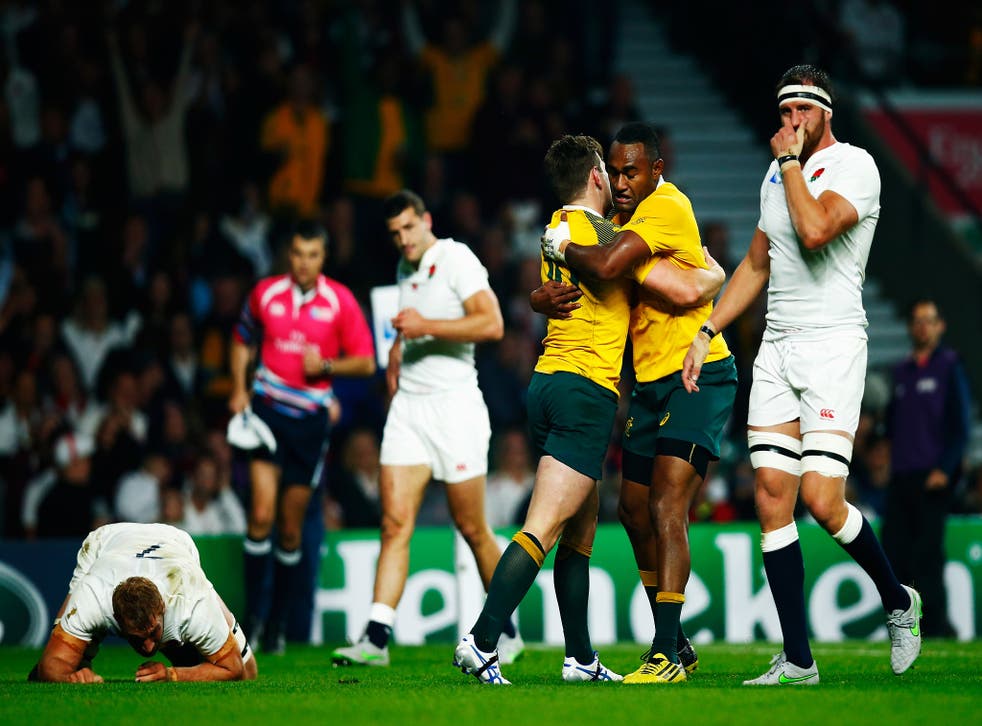 Tom Wood apologised to the nation for the 33-13 defeat by Australia at Twickenham that has sent England crashing out of the World Cup at the group stage.
It was England's worst performance at the tournament and they have become the first host country to fail to reach the knockout phase, leaving Wales and the Wallabies to battle it out for top spot in Pool A.
"It was a bad day, a really bad day. I can't explain how much it hurts. I want to thank everybody for their support over the last few months and apologise that we didn't have enough," Wood said.
"The changing room is in despair. In one sense I'm really proud because we prepared really hard and committed whole heartedly.
England vs Australia player ratings

Show all 30
"But we've also been well beaten and knocked out of the World Cup in the pool stage.
"It's our World Cup. We're a proud England team and we've failed. There's no way of sugar coating that.
"We genuinely felt like contenders to win it, but the proof is in the pudding and we're not in it. We'll have to stand back and watch everybody else.
"There will be a few things that we'll look at that didn't go our way, but when you're beaten by 20-odd points you're beaten.
"In terms of credibility and earning the trust and support of everybody again, maybe that will take some time.
"There was a lot of hype and expectation, but we've fallen flat on our face. Let's not beat around the bush."
Wood insists the pain of England's exit is worse than four years ago when they reached the quarter-finals in a campaign marred by a successions of reputation damaging off field incidents.
"Because of the hype, because of the expectation and because it was at home, it probably hurts more than 2011," Wood said.
"For me personally, having been more involved this time around, there are less people to blame this time and I have to shoulder more of it myself."
Head coach Stuart Lancaster and his assistants now face an uncertain future, but they have the full backing of Wood.
"I can't speak highly enough of the management team. I've been in this position before and legitimately questioned our preparation and things that had gone on," he said.
"But this time I haven't got any questions. I feel like we've done everything, I feel like we've worked really hard.
"Selection is subjective and people will have their thoughts on that, but for me as a player I back the guys."
PA
Register for free to continue reading
Registration is a free and easy way to support our truly independent journalism
By registering, you will also enjoy limited access to Premium articles, exclusive newsletters, commenting, and virtual events with our leading journalists
Already have an account? sign in
Register for free to continue reading
Registration is a free and easy way to support our truly independent journalism
By registering, you will also enjoy limited access to Premium articles, exclusive newsletters, commenting, and virtual events with our leading journalists
Already have an account? sign in
Join our new commenting forum
Join thought-provoking conversations, follow other Independent readers and see their replies