RWC 2015: Bernard Foley hits camera woman in face as he celebrates try against England
England fans were hurting, but for one person inside Twickenham it was even worse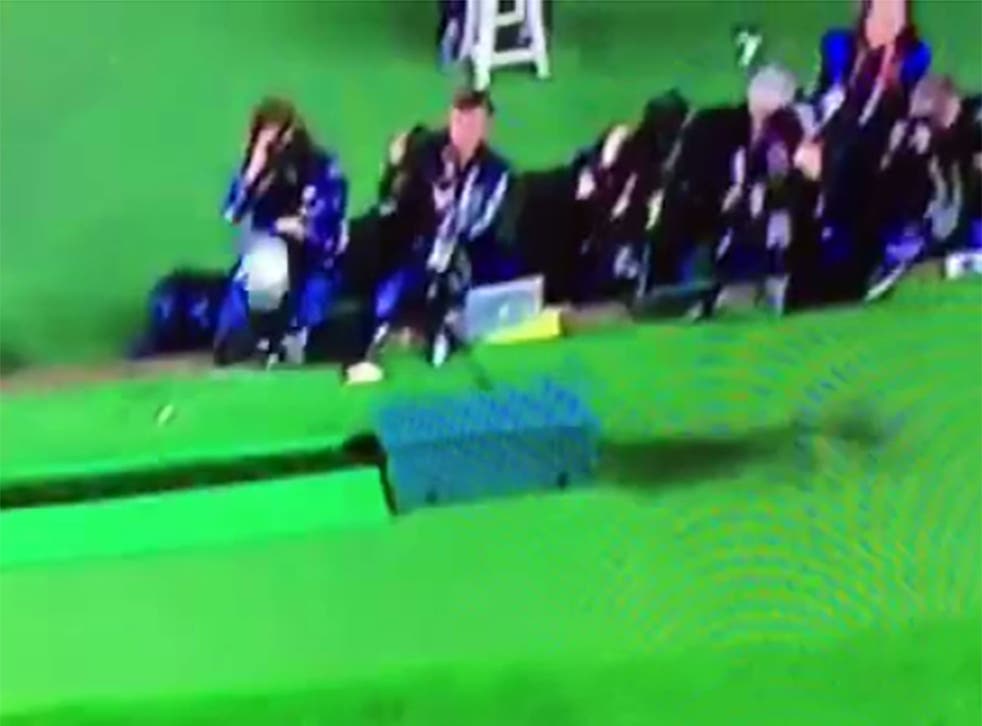 When Bernard Foley went over the line for his second try, for English fans it hurt, and in the case of one person inside Twickenham, quite literally.
The Wallabies fly-half went over the line after a wonderful move that saw an exchange of quick fire passes. After the try was converted, it took Australia into a 17-3 lead.
In celebration, a pumped up Foley threw the ball towards the crowd and in doing so managed to arrow it straight into a bank of photographers. Footage appeared to show the ball hitting the camera lens of a woman, slamming her equipment back into her face.
Foley did not appear to notice as he celebrated with his Australia team-mates.
Australia went on to win the game 33-13 and with it knock England out of the World Cup.
Tom Wood apologised to the nation in the aftermath.
"It was a bad day, a really bad day. I can't explain how much it hurts. I want to thank everybody for their support over the last few months and apologise that we didn't have enough," Wood said.
"The changing room is in despair. In one sense I'm really proud because we prepared really hard and committed whole heartedly.
"But we've also been well beaten and knocked out of the World Cup in the pool stage.
"It's our World Cup. We're a proud England team and we've failed. There's no way of sugar coating that.
England vs Australia player ratings

Show all 30
"We genuinely felt like contenders to win it, but the proof is in the pudding and we're not in it. We'll have to stand back and watch everybody else.
"There will be a few things that we'll look at that didn't go our way, but when you're beaten by 20-odd points you're beaten.
"In terms of credibility and earning the trust and support of everybody again, maybe that will take some time.
"There was a lot of hype and expectation, but we've fallen flat on our face. Let's not beat around the bush."
Register for free to continue reading
Registration is a free and easy way to support our truly independent journalism
By registering, you will also enjoy limited access to Premium articles, exclusive newsletters, commenting, and virtual events with our leading journalists
Already have an account? sign in
Register for free to continue reading
Registration is a free and easy way to support our truly independent journalism
By registering, you will also enjoy limited access to Premium articles, exclusive newsletters, commenting, and virtual events with our leading journalists
Already have an account? sign in
Join our new commenting forum
Join thought-provoking conversations, follow other Independent readers and see their replies