Six Nations 2016: England coach Eddie Jones tells Tom Wood he is 'distinctly average'
Wood is focusing on the rest of the season with Northampton Saints in a bid to regain his England shirt for the summer tour of Australia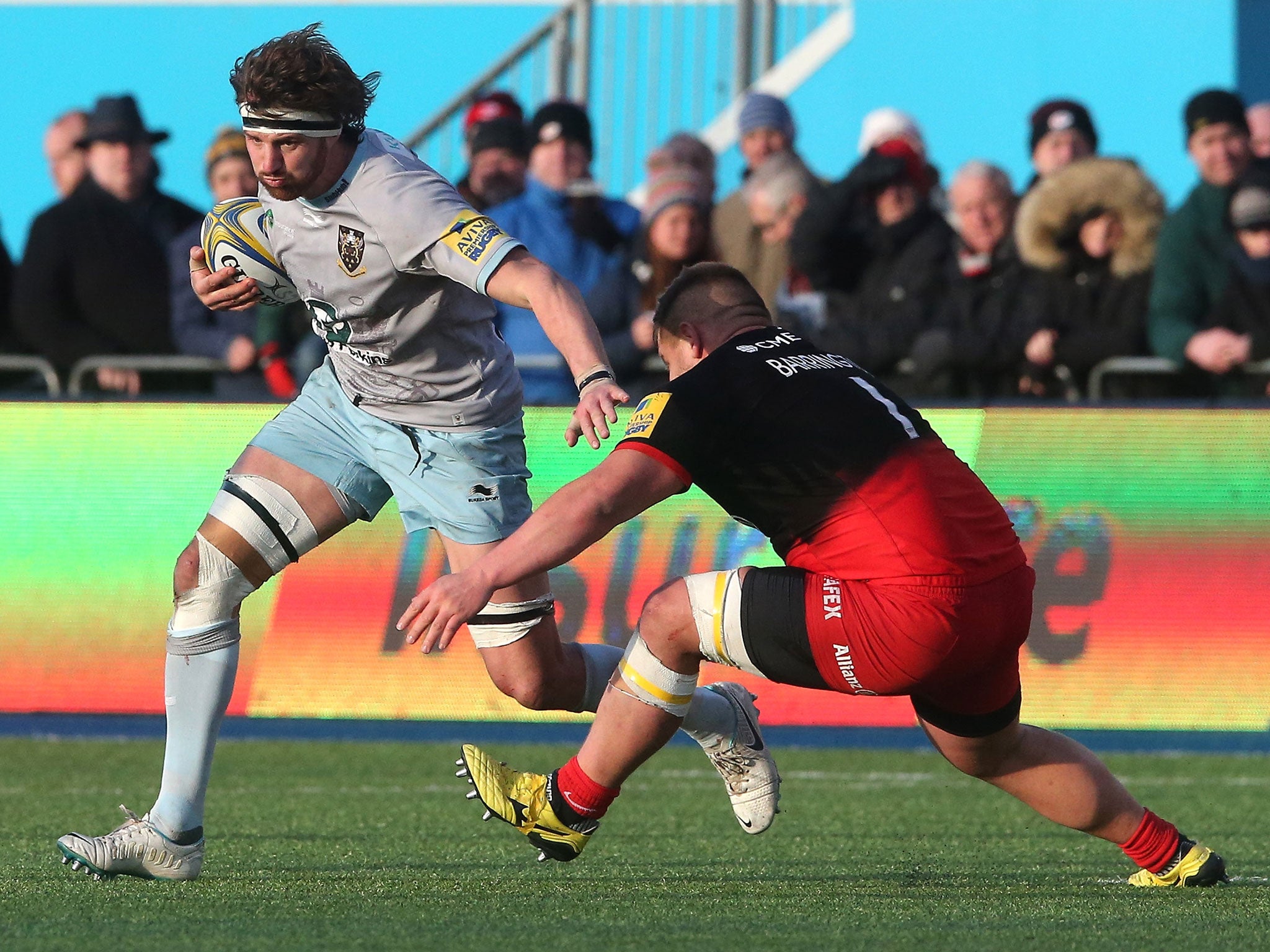 The cogs of club and international rugby sometimes harmonise smoothly, and sometimes they clunk and grind against each other, shedding shavings of dissatisfaction all around.
Saracens lost 20-15 at home to Northampton on Saturday as the Premiership champions' unavailable England players Owen Farrell, Maro Itoje, George Kruis and Mako and Billy Vunipola looked on. Meanwhile, the Northampton flanker Tom Wood said he was making the most of his exile from the England team since Eddie Jones became the head coach, to benefit the Saints.
According to Wood – after his alert gather of a charge-down helped to set up one of Northampton's tries by Steve Myler – the phrase used by Jones to describe his performances in general was "distinctly average". This was in a telephone conversation soon after the Australian started the England job in December.
"It is a big blow not to be playing for England," said Wood, 29, who won 42 caps from 2011 through to the World Cup last October. "I'm disappointed and frustrated by it but I've got no entitlement and I've got to earn it all over again. Eddie hasn't been in touch since the original conversation and I wouldn't expect him to be while the Six Nations is going on. He has got plenty of cover in the back row, and they are winning and he is busy. Maybe at the end of the Six Nations, I'll get in touch and give him a nudge, remind him that I am here and ask for any feedback on things I need to do to push my case for the summer tour."
Wood missed a string of Northampton matches injured after the World Cup, at precisely the time Jones was piecing together his squad. There were also some fairly tame comments from Wood about his willingness to become England's captain that some observers chose to take as disruptive.
"He was pretty blunt," Wood said of Jones. "I had not played rugby for five or six weeks and I had that in my mind as a legitimate excuse. He said that what he had seen from me hadn't been good enough; it had been 'distinctly average', to quote the exact phrase, and that what he's looking for from his No 6 is a world-class work rate. And he didn't see it in me.
"My initial reaction was to be aggressive back, then it dawned on me that he was probably doing it for a reason. I hope he has got a master plan. I did question it and I did say to him flat out that I didn't agree with that, but I can see I am not going to change your mind on the phone right now so I have to get back playing and prove my case. That is what I have set about doing."
Saracens now head to New York for this weekend's historic, offshore meeting with the bottom club, London Irish, having maintained their position at the top of the Premiership despite a wobble during the Six Nations period, which has brought three wins, a draw and two losses.
"It is the toughest Premiership I have been involved in," Wood said. "I do not want to say that not being involved with England has been a good thing for me because I am desperate to be involved. But the one good thing is stepping back and enjoying some time with the family. I have been at the coalface with England for a number of years and it is a white-hot, intense environment."
Join our commenting forum
Join thought-provoking conversations, follow other Independent readers and see their replies