Six Nations 2018: England fly in Georgia for scrum practice as Eddie Jones launches fierce defence of Mike Brown
The England head coach accused the media of writing off Brown as a Test player only to 'jump on the bandwagon' after his impressive performance against Wales on Saturday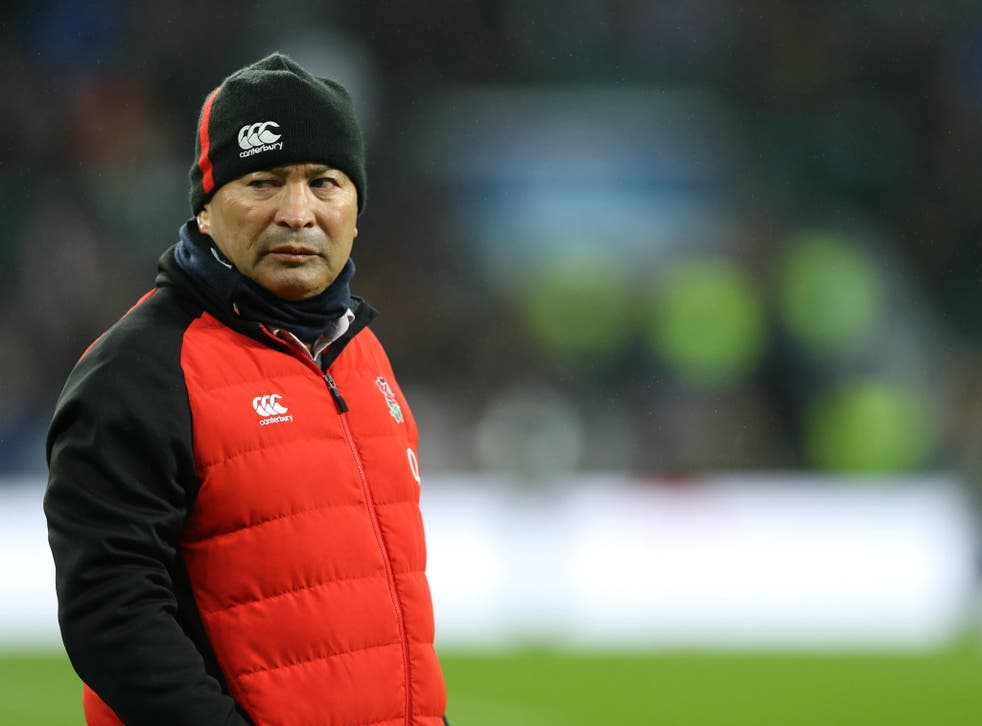 England will fly Georgia over this week to continue their quest to develop the perfect set-piece, with Eddie Jones pitting his pack up against the "biggest, ugliest, strongest scrum" in the world.
The head coach was unsurprisingly pleased with England's defensive effort in the 12-6 victory over Wales on Saturday evening as his side surged to an early lead before defiantly holding out their opponents, and while the hosts failed to score a point after Jonny May's 19th-minute converted try, there were few arguing that the win was not deserved.
But while plenty of attention has been given to Gareth Anscombe's disallowed try and the potentially match-saving tackle on Scott Williams from replacement flanker Sam Underhill, it did not go unnoticed that England got sent backwards at a speed of knots in at least two scrums by the Welsh pack.
Six Nations team of the weekend - round two

Show all 15
Having organised a midweek training session against Wales last November, Jones has done the same to prepare for England's next Six Nations clash with Scotland a week on Saturday by inviting Georgia to fly in to London for a similar set-piece session.
"We've got Georgia coming next week, to train with us for two days," Jones said. "We'll do scrums and lineouts against them on Tuesday and Wednesday. Then on Friday we'll have a run at Twickenham, then we'll give the guys a break then prepare specifically for Scotland."
He added: "We want to have the best scrum in the world and they're the biggest, ugliest, strongest scrum pack in the world. Why wouldn't we want to scrummage against them? It's fantastic. We're good friends with their two coaches; Milton Haig and Richard Graham – a Kiwi and an Aussie. They were keen on the idea and it suits us perfectly. We will use the fallow week to do it.
"We want to win the Six Nations but we're also using this as a trial for the World Cup, so it's a great opportunity for us to get some really quality scrum practice in. It will be practice, but we will do the same number of scrums that we would have in a game."
Full press conference with Eddie Jones following England's win over Wales in Six Nations
Joking that the team won't travel to Tbilisi for the session because "when you've got a big gob like me, it's hard to get on the plane", Jones confirmed that the sessions will take place in Kensington as England change up their training schedule during this fallow week.
But there was no joking when the question of Mike Brown's performance was put to the 58-year-old. The Harlequins full-back enjoyed a commanding performance on Saturday as he bossed the skies – enough that Warren Gatland referenced how Wales came off second best in the battle for aerial ball – and it went a long way to silencing his critics who do not believe he is the best option for the national team in the No 15 shirt, at least for the short term.
Asked by the BBC how well Brown had performed, Jones simply let loose. "You guys [the media] tell me Mike Brown can't play Test rugby...you guys are unbelievable! You're always criticising him, now he has a good game you're all on the bandwagon. You guys are better selectors than we are, that's what you think you are."
He eventually added: "It would definitely be Mike Brown who is my man of the match. He's been the most criticised player in English rugby and again he's showed why we have been winning games. He's like the Peter Shilton of rugby full-backs.
"He's done that in 24 Tests for us. He's our full-back, he carries the high ball, he plays with courage and he plays the way that England want to play."
Another stalwart of English rugby over the last 10 years has been Danny Care, who became his country's most capped scrum-half by making his 78th Test appearance at the weekend. But it was the return of Richard Wigglesworth to the international stage that also drew praise from Jones, who couldn't help but notice that it had been exactly 10 years since the Saracens No 9 made his England debut.
The 34-year-old was sent on with clear instructions to steady the game up for England and try to keep his forwards out of the breakdown in order to set the defensive line – a ploy that clearly worked as Wales failed to cross the whitewash.
"We just needed more energy and a way to physically play the game," Jones explained. "It was interesting; Wigglesworth's name is on the board here – he played his first Test match on the day 10 years ago. So it was a great comeback for him today and I thought he did really well when he came on the field."
For Wigglesworth, it was a welcome return after two-and-a-half years since his last Test appearance, and having seen what England duty was like in last season's non-Test match with the Barbarians, he expressed his delight at getting in on the act.
"I got a little taste towards the end of last season in the Barbarians games and I thought it was something you definitely want to be a part of," Wigglesworth said. "I think I have been patient, I kept my head down and an unfortunate injury to Ben opened the door for me. I have been delighted with it."
On a personal level, the biggest positive from his return was the fact that his last international appearance will no longer be the dead rubber against Uruguay in the 2015 Rugby World Cup that confirmed England's embarrassingly early exit. "I'll be honest: it's nice that my last England game is not Uruguay in a dead rubber. As much as I said that it didn't bother me, I remember sitting in that changing room after that and thinking this would be a tragic way for it to finish. That's why I am chuckling that's not the way it has gone."
Join our new commenting forum
Join thought-provoking conversations, follow other Independent readers and see their replies