Vern Cotter ends on a high as Scotland run in bonus point win over Italy
Scotland 29 Italy 0: Scotland scored two tries in each half to take apart Italy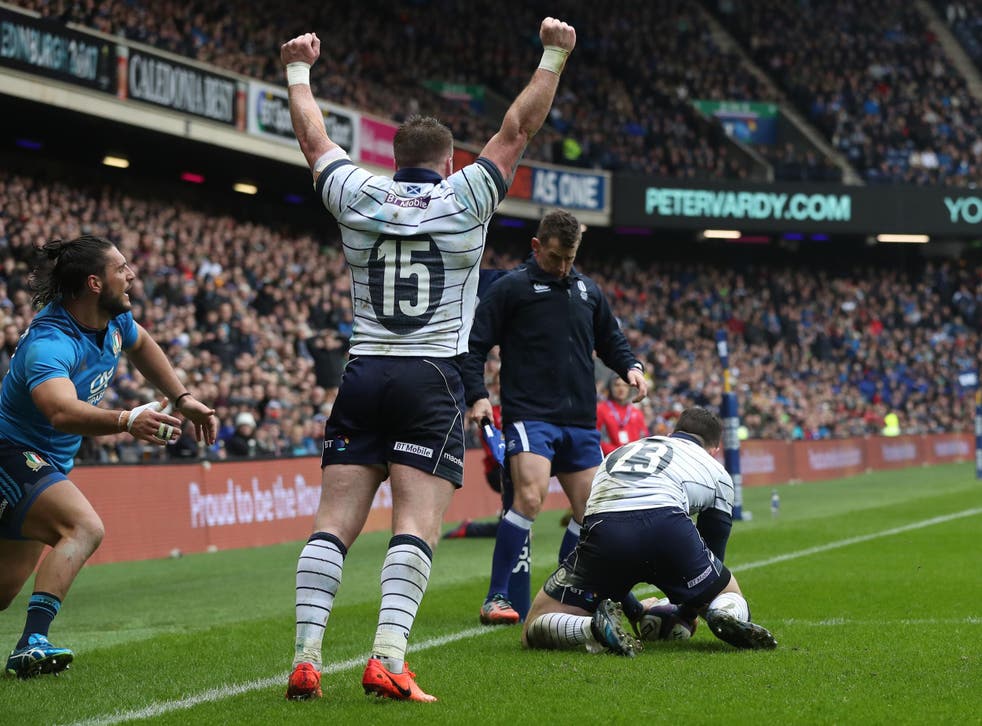 Stern Vern leaves Scottish rugby with a smile on its face. The stone-hewn Kiwi has not flashed many of his own during his two-year tenure and the weather for his farewell was suitably dour but there is no questioning what he has done here. Not only has he lifted Scotland back on to its feet but he has also got those feet moving happily.
This was a routine win over a struggling Italian side, far from the best performance of Cotter's time, but it says plenty for him that Scotland can win like this. It used to be defeats that were routine.
Tries by Finn Russell, Matt Scott, in a welcome return for the Gloucester man, Tim Visser and Tommy Seymour will not banish the painful memories of Twickenham but that performance can be set to one side when considering the overall impact of Cotter's time. England are on a different level right now.
Cotter's Scotland should be measured against Ireland, Wales and Italy, all who were beaten this season. Finishing with three wins for only the second time in the Six Nations and the first positive season in the wins-column for 11 years represent a notable step forward and Cotter deserves due credit.
"We'll give him a good night," promised Russell. Those that planned his surprise departure will have fingers tightly crossed they have not dropped the ball with the try-line gaping.
He leaves with Scotland ranked five in the world – a record high that appeared utterly improbable when Italy won on their previous Six Nations trip to Edinburgh to whitewash Cotter's opening Six Nations.
Scotland's four tries took their total for the campaign to 14, their best ever in the Six Nations. Another 14 reasons for players and supporters to bid Cotter an extremely fond farewell when he heads off to Montpellier in a couple of months. He was duly acclaimed when he stepped on to the pitch at the end.
"He's had a fantastic contribution to Scottish rugby, he's built a fantastic culture in the team, he's a great man," said John Barclay, Scotland's captain. "We wanted to finish on a high, especially after last week. We really wanted to give the coaching team a good send-off."
He departs with 19 wins from his 35 games, the best win percentage of any recent Scottish coach. What Conor O'Shea would give for such a turn around on his watch. The odds are long against it. They have now lost 12 successive Six Nations games; a very dirty dozen.
Italy were so poor O'Shea had flung on five off the bench by the 53rd minute. In the opening 15 minutes of the second half they camped on the Scottish line only for the hapless Angelo Esposito to butcher two gilt-edged chances. It was grim stuff.
As a whole the match was a curate's egg, the scrappiest of Scotland's three home wins. Indeed the opening quarter was a throw-back to Cotter's early days, littered with mistakes to the accompaniment of the referee's whistle. Stuart Hogg belted Scotland into an early lead with a long-distance penalty and Carlo Canna missed a much simpler attempt. After awarding a 10th penalty in the first 22 minutes Pascal Gauzere felt the need to lecture both captains. Socks were duly pulled up.
Suitably chastened Scotland began to play. Barclay punched a hole to start an attack furthered by Huw Jones's quick feet. Scotland lost Jones to injury – they have suffered more than their fair share over the course of the campaign and were missing six first choice players come the end of this game – but it did not check their momentum. Alex Dunbar made a half break and from the ruck the sparky Ali Price put Russell over in the corner.
Canna missed another simple penalty – Scotland were still making errors, but going forward the home side were starting to click. Price was busy and alert and his cute chip set up Scotland's second try. Hogg and Gio Venditti leapt, neither claimed the ball and as it squirted loose there was Scott to score in the opposite corner. Canna missed his third penalty on the stroke of halftime following Italy's first attack of any note.
They were better in the second half but that is only a relative concept. Scotland had Barclay binned and coped without their captain, defending their line marshalled by a pumped-up Hogg. The full-back's defence has been questioned but not here – he twice stopped Esposito when the wing seemed certain to score.
Barclay's return was the signal for Scotland's third try. Quick lineout possession – a key in so many tries in this year's Championship – was swiftly spread across the field where Hogg's pace and chip caused chaos in the Italian defence. Visser pounced on the loose ball for his 13th try for Scotland to cap a good campaign for the revitalised wing.
His fellow wing Tommy Seymour joined him on the score sheet to earn Scotland's first try bonus point and it was one that summed up what Cotter's Scotland can do at their best; quick feet and quick hands from first man-of-the-match Russell and then Hogg sent Seymour over in the corner.
"It's been fun," said Cotter and there was the suggestion not of a smile but a tear. He will miss Scotland and Scotland will miss him.
Scotland: Hogg; Seymour, Jones (Scott 27, Weir 75), Dunbar, Visser; Russell, Price (Pyrgos 54); Reid (Dell 56), Ford (Brown 66), Fagerson (Berghan 66), Gilchrist (Swinson 57), J Gray, Barclay (capt), Watson, Wilson (du Preez 49).
Italy: Padovani; Esposito, Benvenuti, McLean, Venditti; Canna (Sperandio 64), Gori (Violi 53); Lovotti (Panico 64), Gega (Ghiraldini 41), Cittadini (Chistolini 41), Fuser (van Schalkwyk 53), Biagi (Ruzza 75), Mbanda (Minto 53), Steyn, Parisse (capt).
Register for free to continue reading
Registration is a free and easy way to support our truly independent journalism
By registering, you will also enjoy limited access to Premium articles, exclusive newsletters, commenting, and virtual events with our leading journalists
Already have an account? sign in
Register for free to continue reading
Registration is a free and easy way to support our truly independent journalism
By registering, you will also enjoy limited access to Premium articles, exclusive newsletters, commenting, and virtual events with our leading journalists
Already have an account? sign in
Join our new commenting forum
Join thought-provoking conversations, follow other Independent readers and see their replies