Ireland forward Tadhg Beirne warns World Cup opponents Tonga a 'serious side'
The Munster forward is "gunning" to retain his starting spot following two tries against Romania.
Ed Elliot
Thursday 14 September 2023 00:00 BST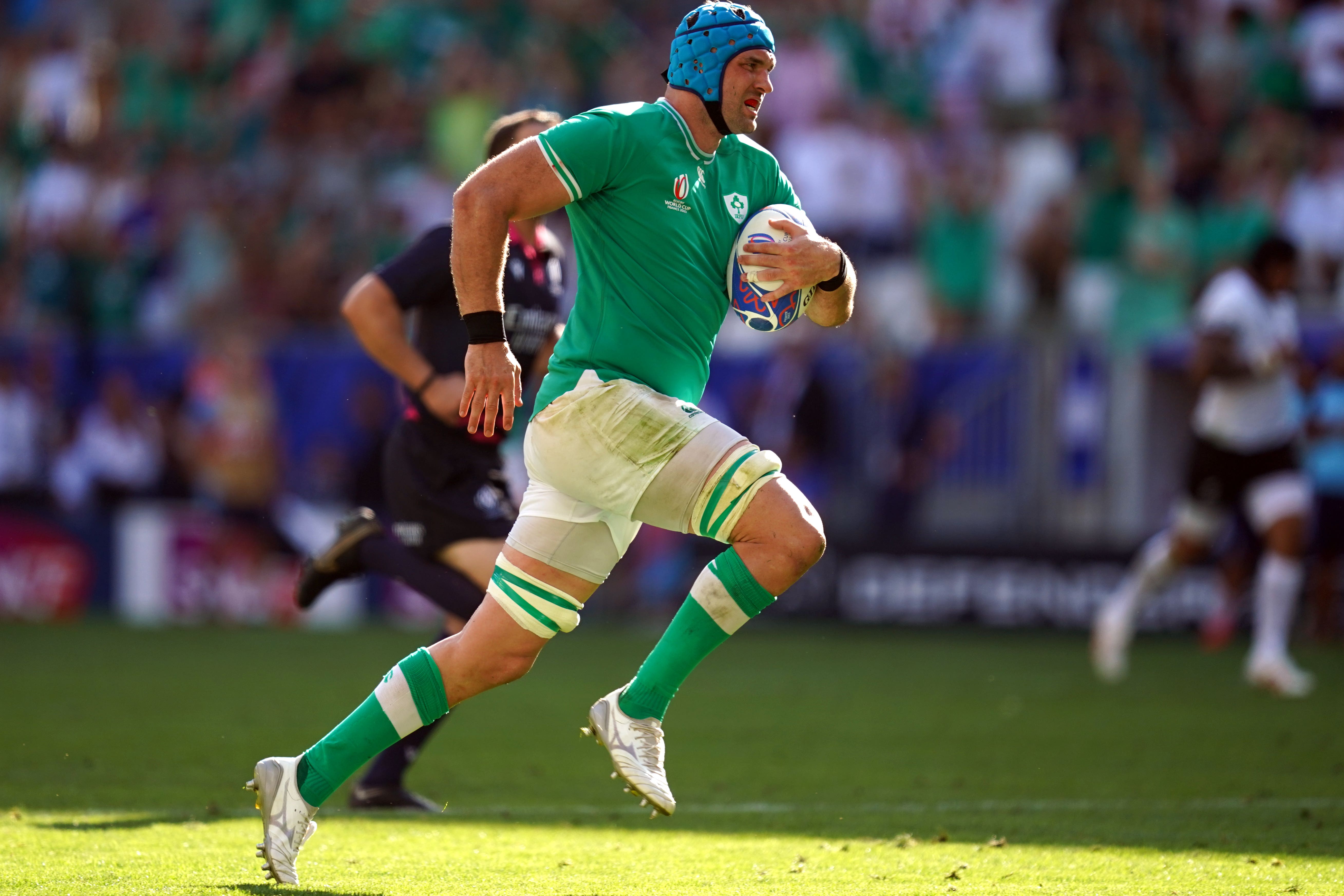 Tadhg Beirne believes he and Ireland are still some way from hitting top form at the Rugby World Cup as they bid to avoid being scalped by Tonga.
The towering Munster forward is "gunning" to retain his starting spot for Saturday's Pool B clash following a two-try turn in last weekend's 82-8 thrashing of Romania.
Head coach Andy Farrell may opt to rotate his team in Nantes ahead of a crunch Paris showdown against reigning champions South Africa.
But British and Irish Lion Beirne – one of four players to claim a double in Ireland's curtain raiser in Bordeaux – is eager to continue as he seeks to hit greater heights.
"Every player here wants to play," said the 31-year-old.
"It comes around once every four years, you never know if you're going to be fit for one, you never know if you're going to be selected for one, and then if you get here all you want to do is put on the Irish jersey and go out and represent the country.
"I'm gunning to play again for sure. I still feel like I've a way to go to get to my best. I'm certainly trying to improve all the time."
Tonga – ranked 15th in the world – are preparing for their opening match in France after the tournament schedule handed them a fixture-free opening weekend.
Beirne, who is normally deployed in Ireland's second row but lined up at blindside flanker against Romania, is braced for a bruising encounter.
"I think physicality is going to be top of their agenda," he said.
"They're going to come and try and have a scalp off us for sure. They're a serious side when you look at the team on paper. I've no doubt that they're going to have a go at us.
"Physically, we certainly need to continue to step it up. From warm-up (matches) into Romania, we've slowly been building it but we're nowhere near where we feel like we can be."
Despite temperatures exceeding 20 degrees Celsius, Beirne turned up for media duties in Tours wearing a suit, shirt and tie as punishment for being slightly late to a team meeting.
He joked there may be a "French Revolution" in the Ireland squad due to the strict regime run by camp enforcers James Ryan, Jack Conan and Dave Kilcoyne.
"There's a bit of a dictatorship going on at the moment," Beirne explained. "We have three lads that call themselves the sheriffs, they're in charge of any misdemeanours or any fines that need to be taking place.
"Unfortunately, I turned up a couple of seconds late for a meeting and they decided to fine me.
"There's a wheel of fortune back in the camp and they have all different punishments on it, so it could land on whatever.
"The reason it's a dictatorship is because they're claiming they're above the law, so there could be a French Revolution yet.
"The power's definitely going to their heads, particularly Dave Kilcoyne. He's enjoying it a bit too much for people's liking."