Spiky and sparkling – Johnny Sexton shows Ireland what they've been missing
Ireland 82-8 Romania: Sexton returned after six months on the sidelines and led Ireland to an emphatic win to start their World Cup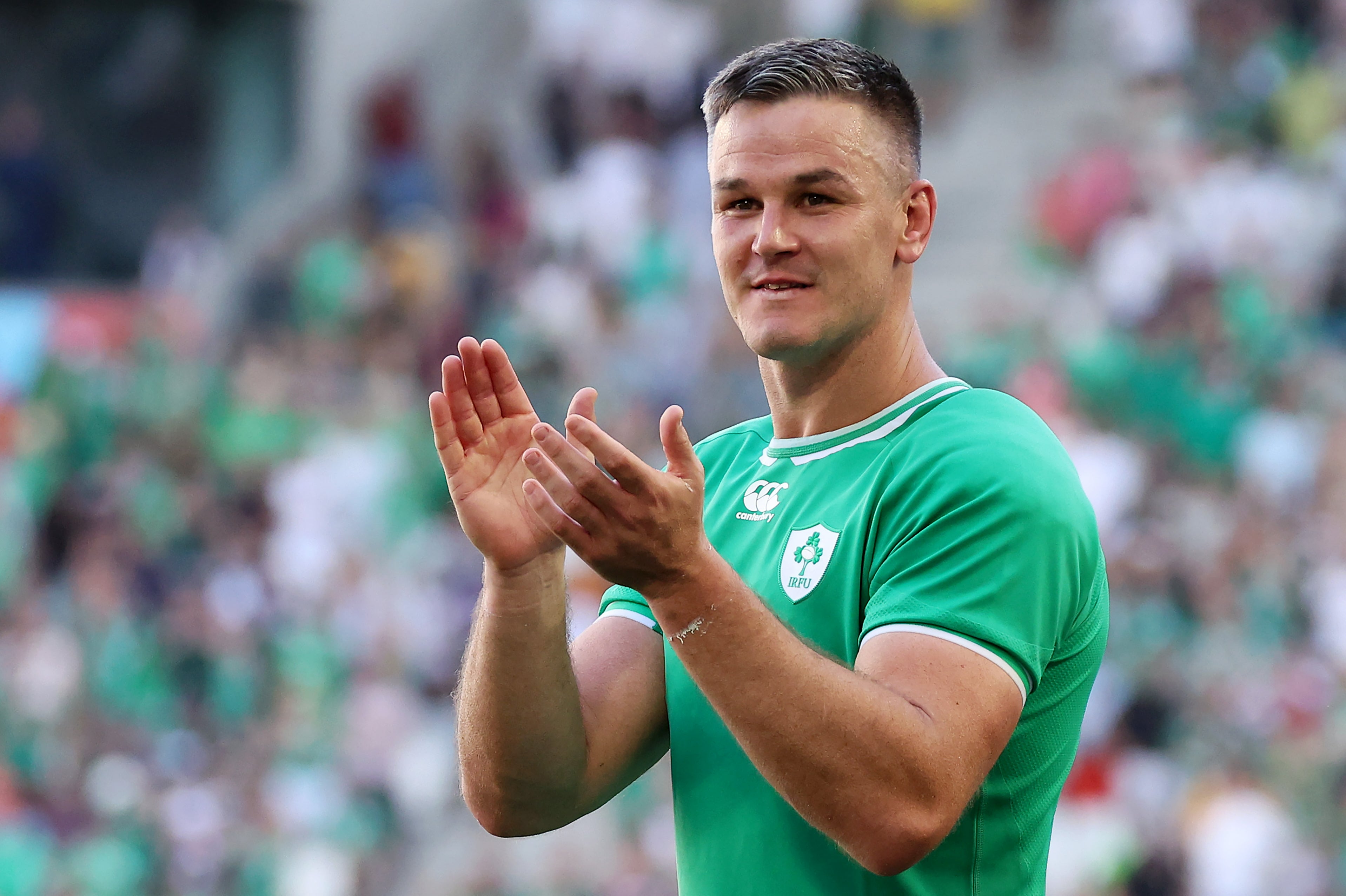 Johnny Sexton would not be the player he is without his spiky side and that was on show along with his brilliance in the Ireland captain's first appearance in six months.
A groin injury followed by a suspension for his conduct towards match officials has kept Sexton on the sidelines since leading Ireland to grand slam glory against England in Dublin in March.
A gentle 82-8 tune-up against an overmatched Romania in the searing heat of Bordeaux was just what the doctor ordered to ease Sexton back, although as so often with the fly half, the actual doctor was also briefly required. Right on the stroke of half-time, Sexton was put away by Bundee Aki for a lazy stroll under the posts. The issue was that he took that invitation a little too literally, taking so long that Romania centre Jason Tomane sprinted back to try to tackle him before he dotted down.
Sexton was annoyed as he needed medical attention for his wrist, while Peter O'Mahony was overheard on the ref mic giving his rather emphatic take on the situation, before being asked to tone down his language by the official, Nika Amushakeli.
The truth was, Sexton had dawdled and Tomane was well within his rights to try to prevent the score. Sexton played down the incident in the aftermath, however.
He said: "It was just an accident. I just got a stamp on the wrist. When you play rugby, you've got to be prepared to be injured. You can't go into games worrying about injury."
Given the challenging conditions, it was perhaps a little surprising that Sexton ended up playing 65 minutes, although that game time will be necessary for the tougher tests to come.
Next up is a physical Tonga side in Nantes, with Andy Farrell now facing a decision over whether to give his skipper another start or to save him for the twin challenges of South Africa and Scotland – Sexton is keen to play.
And after so long on the sidelines, the No 10 was delighted to be back: "It's been six months thinking about it. Part of that was self-inflicted with my mistake but once the plan was clear to me, and Andy said 'you have to target that first game', hopefully I'm better for it, hopefully I can improve my performance for Tonga."
Taking on arguably the weakest team in the tournament, there was never any danger of Ireland losing this game, although Sexton did not have the most auspicious of starts.
On a counter-attack from his own 22, he thought he saw some space on the right wing, but his grubber popped up straight into the hands of the impressive fly-half Hinckley Vaovasa, who raced down the touchline before putting half-back partner Gabriel Rupanu in for a try. The large Irish contingent in the crowd were stunned.
Even more eyebrows were raised when Rupanu missed the conversion from in front of the posts, and within two minutes, order was restored.
With Sexton pulling the strings, Romania's defence could not cope with the sophistication of Ireland's multi-phase attack, Jamison Gibson-Park and then Hugo Keenan helping them into a 14-5 lead.
When Tadhg Beirne added a third try with barely a quarter of an hour on the board, the fears of a hammering started to come true. Romania battled hard but had conceded twice more before the break, Aki crossing before the Sexton flashpoint as Ireland led 33-8 heading into the sheds.
Seven more tries followed in the second half, including a second for Sexton, who finished his afternoon with a 24-point haul before heading off to a roar from the crowd.
That matched David Humphreys' record for an Ireland player at a Rugby World Cup, while the final scoreline of 82-8 is Ireland's biggest-ever on this stage.
Whether that is a reflection of how good Ireland were, or how far Romania's stock has fallen is a fair question.
For the many Ireland fans in attendance, the belief in this side remains as strong as ever. Even as the world's number one team, they will have to be very good to end their long wait to get past the quarter-finals.
But they have their main man back in all his glory and if they are to make history, he will be at the heart of it.
Join our commenting forum
Join thought-provoking conversations, follow other Independent readers and see their replies