British and Irish Lions 2017: Warren Gatland disappointed by Steve Hansen's repeated jibes ahead of first Test
The Lions coach refused to fire back at his fellow New Zealander but did admit that his behaviour had put 'a dampener' on the tour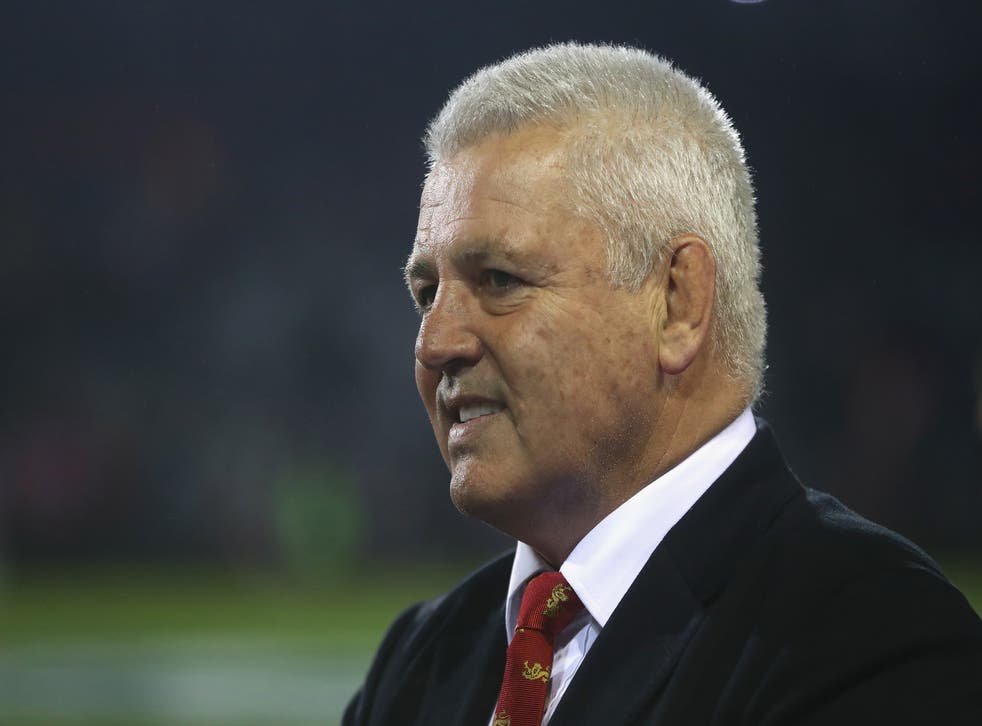 Warren Gatland admitted that he has been disappointed by the behaviour of All Blacks coach Steve Hansen, and claimed that his old adversary has been rattled following the British and Irish Lions' 32-10 victory over the Maori All Blacks here in Rotorua.
Gatland has faced public criticism this week from Hansen as well as the England head coach, Eddie Jones, for his decision to call-up four Welsh players and two Scots to reinforce his squad for the next week only.
Hansen predicted during the week that he expected fresh players to arrive for the Lions this weekend and trigger a split in the squad between the players that will take part in the Test series against the All Blacks from next Saturday and those who will form the mid-week side against the Chiefs on Tuesday and the Hurricanes the following week.
But after watching his side dominate the Maori in keeping them pointless in the second half, Gatland returned fire at Hansen with an adage that suggested the Lions head coach is not angry, just disappointed.
"A little bit surprised by Steve Hansen, who is normally pretty calm," Gatland said. "He has been doing a lot of press conferences and I can only take that as a sign of respect in that he is a little bit worried. They arranged a pretty quick game against Samoa and if you saw the first 20-30 minutes, they needed that.
British and Irish Lions player ratings vs Maori All Blacks

Show all 15
"It's unlike Steve and maybe he is worried by potentially how good this team can be. We know we have got a big step up to play the All Blacks but all I can say is that this could be a great series with fantastic rugby."
While the Kiwi talked up the "brilliant" reception he has received from his compatriots across the country, Gatland admitted that Hansen's repeated attacks – the last of which came after a dominant 78-0 victory for the All Blacks against Samoa on Friday – has left a slightly sour taste in his mouth on the tour of New Zealand.
"Wherever we have been in New Zealand, the welcome has been brilliant," he added. "The off-field stuff, similar to the stuff that people have been saying, puts a bit of a dampener on the tour. But that's professional sport, [you've] got to deal with that and move on. Not that anything is a worry for us but you go 'Whoa, he is a little bit more worried than he normally is', saying these comments about us, things he knows about or doesn't know about, that is normally a sign of a man that is a little bit worried."
What will have surprised Gatland though is that before the victory at Rotorua International Stadium, he was criticised by his former Lions head coach, Ian McGeechan, who admitted that calling up six players of which the majority were quite some way from Lions consideration "does not quite sit right with me".
Gatland has faced accusations of devaluing the Lions shirt by calling up players due to location rather than on merit, most notably from England coach Jones, but after defending himself against the omission of sending an SOS to Argentina where the England squad are currently, Gatland stressed he is here to win a Test series, not to win friends.
"I understand the concerns and we did that similarly in 2013 in terms of some of the call-ups," he said. "I just don't think you're able to back-up and try to prepare for Tuesday and then try and turn around and win the game on Saturday. Like I said, it's all about us doing that for the best opportunity for the first Test.
"We did that in 2013 and I have no doubt it's one of the reasons why we won the first Test because we gave the Test team a chance to win the Test, and if we hadn't have done that then we could have easily lost the series.
"Does it devalue the shirt? You're only a Lion when you get on the field and there's a few of those players that were probably unlucky not to potentially be in contention in the first place.
"In terms of devaluing the shirt, I can see some peoples point of that but we're here to win a Test series and it's those guys are covering from Auckland, not travelling halfway around the world. We found it difficult the first 10 days when we were here in terms of jetlag and tiredness and stuff. The players that came in from Auckland last night and from Australia will be able to fit quickly into that time zone."
After stressing that his decisions are in the best interests of the tour, Gatland had one final answer for Jones, 10,200 miles away in South America. "I'll let Eddie do his own talking. He can do plenty of it so...we made the decision that we think is the best decision from us.
"I understand Eddie's concern, people's concern - his point, I suppose - but I just understand how difficult it is to do that travel from Argentina; it's not as if you're in Buenos Aires, you've got to get here and get around the world and acclimatise."
Register for free to continue reading
Registration is a free and easy way to support our truly independent journalism
By registering, you will also enjoy limited access to Premium articles, exclusive newsletters, commenting, and virtual events with our leading journalists
Already have an account? sign in
Register for free to continue reading
Registration is a free and easy way to support our truly independent journalism
By registering, you will also enjoy limited access to Premium articles, exclusive newsletters, commenting, and virtual events with our leading journalists
Already have an account? sign in
Join our new commenting forum
Join thought-provoking conversations, follow other Independent readers and see their replies