Meet the Tuilagis - a brotherhood of Tigers
Six young giants turn a leafy suburb in Leicester into a little piece of the South Pacific
Hugh Godwin Comments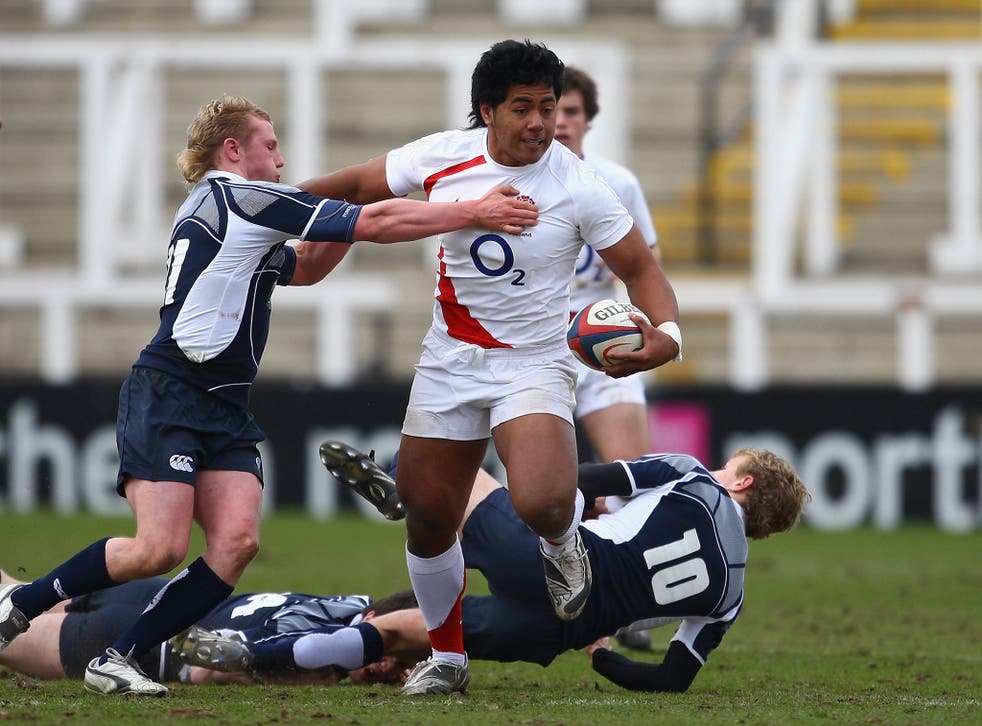 There is an unassuming Leicester suburb called Thorpe Astley which doubles as a little piece of the South Pacific. This is where the Tuilagi brothers reside, and when they get together for Sunday lunch, the local butcher wears a smile.
There are seven brothers in all - six of them rugby players. Theirs is an amazing sporting story which has emerged from the humble village of Fatausi-Fogapoa, half a world away in the tiny Samoan archipelago, population 160,000. Fereti - the name is Anglicised as Freddie - is the eldest, at 34. After playing in the 1995 World Cup for Samoa he switched to rugby league with Halifax and brought his wife Polly and their young son Brian to England. Another son, Frederick, was born in Yorkshire before Freddie joined St Helens. "In 2000 I met Peter Wheeler and Dean Richards at Leicester and decided to give union another go," says Freddie. "I was happy in England."
Freddie's father, Tuilagi Vavae, is a retired politician: a deputy speaker of the Samoan government. A high chief, too, on the Fatausi village council. His wife, Aliitasi, somehow managed to run the only shop in the village, selling food, while bringing up seven sons - seven very big sons. "We weren't wealthy, we weren't poor," says Freddie.
Even so, as a kid in bare feet or borrowed boots he would throw a rugby ball around on any available patch of beach, scrubland or concrete. Often there was no ball. "We'd make do with a stick off a tree," he says. "Take a tackle the wrong way and you'd be stabbed in the belly." The kit these days is a bit smarter.
Freddie was followed to Leicester and into the Tigers' first team by Henry, Alesana and Anitelea. These three are the most likely to feature at next year's World Cup, when Samoa - as in 2003 - will be in a pool with England and South Africa. The Tuilagis' priorities are family, God and rugby in that order, and records can take care of themselves. But the feats of, say, Gavin and Scott Hastings of Scotland, the Welsh Quinnells and the three Wallaces of Ireland pale by comparison.
Next in line is Vavae, 17, who is in Leicester's academy. He and the 14-year-old Manu Samoa - christened with the islands' warrior name in honour of Freddie being part of the squad who made a seismic impact on the 1991 World Cup - are at Richards' old school in Leicestershire, John Cleveland College. They also play for Hinckley RFC.
Then there is the third of the brothers, the 27-year-old Olotuli. For centuries in the Pacific Islands, some of the men have been brought up to think of themselves as women and live a woman's life. In Samoa they are known as fa'afafine. "Olotuli is fa'afafine, he doesn't play rugby," Freddie explains. "He wears a dress and make-up and if he walks around Leicester every one looks at him, thinking, 'Is this a man or a woman?' In Samoa it's normal, there is no prejudice." Olotuli is, says Freddie, the biggest of all the brothers - which means he is huge - and could have been another flanker like Henry, who was busy bouncing off Lawrence Dallaglio and Joe Worsley when he broke a leg against Wasps last season.
The Tuilagis regard themselves as a family within the Leicester family, and the feeling is reciprocated at what used to be a parochial club. "Freddie brought a certain character with him which we liked," says Andy Key, the Tigers' director of development. "He was an instant hero and all the brothers have that ability to make the big hits."
Alex, as Alesana is known, scored four tries on the wing for Samoa in a World Cup qualifier against Tonga, with Anitelea (Andy) at centre. Vavae and Manu are in the same mould of free-running but immensely powerful backs. Freddie has just wound up his playing career, with Castres, and through his company Global Bro Sports he represents his brothers and other Samoans all over the world.
"Rugby is our national sport," he says. "Every evening after school you'd get out and play, on any 10 yards of ground you could find. It might have holes in it, or rocks and trees to get around. That's where you got your skills from. You either ran over someone or sidestepped them. No one taught us how to tackle."
Like all the smaller unions, Samoa could do with more cash to make their mark. Alex made his own impression against England at Twickenham last November when he was sent off for a dangerous tackle and fighting with his fellow Tiger Lewis Moody. "Alex and Lewis got together afterwards and everything was fine," says Freddie, who has no regrets about leaving behind his old job, tasting the malts in a Samoan brewery.
He says Alex likes the occasional beer, and it all got a bit boisterous after a Leicester match in France last year. But it was kept in-house, with Henry punching Alex into line. And Freddie uses the incident to make a salient point: "Henry gave him a hiding but it was about respect. Our culture is all about respecting your elders. Maybe that's why we like Leicester. They fight at training and people get kicked, but it's just the mentality."
The Tuilagis believe in a higher authority. First stop in Thorpe Astley on a Sunday is mass at the Catholic Church of the Blessed Sacrament. Then it's a massive meal of fish, crab, a whole shoulder of lamb and taro (a potato the local Caribbean grocer is importing thanks to the roaring Tuilagi trade). The nearby M1 lends an ever-present hum - big and fast, appropriately enough. Olotuli is back home, but the remaining brothers are joined by Freddie, Polly and their boys, with Henry, his wife, Mele, and their sons Authur, Henry Junior and Freddie, and daughter Alesandra. The language is Samoan and traditional music plays in the background, although Alex likes a bit of "English" hip-hop: Eminem and 50 Cent.
"The hardest thing for us here is the weather, of course," says Freddie, "and missing home when you first come over, but myself and the boys just want to make the most of it. We want to make friends and to do our job properly. That's what is important in life."
FREDDIE'S CLAN
FERETI (FREDDIE) AGE 34: Centre/wing, ex-Halifax and St Helens RL, joined Leicester in 2000 and has since played for Cardiff Blues and Castres. Just retired. Sixteen union Tests for Samoa 1994-2002.
HENRY, 29: Back row, joined Leicester 2003. Four Tests for Samoa in 2002.
OLOTULI 27: Does not play.
ALESANA TIAFAU (ALEX), 25: Wing, 15 tries in 43 Leicester first-team appearances. Ten Tests for Samoa since 2002.
ANITELEA (ANDY), 19: Centre. Six Tests for Samoa in 2005, recently on loan to Natal Sharks. One Premiership appearance for Leicester.
VAVAE, 17: Wing, plays for Leicester's Development XV and Hinckley RFC Colts. At John Cleveland College.
MANU SAMOA, 15: Wing, played at Twickenham for John Cleveland College in recent Schools U-15 Cup final, scored three tries in semi-final.
Register for free to continue reading
Registration is a free and easy way to support our truly independent journalism
By registering, you will also enjoy limited access to Premium articles, exclusive newsletters, commenting, and virtual events with our leading journalists
Already have an account? sign in
Register for free to continue reading
Registration is a free and easy way to support our truly independent journalism
By registering, you will also enjoy limited access to Premium articles, exclusive newsletters, commenting, and virtual events with our leading journalists
Already have an account? sign in
Join our new commenting forum
Join thought-provoking conversations, follow other Independent readers and see their replies