The Independent's journalism is supported by our readers. When you purchase through links on our site, we may earn commission.
David Cameron plays down 'bunny ears' gesture from Manu Tuilagi - 'it was just a bit of fun'
The Lions player played the prank during a photo call with the PM in Downing  Street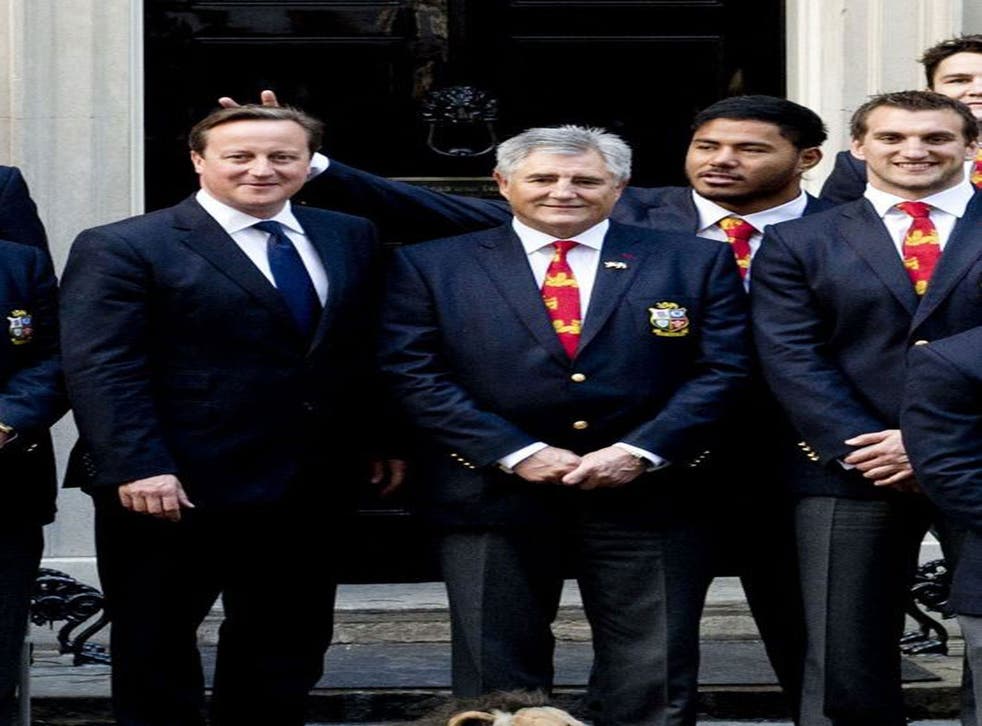 Manu Tuilagi has been told to take his responsibilities more seriously following his prank on David Cameron - but the Prime Minister himself has told him an apology is not necessary.
Tuilagi gave Cameron 'bunny ears' while standing behind him for a photo as the British and Irish Lions gathered at Downing Street.
The Leicester centre made the gesture as a group of players and management posed for the photo at the function to honour the Lions' 2-1 series victory over Australia.
The 22-year-old is to write to Cameron to apologise for the action, having already done so on Twitter.
But Cameron tweeted on Tuesday evening: "manutuilagi it was great to welcome you and the lionsofficial team to No10. No need to apologise, I know it was just a bit of fun."
Former England hooker Brian Moore branded Tuilagi a "complete and utter prat", while his Tigers coach Richard Cockerill told BBC Radio Leicester: "He has been a bit daft. He has made an error of judgement.
"He should know better. He is old enough and wise enough to know he shouldn't have done it.
"We have reminded him of his responsibility and he has apologised on Twitter and he is writing to the Prime Minister to apologise if there was any offence taken.
"He probably thinks he is still at school messing about with his mates. There is a quality to that but also there is a time and a place."
Moore insisted the player should be spared punishment by England's management.
"My real objection is it wasn't very inventive," Moore told talkSPORT.
"People are saying they are offended. Are they really offended, or is it more a case of Tuilagi being an absolute prat again and taking the attention away from his team-mates?
"He has been a complete and utter prat. He ought to grow up, it's as simple as that, but people saying they are offended, are they really offended?
"The authorities I'm sure will do what they should do and say, 'Manu, everyone thinks you are a two-year old, do you really want that? Now go away and grow up please'."
Using Twitter to express his remorse for the incident, Tuilagi said: "Apologies for messing around on Lions photo. No offence intended. Great Day at Downing Street. Thanks to Prime Minister for hosting us."
It is not the first time Tuilagi has been the centre of controversy - he was fined £3,000 by the Rugby Football Union for jumping from a ferry during England's World Cup campaign in New Zealand two years ago.
He was cautioned by police on that occasion and disciplined by then England coach Martin Johnson.
Ian Ritchie, the chief executive of the RFU, predicted England head coach Stuart Lancaster would "have some words" with Tuilagi.
He added on Sky Sports News: "Recognise it for what it is, not a good thing to do, apologise for it and then we need to make sure that those sort of things don't occur again."
PA
Register for free to continue reading
Registration is a free and easy way to support our truly independent journalism
By registering, you will also enjoy limited access to Premium articles, exclusive newsletters, commenting, and virtual events with our leading journalists
Already have an account? sign in
Register for free to continue reading
Registration is a free and easy way to support our truly independent journalism
By registering, you will also enjoy limited access to Premium articles, exclusive newsletters, commenting, and virtual events with our leading journalists
Already have an account? sign in
Join our new commenting forum
Join thought-provoking conversations, follow other Independent readers and see their replies