No Rugby Australia sanction for Israel Folau over anti-gay Instagram post
Folau wrote that gay people would be condemned to 'hell' if they failed to 'repent'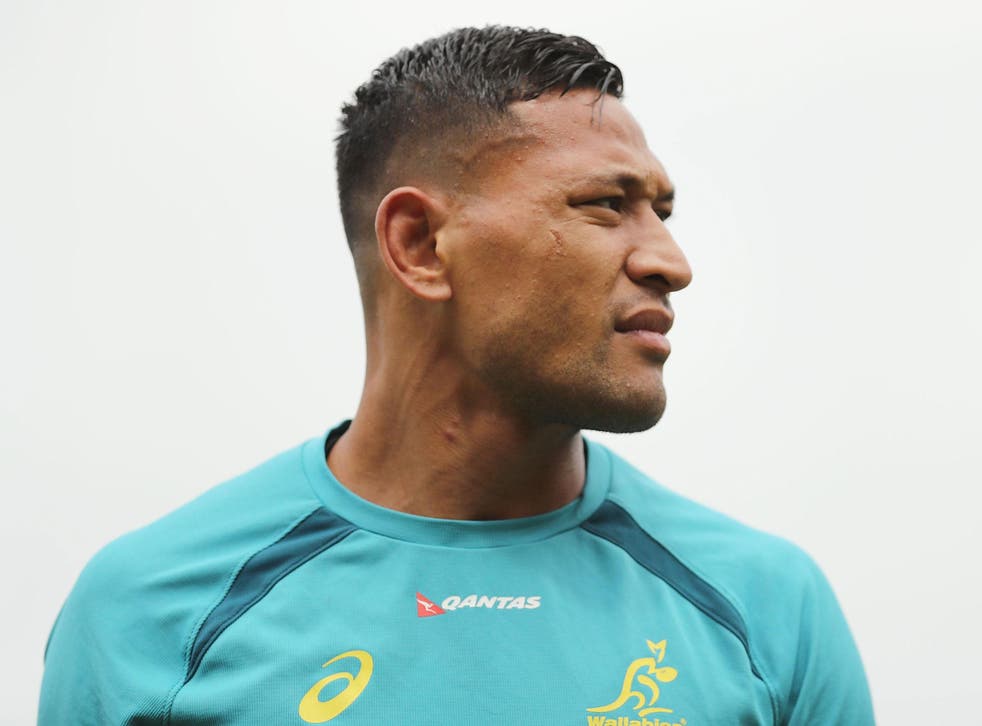 Rugby Australia has declined to sanction Israel Folau over his anti-gay comments last week and will instead continue a dialogue with the Wallabies back over his social media use.
RA chief executive Raelene Castle and Andrew Hore, the CEO of Folau's Super Rugby team New South Wales Waratahs, met with the player in Sydney on Tuesday.
The meeting was arranged after Folau, an Evangelical Christian, wrote on his Instagram page that gay people would be condemned to "hell" if they failed to "repent", sparking outrage on social media and criticism from a key sponsor.
Castle said Folau acknowledged he had caused "grief to some people" but she declined to comment on whether he had agreed to tone down his views in his social media posts.
"Israel has presented his situation to us, where his views are, where his beliefs are," Castle told reporters in Sydney.
"But at the same time Rugby Australia has also got a policy and a position of inclusion and using social media with respect.
"Now both of us are going to go away and continue that dialogue, and work through how we continue to use how our social media platforms in a way that can ensure that all of our stakeholders are respected in the use of social media."
One of the nation's top players and most marketable athletes, Folau's contract expires at the end of the season and RA are keen to extend it beyond next year's World Cup in Japan.
His comments were described as "very disappointing" by Qantas airlines, a major sponsor of Rugby Australia, while international referee Nigel Owens, who came out as gay in 2007, said such comments could contribute to young people taking their own lives.
RU said last week Folau's views were personal and did not represent the governing body's. On Sunday, Folau tweeted a passage from the Bible about the persecuted being "blessed".
Castle declined to clarify whether the 29-year-old had breached any RA rules over conduct or social media use, or whether he would incur any penalties for further inflammatory posts.
However, his comments were proving "challenging" for RA and its relationships with sponsors and other stakeholders, Castle said, adding that both sides would likely meet again in coming days to continue the dialogue, although there was no timeframe.
"We're in negotiation with Israel to extend (his contract) and we'd really like him to stay in rugby. That's hugely important to us," she said.
"He's a great player and he's delivered some great outcomes for us. He's been a really strong role model in the Pasifika community.
"We also know that he's an athlete in demand and there's going to be other people looking to try and move him."
Register for free to continue reading
Registration is a free and easy way to support our truly independent journalism
By registering, you will also enjoy limited access to Premium articles, exclusive newsletters, commenting, and virtual events with our leading journalists
Already have an account? sign in
Register for free to continue reading
Registration is a free and easy way to support our truly independent journalism
By registering, you will also enjoy limited access to Premium articles, exclusive newsletters, commenting, and virtual events with our leading journalists
Already have an account? sign in
Join our new commenting forum
Join thought-provoking conversations, follow other Independent readers and see their replies