Joost van der Westhuizen dead: Former South Africa scrum-half and 1995 Rugby World Cup winner dies
Van der Westhuizen battled motor neurone disease since he was diagnosed in 2011 and was rushed to hospital on Saturday
Jack de Menezes
Monday 06 February 2017 13:14 Comments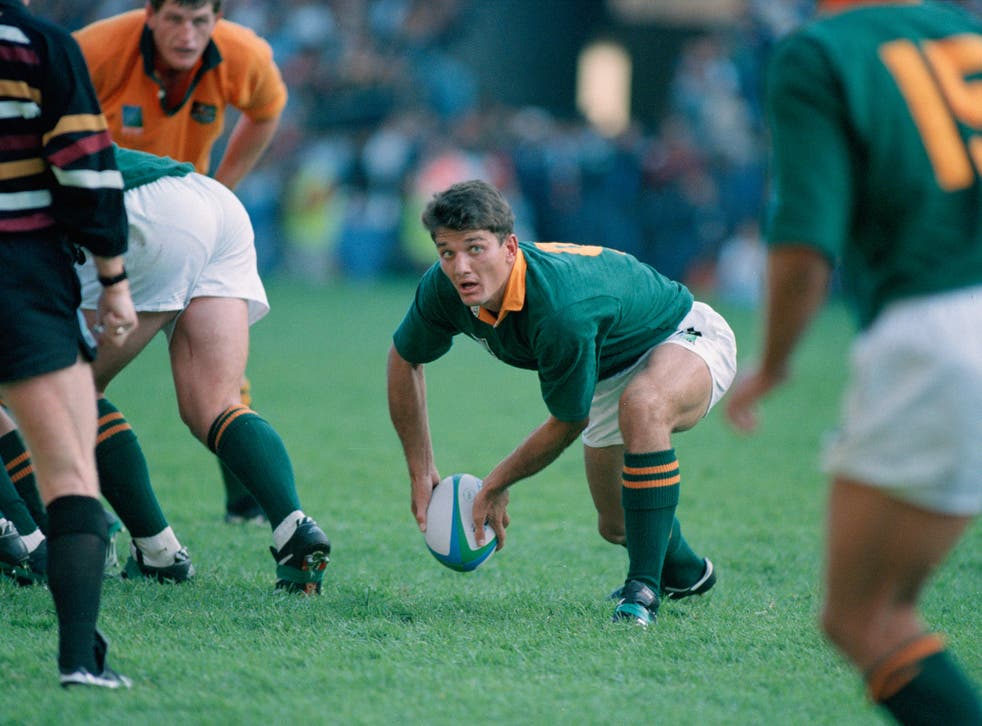 Rugby World Cup winner Joost van der Westhuizen has died at the age of 45.
The former South African scrum-half was rushed to hospital on Saturday, with his key organs beginning to fail having suffered motor neuron disease since 2011.
His J9 Foundation announced that he was in a critical condition in hospital two days' ago, and on Sunday night issued an update to say that the former rugby player was "still fighting".
But another update on Monday confirmed that Van der Westhuizen had passed away.
A statement from the J9 Foundation read: "It is with great sadness that we confirm the passing of Joost. He passed away in his home surrounded by his loved ones.
"He will be sorely missed."
Blue Bulls CEO Barend van Graan also confirmed the sad news, and paid tribute to the former rugby player, who had defied doctors expectations of surviving with MND after being given two-and-a-half years to live in 2011.
"If there's one thing we can learn from Joost it was his passion for life," Van Graan added. "That we will never forget."
Van der Westhuizen was part of the South African side that captured the nation's imagination in 1995 when they won the Rugby World Cup on home soil, uniting the country when Apartheid was still very much the focal point of South Africa. Van der Westhuizen played in the final, where Nelson Mandela presented the Webb Ellis Cup to teammate Francois Pienaar after the Springboks beat New Zealand 15-12, and he also played for his country in the 1999 and 2003 Rugby World Cups.
In 1999, he scored the opening try in the 44-21 defeat of England to knock them out of the competition, and he retired after the 2003 Rugby World Cup after making a then-record 89th appearance in the quarter-final defeat by the All Blacks, a feat since surpassed by Victor Matfield, Bryan Habana, John Smit, Jean de Villiers and Percy Montgomery.
The South African minister of sport, Fikile Mbalula, labelled Van der Westhuizen a "great giant and warrior of South African rugby", and added that the scrum-half has inspired a generation with his death marking a sad day for the African nation.
"The passing of Joost is a sad chapter in South African sporting history," said Mr Mbalula. "His contribution to our national rugby team was immense. He leaves behind a generation of athletes who aspire for his legendary sportsmanship.
"We draw lessons from his fighting spirit in both the field playing for our national team and against motor neuron disease. South Africa is poorer without this great giant and warrior of South African rugby.
"I send my sincere condolences to his family, his friends and to the entire sport fraternity."
Van der Westhuizen is survived by his estranged wife, the Afrikaans singer and media personality Amor Vittone, and their two children Jordan and Kylie.
Register for free to continue reading
Registration is a free and easy way to support our truly independent journalism
By registering, you will also enjoy limited access to Premium articles, exclusive newsletters, commenting, and virtual events with our leading journalists
Already have an account? sign in
Join our new commenting forum
Join thought-provoking conversations, follow other Independent readers and see their replies