Rugby Union
MRSA, burns and season-ending injuries: the RFU faces serious questions over its Artificial Grass Pitch Programme
The Rugby Football Union is halting the AGP Programme amid a financial crackdown - but the injuries being reported by players both amateur and professional will be of greater concern, writes Sam Peters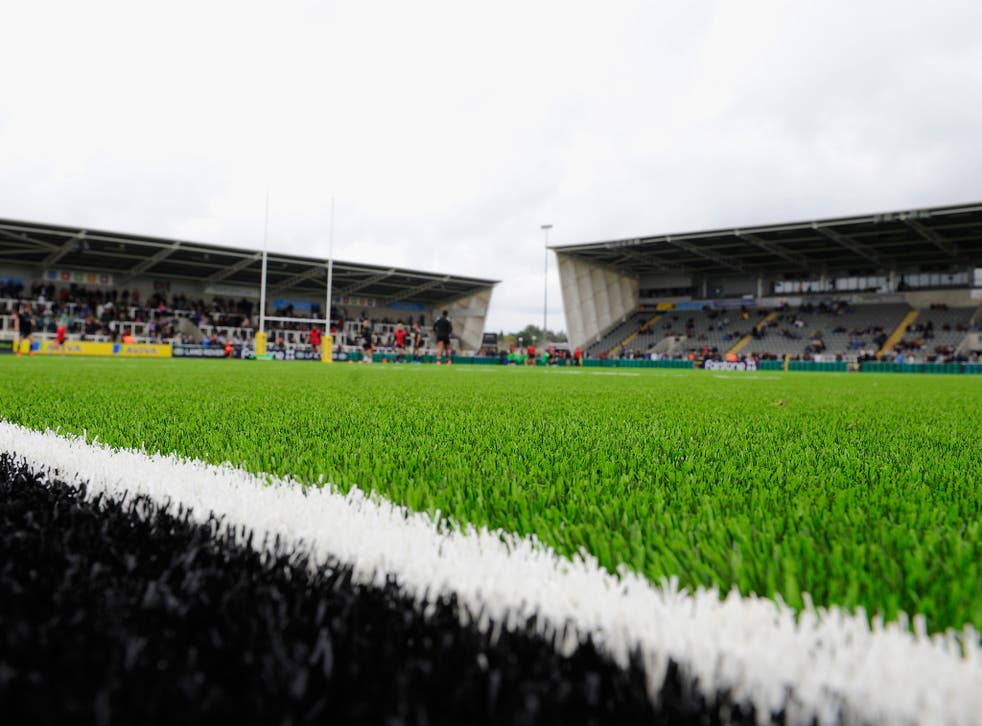 Here's a question. At what point should a customer check if the product they're buying harms the people they're buying it for?
Before you commit £47m to purchasing it? While it's being distributed? Or after the installation process is complete and the people who've received the product are already using it?
A second question. What drives a sports governing body's decision-making process? Profit or a moral responsibility to participants?
We'll deal with these questions later.
Two stories emerged this week regarding the Rugby Football Union's controversial £47m Artificial Grass Pitch Programme (AGP).
First, last Sunday an extraordinary line buried deep in the pages of rugby union's industry publication The Rugby Paper.
"Tynedale match off due to MRSA outbreak," roared the headline. Although it wasn't so much a roar as a whimper as the story merited just a couple of hundred words down the side of a page containing match reports from National League 2 North.
The story went on to report "Tynedale have suspended all senior rugby activity until further notice after several players contracted MRSA and needed treatment for infected leg wounds after playing on Stourbridge's Artificial Grass Pitch (AGP) on September 15."
Then, on Wednesday The Telegraph ran an exclusive interview with RFU chief executive Steve Brown which saw the Union's head defend the swingeing cuts being made within his organisation while confirming a story run by the paper in June stating the AGP programme had been temporarily halted as part of the cost-cutting programme. No mention of MRSA.
The smart money is on the AGP never being restarted.
Some background. In 2016 the then cash-rich RFU, in a bid to pin the word 'legacy' on something following England's disastrously premature home World Cup exit the previous year, announced to great fanfare they would invest £47m installing almost 100 untried, untested and largely untrusted AGPs at grassroots clubs across the country.
Then RFU chief executive Ian Ritchie rubber stamped the project and Eddie Jones was rolled out to endorse it.
An RFU press release told us: "The major driver for installing artificial pitches is to sustain and grow participation in the game against a backdrop of adverse weather conditions and increasing pressure on natural turf pitches."
It continued: "Each new artificial grass pitch built will enable between 1,500 and 2,000 additional hours of rugby within the respective local communities each year, giving 58,000 new players the opportunity to play rugby each year while ensuring poor weather will no longer compromise play."
One problem. Remember the original question? Here's a reminder for those at the back of the class:
At what point should you check if the product you're rolling out harms the people who use it?
Second question: What drives a sports governing body's decision-making process? Commercial imperative or a moral obligation to its participants?
Despite a slew of evidence already available from professional players, who had played on AGPs at top-flight clubs such including Saracens (installed 2013), Newcastle Falcons (2014) and Cardiff Blues (2013), there was no detailed data on the injury risk posed to participants at community level before 2016. So what did the RFU do? They rolled it out anyway.
No data, no problem. But what about what people were saying regarding the pitches?
"Don't know how you boys cope every week on that pitch ... my body's in pieces!" said Harlequins scrum-half Danny Care after his team-mate Mike Brown was injured when his studs caught in the Allianz Park pitch in 2014.
A week later Bath director of rugby Mike Ford said: "I am not a fan of them at all. We saw what happened to Brown and Care last weekend.
"Down the line there's going to be more injuries on them. I was playing football on ours (Bath's training ground) and got my studs caught on the ground and went over on an ankle. Nobody was near me."
That was in 2014 when England and Exeter wing Jack Nowell had already let it be known he refused to play on AGPs because of the heightened risk to his knees while a string of other players cited serious concerns about burns and abrasions while play on them.
The RFU says that's just a perception. What drives decisions again?
Last season, this from Scarlets John McNicholl after he played against Glasgow on Scotstoun's AGP in a game director of rugby Wayne Pivac reported "a lot of bad burns" to his players.
"I have got a dozen burns," McNicholl said. "It has not been a nice couple nights sticking to the sheets (because of puss oozing from burns).
"It is not a nice pitch to play on. Underfoot it is good when you are doing footwork. As soon as you hit the deck it affects your joints as well. I would prefer not to play on them.
"I said to the trainer straight after I suffered one burn that I felt this pitch should be illegal. I don't like playing on them because they are high risk for injury."
Countless professional players have reported ankle, knee and other joint injuries which they directly link to catching their boots in the rubber crumb AGPs.
"I have never been a supporter of artificial pitches, and the spate of recent injuries has only reinforced my doubts that they are a boon to business but a danger to players," Austin Healy said in May after Wasps forward Jack Willis became the latest player to suffer a season-ending injury on Allianz Park's AGP.
What drives decisions again?
The RFU this week insisted not enough injury data had been available in 2016 to draw meaningful conclusions before rolling out the AGP programme. Next year's Community Injury Surveillance Project (CRISP) for the 2017/18 season will be the first time enough has been generated for analysis to be done.
There was a clue in what they will find in last year's Professional Injury Surveillance Project (PRISP) which reported: "For the first season, the incidence and burden of match injury on artificial turf was significantly higher than that of natural grass. The burden of injuries sustained when training on artificial turf was also higher than those sustained when training on natural turf."
Relying on data is fine, but sometimes you need to get ahead of the data curve. Just as they were too slow to act on the anecdotal evidence highlighting a concussion crisis, so have the RFU (and World Rugby which has signed off the pitches on health grounds) been too slow to listen to its participants, and protect them, from AGPs.
The injury data will show a spike and action will be required. Once again, it will be too late for those damaged. Sometimes, leadership is built on more than data.
When contacted by The Independent, an RFU statement read: "Prior to commencing it's investment programme into AGPs (Rugby365), lengthy consultation was undertaken at clubs across the country and combined with existing research from previously installed AGPs. The RFU also worked in consultation with World Rugby who have, and continue to, lead the research on the safe playing of rugby on AGPs. One piece of research confirmed that 88 per cent of players the RFU have spoken to have stated that they are actively positive about playing on AGPs."
Twenty-six amateur clubs have now had these rubber-crumb monstrosities installed and a further 10 are set to be by the end of the season before a one-year moratorium is introduced and stock is taken. Convinced by the RFU's spin that they will get more game time, more training hours, more participants, countless clubs and schools have installed them.
What about concerns around joints injuries, severe burns, MRSA or even the potential link to cancer caused by playing on these things?
Research before or after buying?
Commerce or moral imperative?
The AGP scheme was a terrible idea in 2016 and it is a terrible idea now.
Rugby should have listened to the likes of Mike Brown, Mike Ford, Jack Nowell and multiple other professionals who told us years ago these pitches are downright dangerous. Despite this, the AGP programme was rolled out in haste as part of a seemingly endless drive to "grow the game".
Mercifully, the AGP programme is soon to be halted. Hopefully it will never be reinstated. Professional players have to suck up the risk associated with playing on them and are handsomely rewarded for it. It's bad enough they have to suffer them, why should amateurs have to as well?
Research before or after buying? Commercial imperative or moral responsibility? We know the answers now.
Join our new commenting forum
Join thought-provoking conversations, follow other Independent readers and see their replies