Rugby Sevens: Brazil adding samba style to scrum for 2016
The British are helping to bring a whole new ball game to the beach and finding Brazilian flair transfers well to rugby
Donna Bowater
Monday 14 October 2013 00:10 Comments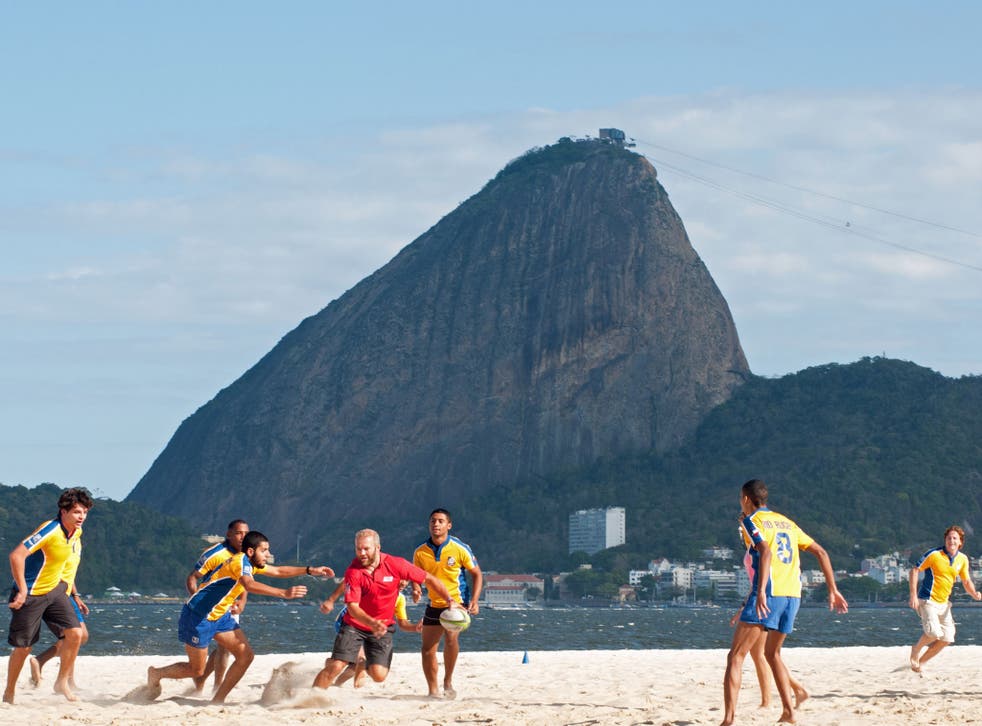 In the shadow of the Maracana – the iconic Brazilian stage graced by legends of the beautiful game – an old footballing dog is learning new tricks.
Just half a mile from the stadium in which next year's Fifa World Cup winners will be crowned, a group of men and women are practising scrums, line-outs and drills in a city park in the unforgiving 38-degree heat of a Brazilian summer. Meanwhile, after the sun sets on Ipanema beach on a Wednesday evening, dozens of players for one of Rio's most successful clubs gather for an hour of touch rugby on the cooling sand.
In a country where football is king, Brazil is turning its hands and its famously talented feet to another English game: rugby.
After winning the bid to host the next Olympic Games, the spiritual home of football has been raising the profile of the sport before rugby sevens returns to the 2016 Games for the first time in almost a century.
And having regularly beaten England at its own game on the football pitch, Brazil has ambitions to run away with rugby on the world stage as well.
"Sevens is the sport that is going to grow because of the sheer interest in the game," Ollie Phillips, the former England sevens captain, who sailed to Rio with the Team GB Clipper yacht last week, said. "I'd love to come back after the Clipper race and do some work with them here."
Phillips, who is sailing in the 2013-14 Round the World Yacht Race as he recovers from injury, held a beach session with schoolchildren in front of Rio's Sugar Loaf Mountain as part of his visit.
"Brazil is famously a footballing nation but the opportunities for young people to be exposed to rugby and many more sports as they prepare to host the Olympics are vast," he said. "I hope to return in three years as an Olympic athlete and see how the sport has grown in popularity."
The Brazilian Rugby Confederation has high expectations, with its side currently ranked 34th in the world. It wants to qualify for the World Cup within the next 10 years and increase participation to 500,000 players by 2030.
With their neighbours in Argentina gaining ground and status in the rugby world and sitting above Italy in the IRB table, Brazil has brought in the British to lead the charge. Since September, a dozen coaches from Premiership Rugby have been teaching the game at schools across Sao Paulo, Brazil's biggest city.
"Rugby is hardly known out here," says Dom Caton, of Exeter Chiefs. "You say 'rugby' and they look at you with a blank face and then you get a ball out and they say, 'Oh, American football ,' and you tell them, 'No, it's not American football'. And you explain it to them and they suddenly get really enthusiastic."
Out of a population of almost 200 million people, there are currently just 10,000 players registered with rugby clubs across the whole of Brazil. By teaching rugby in 12 schools of 1,000 pupils, as well as running dozens of social projects and adult teams, the British Council-supported project will more than double the number of Brazilians engaging with the sport.
And as the 2016 Games approach, an increasing number of amateur clubs, often including children from the favela slums, are emerging.
"With a lot of the children, their skill set is incredible in terms of their football, their footwork, their vision; their ability to see and read the game is great," Caton added, after a session at his business-led Sesi School in Campinas, Sao Paulo.
"There's a real sports culture, which is great for us to enhance and try to grab part of that and use those experiences because a lot of the skills are transferable."
But though many aspects come naturally to Brazilians, there are elements of the game with which they struggle.
One of Caton's classes was left visibly puzzled at his explanation in basic Portuguese of the concept of running forwards and passing backwards.
For Edd Rhodes, who works for Northampton Saints, another challenge was to enshrine the principle of respecting the referee in a culture used to seeing its footballing heroes aggressively arguing with match officials.
"To begin with, I focused on the five core values of rugby to show them the difference between football – swearing at the referee – and rugby," he said. "When you go to give them a game of rugby, they love to argue with the referee – that's what they're used to doing in football."
But, with the potential of sport to address issues of inequality and exclusion, rugby's social aspect has been readily embraced, with Brazilians adopting their own post-match traditions.
"They call it the third hour," Rhodes added. "So they have the game, the first half, the second half, and then they have the third hour.
"In England, it's just the social side and here, they've really taken to that as well, they've got songs, and dancing, and they really enjoy it.
"There's some real talent out there that just needs to be found.
"The part of the game that lures people to come is the difference because it's a contact sport. That's why I'm trying to develop structured sevens and then fifteens as well."
Back on Ipanema beach, Rio Rugby, which was set up by British expatriates in the 1940s, has seen its stock rise with the added incentive of hosting the sport at Olympic level.
Coach Leonardo Pereira, 24, said the club had continued even after many of its foreign players had left Brazil.
"In about 1999, we were a bunch of foreigners and we lost a lot of them and what pretty much kept the team going was touch rugby," he said.
"Now the team is building itself up again. In the last year and a half, the growth has been immense. We had 30 players before and now we have around 110."
The club has two senior sides as well as Under-16s, Under-18s and a women's team, often training on the world-renowned beach.
"It comes easily for these boys. We had some players who made the provincial side within six to nine months. Those who live in the favelas are used to going up and down the hill so they're fit and it comes easily to them," Pereira said.
"The idea of the club is to get players out of it. Everything we do is pretty much sevens-focused ahead of the Olympics. Playing on the sand, they get stronger and fitter but the game is slower."
While football might remain the biggest threat to the success of rugby in Brazil, increasing numbers of young people are switching allegiances.
For Rafael Oliveira, 24, rugby is the future. "Rugby is definitely better," he said without hesitation before an evening session on the beach.
"It's a smaller sport in Brazil because here, it's just about football. People think it's violent but if they teach rugby in schools, the perception of rugby will improve. It's more competitive than football and it's about teamwork."
Register for free to continue reading
Registration is a free and easy way to support our truly independent journalism
By registering, you will also enjoy limited access to Premium articles, exclusive newsletters, commenting, and virtual events with our leading journalists
Already have an account? sign in
Register for free to continue reading
Registration is a free and easy way to support our truly independent journalism
By registering, you will also enjoy limited access to Premium articles, exclusive newsletters, commenting, and virtual events with our leading journalists
Already have an account? sign in
Join our new commenting forum
Join thought-provoking conversations, follow other Independent readers and see their replies