Wounded Scotland urged to get 'heads straight' for Tonga clash
Scotland were beaten by South Africa in their World Cup opener.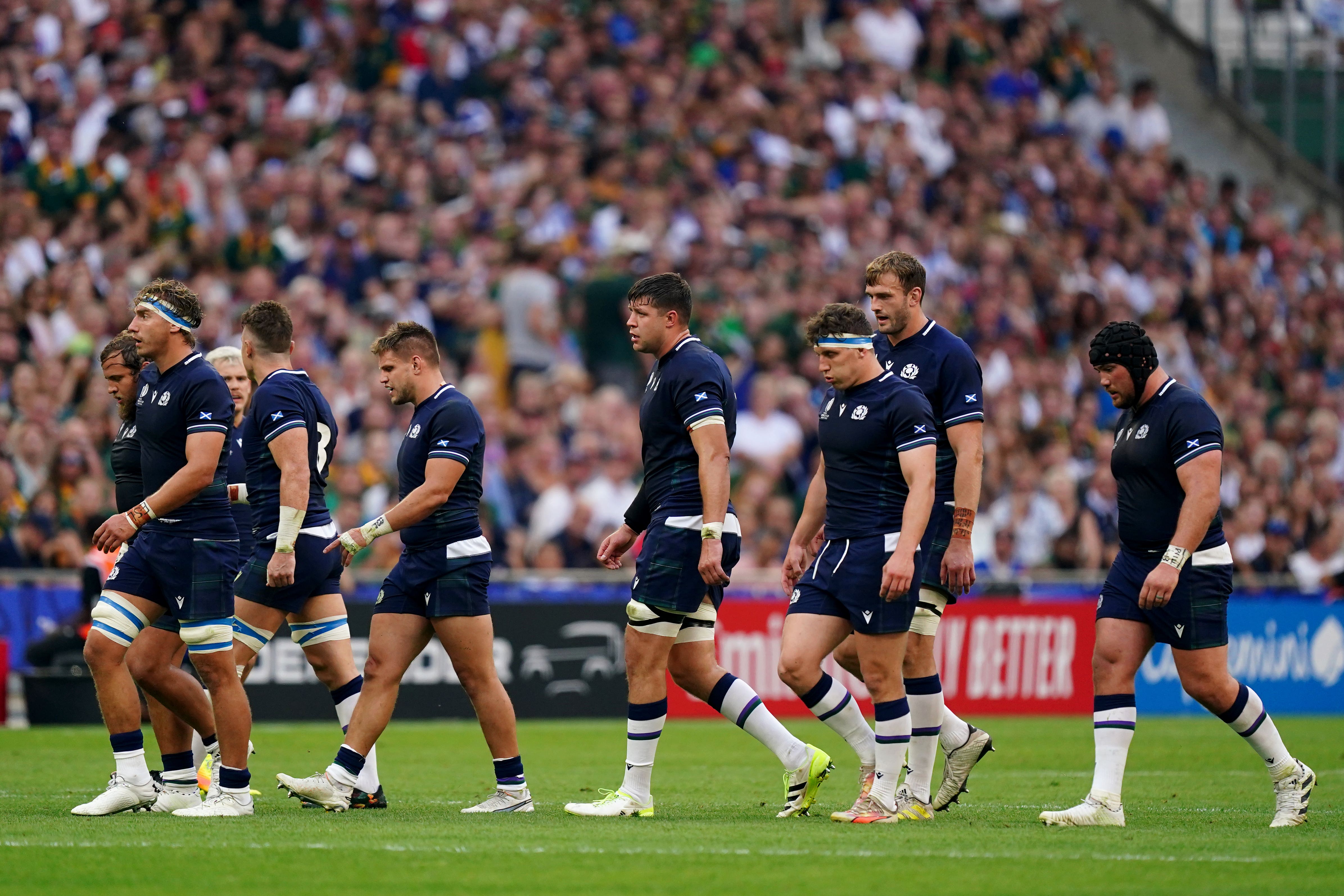 John Dalziel has no doubt about Scotland's ability to bounce back from their opening-weekend setback against South Africa and set up a potential qualification decider with Ireland in Paris.
The Scots suffered a demoralising start to their World Cup campaign when they produced a disappointing performance in an 18-3 loss to the Springboks in Marseille.
Dalziel knew starting off against the world champions was always going to be a tough assignment so does not expect their chastening outing to affect the players' mindset going into their remaining three Pool B games against Tonga, Romania and Ireland.
The squad have had the last few days off with their families and the forwards coach is confident they will all be able to get their "heads straight" in time for their next match against Tonga in Nice a week on Sunday.
"We've been in this position a couple of times where we've been disappointed with performances," Dalziel told the PA news agency.
"It's not the end of the world for us, but we need to get our heads straight for the next game against Tonga because we've got to get that game right.
"We spoke a lot about how difficult this group would be. We know we could have gone out on Sunday and played some of our best rugby and still lost the game so it was always going to be important how we go on from here.
"The difference was we didn't play our best rugby on Sunday, but the positive is that we've got three other games to try and rebuild it and find another route out of the group.
"We will take it game by game, but we want to arrive in Paris for that last game with an opportunity knowing that if we win we can progress."
Dalziel admitted "it didn't feel like us" on Sunday as Scotland failed to score a try for the first time since autumn 2020 and posted their lowest points return since losing 27-3 to Ireland in the opening match of the 2019 World Cup.
"I was disappointed with the lack of accuracy at times, but even with the inaccuracy in the first half, we put ourselves in a good position with that big set before half-time to come in at 6-3 (down)," he said.
"It was a really positive changing room because of how poor we had been and the fact we were still in the game against the world champions.
"But we just never got into our stride, it didn't feel like us. It wasn't the end in any way, though, just a disappointing start. And we've got to do it the hard way, as always."
Dalziel believes that, if Scotland are able to execute their attacking game, they will have a good chance of getting up and running against Tonga next weekend.
"Tonga will bring physicality up front, they'll want to stop us playing, but we can find opportunities around that in terms of what we do," he said.
"We just want to look at having a good performance. The performance is the focus, not the outcome. If we get our performance right, we'll have a great chance of winning that game."