Scott Baldwin: Rugby player bitten by lion reveals horrifying extent of 'self-inflicted' injuries
The Ospreys player suffered the injury after he attempted to 'pet' the big cat while on tour in South Africa in September.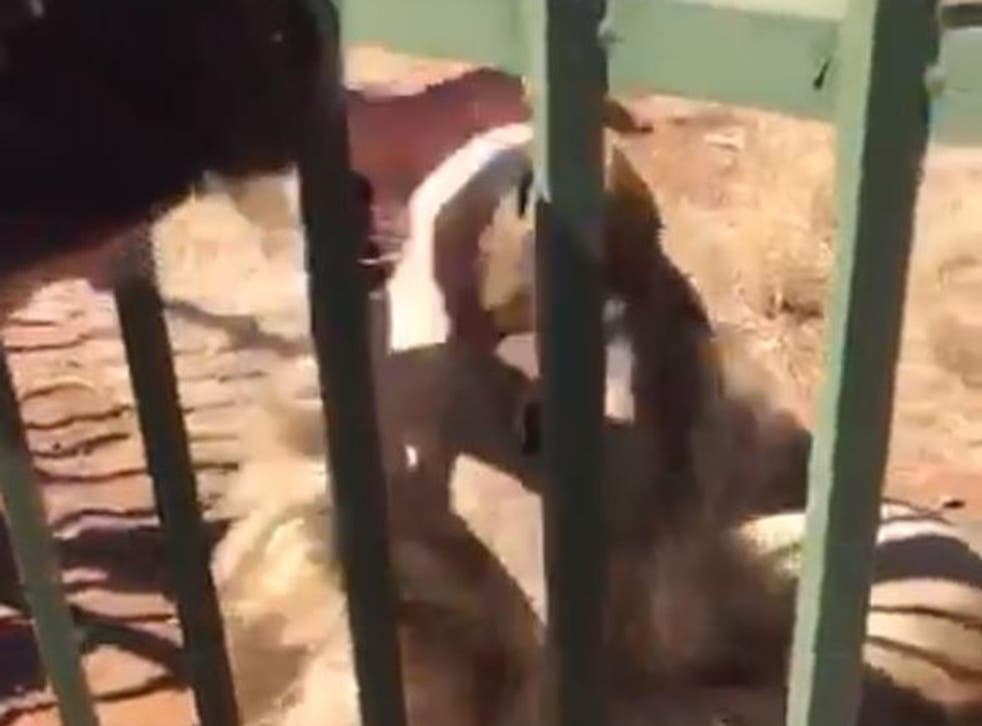 A Welsh rugby player who was bitten by a Lion has revealed the horrifying extent of his injuries after being bitten on his hand.
Ospreys and Welsh international Scott Baldwin, 29, suffered the bite as he attempted to stroke the animal before appearing in a game in South Africa in September.
In the aftermath of the incident Ospreys coach Steve Tandy pointed out: "In fairness it was nothing to do with the lion."
The incident at Bloemfontein Zoo was caught on video by a teammate and reportedly left the hooker fearing he would lose both his hand and his career, after an infection began to spread up his arm.
"When you see the video it looks very quick, but for me it felt like a lifetime, it felt as though I was staring into its [the lion's] soul," he said to the Mirror.
Ospreys hooker Scott Baldwin misses game after lion bites his hand
"They told me I could lose my hand, I had to have four operations and I missed three matches with the Ospreys. And it was all self-inflicted."
"I had two operations in South Africa, flew home with an IV drip in my arm and then had another two at home. At one stage I was told I would need plastic surgery and could lose my left hand.
At the time, Ospreys coach Tandy branded the hooker 'stupid' for attempting to stroke the lion: "He did bite Scott but when you put your hand in a fence where there is a lion, then you will get bitten.
"It was pretty stupid on Scott's behalf and he is pretty lucky… I don't know what sort of wildlife show Scott has been watching where you can pat a lion on the head as if it's a kitten."
On Saturday, Baldwin returned to the field as his team were beaten 36-34 by Saracens in the European Champions Cup. He then tweeted a picture of the wound he had been left with.
"3 games missed, 4 ops later & not the result we wanted yesterday but good to be back out with the boys. Live&Learn LuckyEscape," he captioned the tweet with.
Register for free to continue reading
Registration is a free and easy way to support our truly independent journalism
By registering, you will also enjoy limited access to Premium articles, exclusive newsletters, commenting, and virtual events with our leading journalists
Already have an account? sign in
Register for free to continue reading
Registration is a free and easy way to support our truly independent journalism
By registering, you will also enjoy limited access to Premium articles, exclusive newsletters, commenting, and virtual events with our leading journalists
Already have an account? sign in
Join our new commenting forum
Join thought-provoking conversations, follow other Independent readers and see their replies