Zoe Harrison: 'The spotlight is on England now. It's time to perform'
Exclusive interview: Fly-half discusses the World Cup postponement, the pressure of potentially succeeding Katy Daley-Mclean and a chance to inspire others in the Six Nations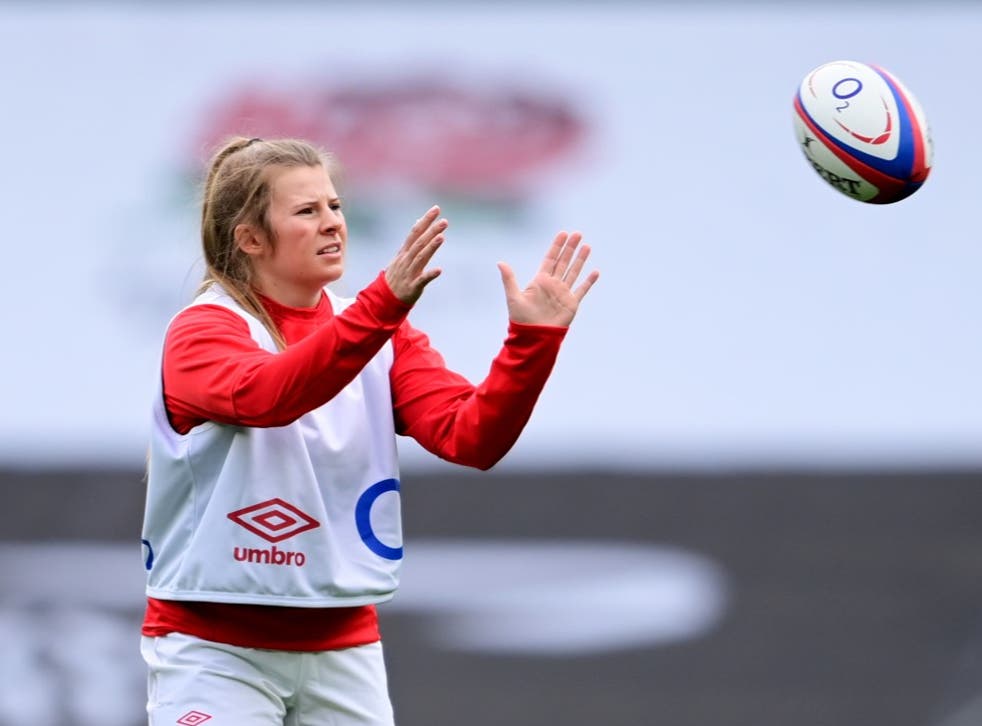 The news spread quickly around England's training camp. A Twitter rumour spotted; a group chat filling quickly with speculation from separate rooms as players filled the evening idle. Soon after, official confirmation from the Rugby World Cup organisers of disappointing news: the 2021 tournament, destined for New Zealand for the first time in the autumn, had been postponed to next year. For players, coaches, and watchers of women's rugby, an all too familiar frustration of cancelled plans and an altered, uncertain calendar.
"It was a massive shock," says England fly-half Zoe Harrison as she recalls the moment she and her teammates heard of the postponement. "There was no talk about it, and then all of a sudden someone saw something on social media and it shocked all of us because we were very set we were going to that World Cup.
"We are still doing everything we were doing before. Nothing has changed in our preparation - obviously we are just going to have to go through another year's cycle of it."
The true focus, then, for 2021 becomes the imminent Women's Six Nations, standing alone in its own window and operating in a new format due to the pandemic. The tournament has been split into two pools, with each side playing twice before a Super Saturday of finals matches between equivalent finishers from opposite pools. For the first time the tournament will be shown on the BBC: the pool games on the iPlayer and the final on BBC Two.
For Harrison, in particular, opportunity may knock. The conclusion of England's autumn engagements marked the end of the storied career of World Cup-winning captain Katy Daley-Mclean, who bowed out after 116 caps.
Read more
Harrison has long been positioned as a potential successor. Playing regularly at both fly-half and inside centre for England, she deputised for an absent Daley-Mclean at the 2019 Women's Rugby Super Series and struck up a creative partnership in the midfield with her senior teammate when the pair were deployed as a duo, aided by the multi-faceted threat of Emily Scarratt at outside centre.
Potentially replacing a player as fundamental and influential appears a daunting task, but Harrison is a calm and confident head. She is a key leader in a Saracens side that has won both completed seasons of the Premier 15s (they were top of the table last year when the pandemic hit) and that again heads a competitive pack this season. Tactically astute, defensively sound and possessing a refined kicking game, Harrison has plenty of fine qualities, though started just one game at fly-half for England in 2020.
There is plenty of competition for places, too, primarily in the form of a pair of fly-halves who returned to the 15-a-side game after England's sevens players had their contracts cut last summer. Loughborough Lightning's superbly talented Helena Rowland could be England's next star after a breakout autumn that brought an England debut, while Wasps' Megan Jones has been the standout ten of the Premier 15s season, particularly creative and devastating in the broken field, though is seen as more of an inside centre by England.
The pair are splitting their Six Nations engagements with preparations for the Olympics at the Team GB Sevens camp in Loughborough. With Harlequins' impressive fly-half Ellie Green also included in the squad as a development player, there are plenty of configurations for head coach Simon Middleton to ponder in his creative axis as he looks to replace Daley-Mclean.
"I'm sure she will be missed and there will be a hole," says Harrison, an Umbro ambassador, of an influential mentor in her first few years at international level. "I really learned a lot from her.
"It is good that there is competition because it means I have to stay on top of stuff and get better as well. It is driving me to become a better version of myself and be really competitive in that position.
"I have played fly-half all my life so I would say at fly-half is my best position. But if I am going to be put in a 12 shirt when I play for England. It's just playing the best I can in that position. It's quite good to have two tens on the pitch playing like that, because you can bounce off each other."
England were the only team to complete their full schedule of games last year, delayed back-to-back Grand Slams confirmed on a misty autumn evening in Parma. England will begin as favourites and victory is on the mind ahead of an opening game against Scotland in Doncaster.
"Every game counts in the Six Nations. You have to be on it from the start and now we have to give our all in those two games to make the final. We are wanting to win - that is the goal.
"Hopefully more people get to see us play, and hopefully it brings more girls to rugby. The spotlight is on us - we are on our own stage now. It's our time to go out and perform."
Zoe Harrison is an ambassador for Umbro. For more information visit umbro.co.uk/rugby or follow @Umbro_Rugby on Instagram  
Join our new commenting forum
Join thought-provoking conversations, follow other Independent readers and see their replies