Swing Low Sweet Chariot: English rugby boss issues update on song review
Rugby Football Union is carrying out a full review into its diversity and inclusion measures, which includes the use of a song as its official anthem with strong connotations to slavery and black oppression
Jack de Menezes
Sports News Correspondent
Tuesday 23 June 2020 16:14 Comments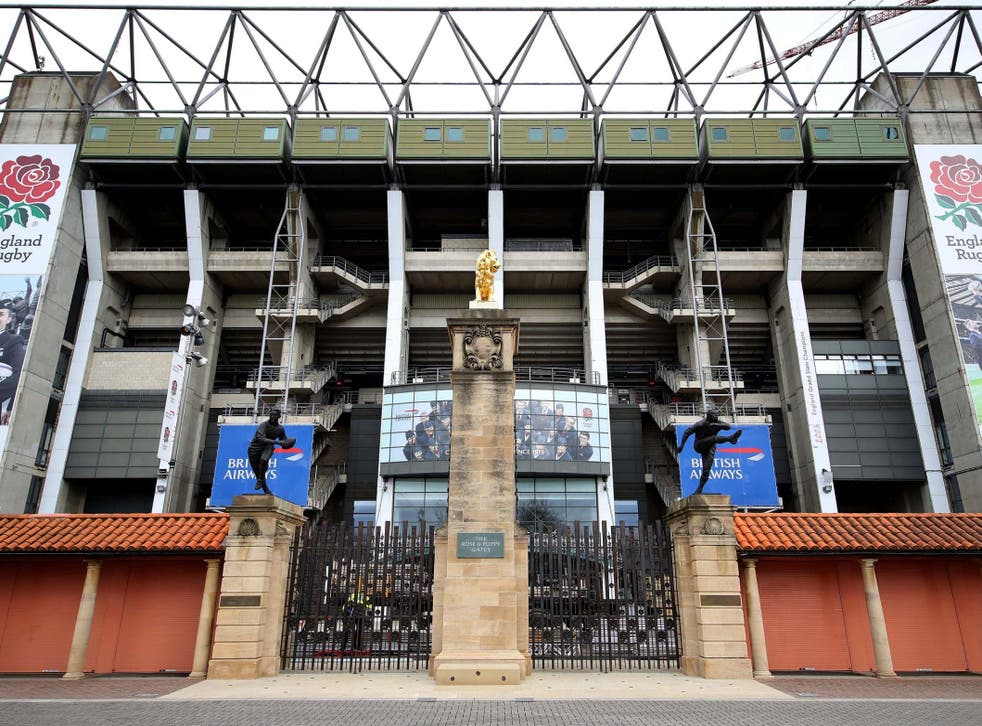 Banning English rugby fans from singing Swing Low, Sweet Chariot at Twickenham would "cause more of an issue and make it more divisive", according to Rugby Football Union chief executive Bill Sweeney.
The anthem's use as the official song of the English rugby team has come under scrutiny due to its history and connotations with slavery and the oppression of African-Americans in the United States.
As a result of the growing support for the Black Lives Matter movement following the killing of George Floyd, an unarmed African-American, while in police custody last month, the RFU announced a review of the use of Swing Low to assess whether it was suitable to be used in the current climate.
The announcement immediately divided the English rugby fan base, with some in favour of dropping it if people were offended by its use and the fact that it has nothing to do with England or rugby union, while others vehemently defended its use because it has never been used in a racially abusive manner.
A number of leading voices within the sport expressed their opinions on the review in the days after the announcement, which the RFU have not only listened to but have subsequently consulted to aid the process of deciding whether to encourage use of the song at future Tests.
But Sweeney made it clear that the intention is not to ban the use of Swing Low completely given how divisive such a move would be - even though the RFU built its entire media campaign at last year's World Cup around the slogan #CarryTheHome, a lyric taken from the song itself.
"The players are key in all this, so we'll consult with as many as we can and get their views and clear opinions," Sweeney told Sky Sports.
"I don't think we need to have a separate committee, it'll be the executive and we'll make a recommendation back to the board, discuss it there and take it from there.
"There is a lot of talk of whether it should be banned, but the general feedback we're getting so far - we haven't spoken to all of the players, but we've spoken to quite a few - is actually banning it would cause more of an issue and make it more divisive.
"We've got to be a little bit careful in terms of the steps we take."
Sweeney, a former amateur rugby player for Rosslyn Park, has had to deal with one of the toughest periods in charge of the union since taking the role in mid-2019, having inherited a financial crisis before having to steer it through first the coronavirus pandemic and now a full review into its diversity and inclusion measures.
When asked for his own personal view on Swing Low, Sweeney admitted that he was not one of those in favour of singing it, given it's lack of any relation to the sport or country that it is being most commonly used in.
"Personally, I've never liked the song and always felt could we not have a song which was more associated with England," Sweeney added. "My association goes back to when I was playing in the 1970s and 1980s and it was just all part of rugby culture.
"I think the most important thing to do is make people aware of it and you make a decision in terms of what you do."
He added: "When it came up as a topic recently, we said what we've got to do is review this; probably the best thing we can do is educate people, raise awareness of where the song comes from and what its historical context was...then leave it to people to make an informed, adult decision on it.
"Opinion seems to be split. I've had a lot of contact from people who say they don't approve of the song being associated with the England team and Twickenham.
"And then probably more people who are saying 'this political correctness gone mad and there are bigger issues to be faced in the topic of diversity'."
Register for free to continue reading
Registration is a free and easy way to support our truly independent journalism
By registering, you will also enjoy limited access to Premium articles, exclusive newsletters, commenting, and virtual events with our leading journalists
Already have an account? sign in
Join our new commenting forum
Join thought-provoking conversations, follow other Independent readers and see their replies