Time is right to make 21-year-old Maro Itoje the captain of England
He's only 21 but has all the qualities needed to lead his country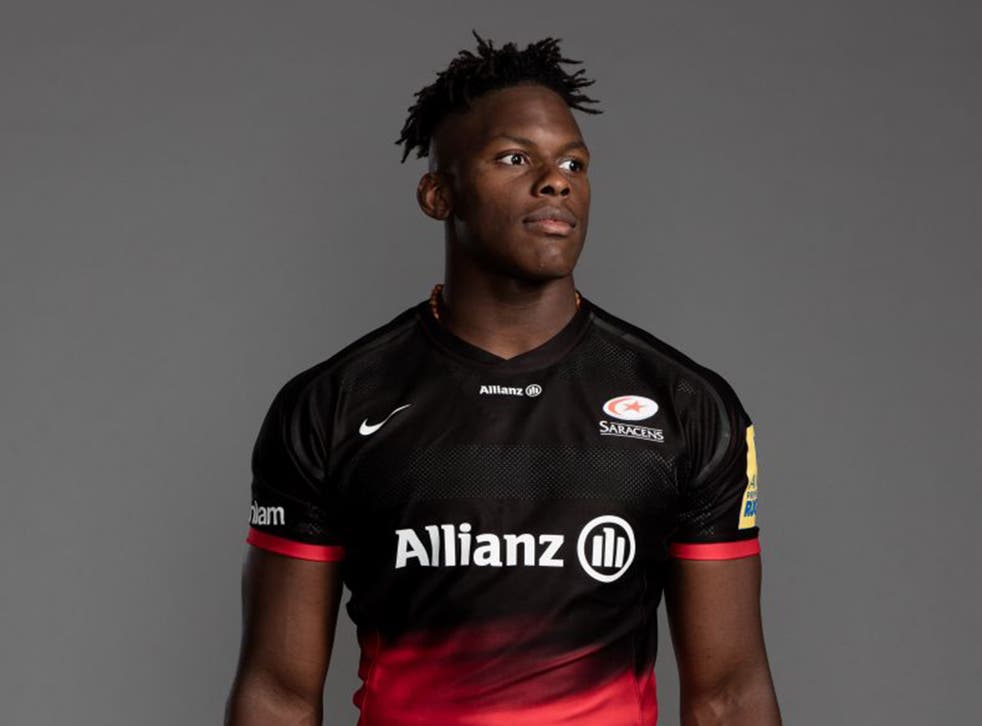 Only four men have captained England at the same time as winning their first cap, but if Eddie Jones fancies beginning his stint as the head coach with an epoch-making bang, he should make Saracens' extraordinary young forward Maro Itoje the fifth, starting with the team to face Scotland in Edinburgh in the Six Nations' Championship in February.
The departure of Jones's predecessor, Stuart Lancaster, has been taken as read as signalling the end to Chris Robshaw's 42-match stint as England captain. "Lanny" and "Robbo" came as a pair for the past four years. Trophies won? A Triple Crown in 2014 and a Hillary Shield by beating New Zealand in 2012 were the best of a limited bunch. In that sense, the next captain does not have much to beat. He will, however, need to give leadership and energy to a squad feeling beaten up over this autumn's World Cup failure. In the quietly expressed but always lucid words of Joe Launchbury – the Wasps forward who is another outstanding candidate to be skipper – England's elimination before the quarter-finals was something the players "will never forget about and will always be there".
Itoje, a bristlingly physical and athletic north Londoner with Nigerian parents, has no such sore point, other than being cut from Lancaster's World Cup long squad in mid-summer, which was a tiny blip on the 21-year-old's pain threshold. Of course, Itoje is vastly less experienced than the Harlequins full-back Mike Brown, who is known to fancy the job, or the Northampton duo of Tom Wood and Dylan Hartley, or the Leicester scrum-half Ben Youngs. But Itoje captained England Under-20s to a World Junior Championship crown in 2014 – they beat Australia, Ireland and South Africa in New Zealand – and Premiership champions Saracens' Anglo-Welsh Cup-winning team of last season. Harlequins' fine back-rower Jack Clifford has the same U-20 title on his CV, from 2013.
In the days of Will Carling, who was England's youngest captain in 57 years when he was appointed as a 22-year-old in 1988, or Martin Johnson, their characters were formed partly away from rugby. Now, as the Bath head coach, Mike Ford, has observed, many players are coming through being told what to do. Yet Launchbury, at 24, is more well-rounded than most, having been spotted relatively late playing for Worthing. His father, Steve, was in the Royal Marines for 27 years. And Itoje, who won youth honours in basketball and shot put, has the brilliantly fresh perspective of being two years into a politics degree at London's School of Oriental and African Studies. He can chat with as much facility about Britain's foreign-aid policy as he can about crooked feeds at the scrum.
10 emerging players to watch at the Rugby World Cup

Show all 10
Choosing a forward as captain scores over a back such as Brown because he would be closer to the ear of referees, and at 1.95m and 116kg Itoje offers the enticing, Johnson-esque option of making opponents think before they have even taken to the pitch. There is also the successful example of Sam Warburton being installed early with Wales and the Lions as a calm youngster galvanising older brethren.
Jones is likely to demand that England play with exceptionally high ball-in-play time, and a combination of the galloping Launchbury and the power-tackling Itoje is a thrilling thought. Both men have spent time in the second row and at blindside flank. Where they would sit in an England pack that also needs to scrummage hard and win its line-outs will be formulated by Jones and his assistants, who seem likely to include Steve Borthwick (a former mentor to Itoje) in charge of the forwards and maybe Saracens' Paul Gustard looking after defence.
Toby Flood, the England fly-half now playing for Toulouse, was glad to be at inside-centre and so spared tackling Itoje too often in the European Cup last month, although that was partly due to Saracens' style. Flood easily recalled his first encounter with the emerging man-mountain in a Premiership match at Leicester in May 2014.
"Saracens kicked off and I turned to [team-mate] Manu Tuilagi and said, 'Who the hell is that?!' Because Maro was such a big athlete. Manu said, 'Oh, he's a 19-year-old'. It's at times like that you are thankful you haven't got too much longer in your legs, because there's some big boys coming through."
This is not only a matter of what Itoje can do for his country but also what Jones can do for him. Even if the coach emulates the caution of Lancaster, who made Robshaw captain for just two matches initially, the job comes with symbolism, history and responsibility. "Too soon" is the obvious objection.
Two former England players, Paul Grayson and Matt Dawson, have suggested Launchbury could captain England now, and Itoje later, but why wait? If Itoje is the man, get him in. England have roughly 40 matches between now and the 2019 World Cup – the equivalent of a single club season. Forward planning in rugby is a hazardous business; back in 2012, when Lancaster namechecked several "leaders" in his squad, they included Flood, Tom Croft, Ben Foden and Hartley. Not one of them appeared at the 2015 World Cup.
Jones needs to crack on, and it would be a surprise if he has not got a starting XV in mind already. He has promised to consult all the Premiership directors of rugby, but given his existing, encyclopaedic knowledge, this may amount only to checking fitness and form and character references. Or in the case of Itoje, just dotting the i and crossing the t.
The four men who captained England at the same time as winning their first cap
Fred Stokes in 1871 and Joe Mycock in 1947 performed this feat in England's first-ever international and the first after the long hiatus of the Second World War respectively.
So Nigel Melville in 1984 and Fred Alderson in 1891 were the only true bolters in the skipper stakes. And dear old Fred of Hartlepool Rovers didn't have to worry about southern- hemisphere superpowers in Victorian times, unlike the team led by Wasps scrum-half Melville in November 1984, in the aftermath of John Scott's international retirement, who were young and raw and well beaten by Australia at Twickenham.
Register for free to continue reading
Registration is a free and easy way to support our truly independent journalism
By registering, you will also enjoy limited access to Premium articles, exclusive newsletters, commenting, and virtual events with our leading journalists
Already have an account? sign in
Register for free to continue reading
Registration is a free and easy way to support our truly independent journalism
By registering, you will also enjoy limited access to Premium articles, exclusive newsletters, commenting, and virtual events with our leading journalists
Already have an account? sign in
Join our new commenting forum
Join thought-provoking conversations, follow other Independent readers and see their replies