How the disastrous SEA Games 2019 is turning into sport's very own Fyre Festival
Unfinished stadiums, food shortages and nowhere to sleep have characterised the shambolic Southeast Asian Games in the Philippines – and that's before they have officially begun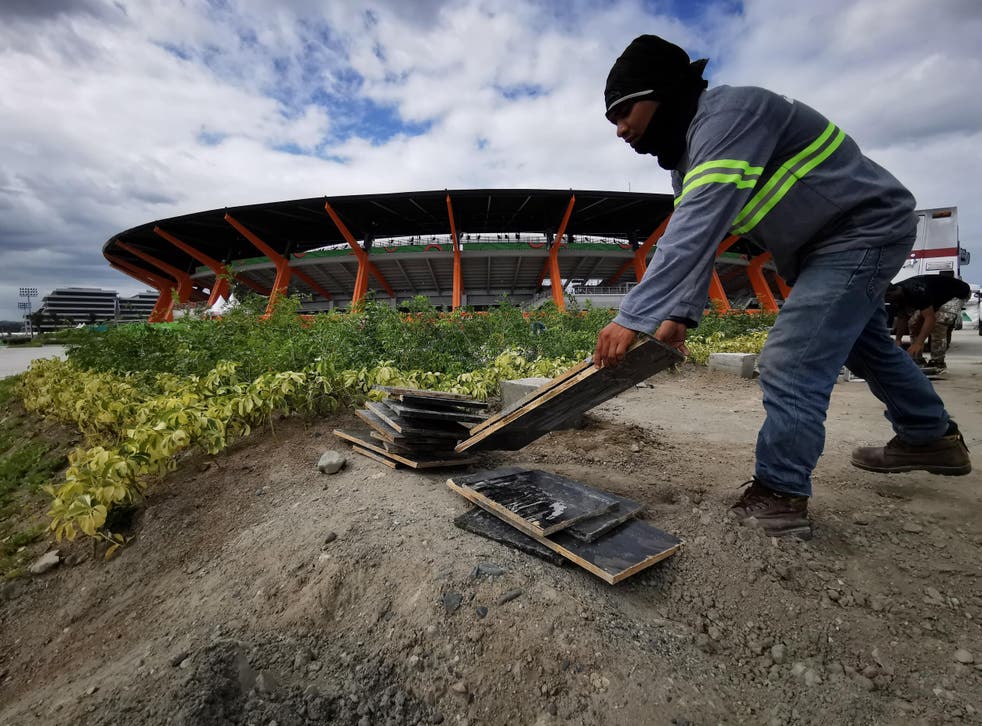 Being compared to the ill-fated Fyre Festival, which took place, or didn't actually take place, in the Bahamas in 2017, is perhaps the biggest insult an international sporting event can have heaped upon it.
So spare a thought for the organisers of the 2019 Southeast Asian Games in the Philippines as the criticism rains down on the multi-sport event that looks set to go down in history, for all the wrong reasons.
Originally due to be hosted by Brunei, the Philippines stepped in as host in 2015, before withdrawing its decision two years later. And changing its mind the following month. Little wonder that things haven't been plain sailing since.
The Games themselves officially begin on 30 November, but with the football competition having already kicked off – in a scoreboard-less stadium surrounded by workers desperately struggling to finish a rapid facelift of an 85-year-old stadium – and athletes having already experienced airport delays, comic transport capers and food shortages, things haven't take too long to go badly array.
The press haven't had an easy time of it either, with a dimly lit warehouse complete with white plastic chairs and cracked walls suggesting that they could find life as tough as the athletes they're covering before the whole thing finally ends on 11 December.
Not that the country's president Rodrigo Duterte appears overly bothered. He is currently in South Korea, no doubt pondering what should happen to an organising committee which was supposed to use the game as a means of showing how far the Philippines had come under his leadership.
As it is the SEA Games appear a pretty accurate reflection of his chaotic regime.
You can't say that the Games' organising committee didn't get their excuses in early. Last weekend, Alan Peter Cayetano, the chair of the Philippines Southeast Asian Games Organising Committee said the country was "more than ready to provide world-class hosting (but) we are only human. We aren't perfect."
As caveats go, it's hardly the most reassuring to come out of the mouth of a key figure before the start of such a high-profile event.
Others were keen to lay the blame elsewhere, with some apparently surprised that teams were intent on showing up early for the competition. Quite when they expected them to arrive is anyone's guess.
Since they have touched down, it's safe to say that most teams haven't enjoyed too much in the way of SEA Games hospitality, and while events in the dim and distant past may have been able to get away with the odd faux pas, social media has brutally exposed the shortfalls this time around.
It didn't take long for #SEAGAMESFAIL to start trending, and pictures posted by athletes and journalists have illustrated the kind of issues facing an organising committee who first ran out of time and are now running out of excuses.
Still, at least New Clark City, to the north of Manila, now has a 50m high cauldron outside the Games' main stadium for future generations to come and marvel at. Even if it did cost almost $1m – expenditure which has drawn huge criticism in the country, with some making comparisons between the largess of the current regime and that of Ferdinand and Imelda Marcos, the corrupt former president and first lady who embezzled billions. The site of the cauldron has also sparked confusion, given that the opening ceremony is taking place elsewhere.
The hosting of the Games has certainly provided food for thought in a country ranked 99 out of 180 in Transparency International's 2018 corruption index.
And it is food, or a chronic lack of it, that has caused the most consternation in the run-up to the games. Athletes have complained about a menu that wouldn't look out of place on Ramsey's Kitchen Nightmares. A lack of halal food has also been heavily criticised. "We have some sort of problem because the organisers of the SEA Games have not been able to provide halal food," said Ramadan Aguan, information officer with the national commission for Filipino Muslims (NCFM). "Our organisation sent many reminders to them to make sure they have sufficient supplies of halal food but for some reason, we don't know why, they did not consider it." Small portions have also had some rename the event "The Hunger Games".
Things were so bad that Juliana Seow, Singapore's chef de mission, wrote to the organising committee to complain that the menu lacked the nutrition required for the athletes to perform. Presumably they had bigger fish to fry – like ensuring that Cambodia's athletes had a hotel to sleep in, rather than the conference room floor which greeted them on their arrival.
Perhaps the strangest sight in a shambolic week emanated from a video showing two toilets in the same women's cubicle, separated by nothing more than thin air, at the Rizal Stadium.
The mind boggles as to what will happen when the Games finally get underway. One thing is certain, though – the event is not quite the marketing opportunity that President Duterte was hoping for.
Join our new commenting forum
Join thought-provoking conversations, follow other Independent readers and see their replies