Alexander Zverev on family, the French Open and beating Novak Djokovic in the final of the Italian Open
Exclusive interview: The young German cemented his reputation as one of the most exciting stars on the ATP Tour with victory over the 12-time Grand Slam champion in Rome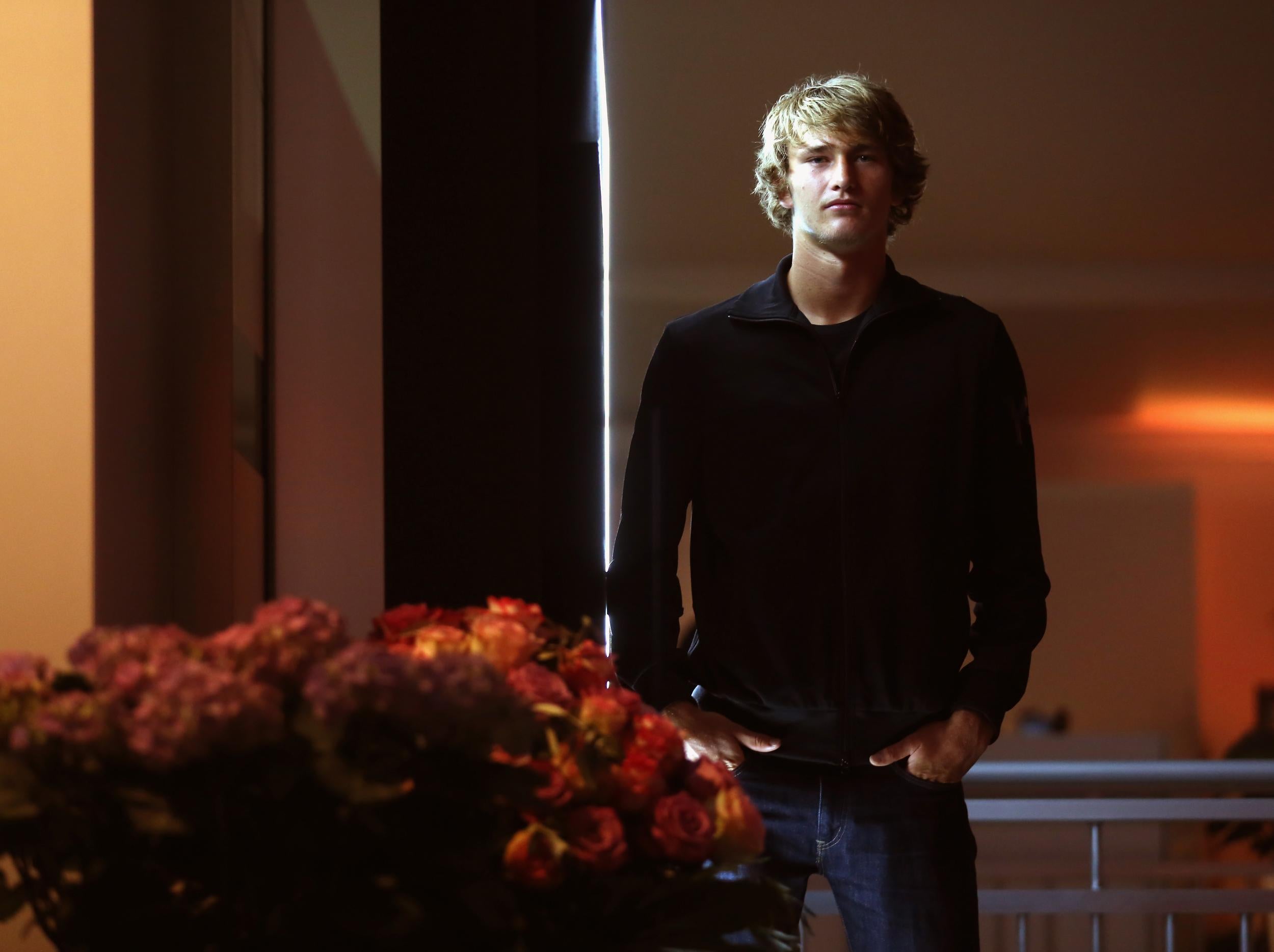 There was a time, not so long ago, when some people would have wondered who the scrawny teenager was training with Mischa Zverev at tournaments. Today that youngster has become a strapping 6ft 6in adult and a more likely query would be as to the identity of the older player out on the practice court with Alexander Zverev.
The fortunes of Germany's Mischa and Alexander Zverev have ebbed and flowed in recent times, but the major constant in the brothers' lives has been the family connection. Both are based in Monte Carlo, both are coached by their father, Alexander snr, and both spend much time in each other's company, whether on the court or off it.
This has been quite a year for both 20-year-old Alexander (or "Sascha" as he is widely known within the sport) and 29-year-old Mischa. Alexander's rapid rise took him to No 10 in Monday's world rankings after he became the youngest man to win a Masters Series title since 2007 with his victory over Novak Djokovic in the final in Rome on Sunday.
At the start of the year it was Mischa who was upsetting the odds, beating Andy Murray at the Australian Open to reach the world's top 30 for the first time.
While his younger brother's emergence has helped to spur Mischa to new heights, it has been clear for some time now that Alexander is the major talent within the family. He broke into the world's top 100 two summers ago just a month after his 18th birthday and won his first title at 19. Since losing in his first two finals in the spring of 2016 he has reached four more – and won them all.
"My success has a lot to do with Mischa," Alexander told The Independent. "He was the one who always used to practise with me when I was little, when I was a junior.
"I think he's seen me do well and he's seen me playing on the professional tour and he got really motivated. I think he thought: 'I want to play a few more years with my brother, travel with him and play in the same tournaments as him.'
"Also, since I started playing well we've had a lot of very long and very intensive practice sessions, which I think helped his game and mine."
One of the most impressive aspects of Zverev junior's rise has been his big-game mentality. Last summer he held his nerve to beat Roger Federer, his childhood idol, on grass at Halle and in September he beat Stan Wawrinka to claim his maiden title in St Petersburg, ending his opponent's run of 11 successive victories in finals.
Then, at the Australian Open in January he was two sets to one up against Rafael Nadal before cramp scuppered his chances.
However, Zverev admits that he suffered from nerves in his early meetings with the top players.
"I think it's normal that the first time you meet Federer or Murray or Djokovic, you're going to get nervous," he said.
"But after a while they become normal opponents, people you see every week. That's the way you have to think. You can't think of them as legends. When you see someone on court you have to treat every opponent the same way.
"Happily for me I learned that quite quickly, because I was travelling on tour with my brother and I was used to seeing these guys in the locker room from quite an early age. I think that helped me a lot."
Zverev's parents are Russian. He was born and raised in Hamburg, his family having moved there from Russia. Both his parents are tennis coaches. His father was a top 200 player who twice appeared at Wimbledon, losing in the first round on both occasions.
If there was an inevitability about Zverev becoming a tennis player, he insists his parents never pushed him in that direction.
"When I was growing up I played a lot of different sports," he said. "There was a time when I was playing field hockey, tennis and soccer at the same time. I was actually quite good at all of those sports. My field hockey team were German champions and my football team were Hamburg champions. But quitting the other sports to focus on tennis was my decision."
At tournaments Alexander and Mischa spend a lot of time together, whether they are practising or playing basketball, cards or PlayStation. "We're very competitive together," Alexander said. "Everything we do has to be some kind of competition."
However, he insists that away from the court the family rarely talk about tennis. "I think the reason my relationship works so well with my Dad is that we can separate our tennis lives from our personal lives," Alexander said.
"On court we're both very professional. I listen to him very closely. We do our tennis, but once we're off the court, even if I've done a bad practice or even if something went wrong, we forget about it."
Zverev's fitness trainer is Jez Green, who was a long-time member of Andy Murray's entourage. Zverev says all the members of his team help to keep him grounded.
"I listen to them," he said. "Their opinions are pretty much the only opinions I care about."
Zverev has a big lead in the "Race to Milan", which will determine seven of the eight places in the inaugural end-of-year Next Gen ATP Finals for the world's best players aged 21 and under.
He is also in fourth place, behind Nadal, Federer and Dominic Thiem, in the race for a spot in the World Tour Finals at the O2 Arena in London in November. He intends to play in both events if he qualifies for them.
The new world No 10 has kept a level head despite the huge media interest in him over the last year. He is seen as one of the best of the next generation of players alongside the likes of Thiem, Nick Kyrgios and Borna Coric.
"There are a lot of young guys who are doing very well," Zverev said. "Nick Kyrgios is doing amazingly this year. Borna Coric won his first title last month.
"A lot of the pressure comes from the media. They always try to find the next Federer or the next Nadal. It's a not a bad thing. It was always like that and it's always going to be like that."
Given Zverev's excellent form during this clay-court season – he also won the title in Munich and reached the quarter-finals in Madrid - the pressure is likely to be even greater at the French Open, which begins on Sunday.
However, Zverev does not necessarily think that Roland Garros will bring him the most Grand Slam success. "I feel like I can get along pretty well on all the surfaces," he said. "We'll see. That's in the future."
Join our commenting forum
Join thought-provoking conversations, follow other Independent readers and see their replies