Andy Murray stamps his authority on the French Open with convincing win over Karen Khachanov
The Scot is through to the quarter-finals and looks fully recovered from injury and illness
Paul Newman
Roland Garros
Monday 05 June 2017 13:52 Comments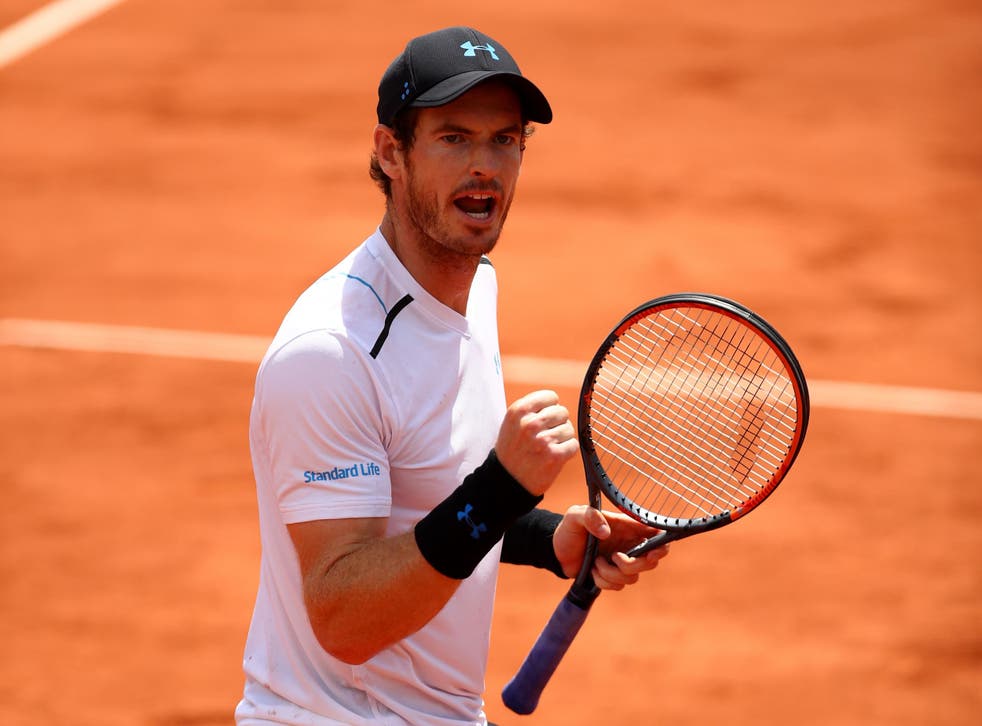 Crisis? What crisis? Just six days after beginning his French Open campaign with question marks over his form and his health, Andy Murray secured his place in the quarter-finals with his most authoritative performance of the tournament so far.
Karen Khachanov, a strapping 6ft 6in Russian who had beaten Tomas Berdych and John Isner in his previous two matches, was no match for Murray, who won 6-3, 6-4, 6-4 to earn a quarter-final meeting with Kei Nishikori.
Murray, who had been on antibiotics before the tournament and had won only one of his four previous matches on clay, has gone from strength to strength here. He is through to the quarter-finals for the fourth year in a row and the seventh time in total thanks to the 650th tour-level victory of his career, a figure which only 14 other players in history have bettered.
"Today was probably the best I have played [this fortnight]," Murray said afterwards. "I feel like I've played better with each match. I've hit the ball cleaner and started to see the right shots at the right moments. I've come a long way in the last 10 days or so."
He added: "I'm happy with where my game's at. Everything is going pretty well just now. I'm feeling good going into the middle part of the second week."
The watching John McEnroe and Goran Ivanisevic, who are playing in the Legends Trophy tournament here, were both impressed.
"He's been great," McEnroe said. "I don't think he was as far away as people were saying. It's a lot of attitude. He's tougher to beat in the Slams. The draw looked fairly tough in the beginning but now you would have to say you would be somewhat surprised if he didn't get at least to the semis, if not the final."
Ivanisevic, who expects Murray to beat Nishikori, added: "He's playing better and better. Now all the things are possible. Anybody can win. He has [Ivan] Lendl in his team and he has so much experience.
"Andy knows what he has to do. Sometimes you can play so bad before a Grand Slam, but the Grand Slam comes and you win somehow, and you don't know why. He is in form at the right moment and he is playing better and better every round."
Nishikori, who recovered from a slow start to beat Fernando Verdasco 0-6, 6-4, 6-4, 6-0, has lost eight of his 10 meetings with Murray, but the Japanese beat the Scot in five sets in last year's US Open quarter-finals.
Khachanov had never played in the main draw at Roland Garros before last week but the 21-year-old Russian, the youngest man to play in the fourth round here for eight years, is one of the game's outstanding young talents. The world No 53 has a big game and is clearly not short on confidence.
However, Khachanov had never previously faced a player ranked in the world's top six and was up against an opponent who kept his focus throughout. In his previous matches Murray had gone back to his old habit of conducting running conversations with nobody in particular, but this time he generally kept his thoughts to himself.
Every aspect of Murray's game looked in good shape. His defence was as good as ever, his ground strokes were powerful and penetrating and his lobs and drop shots were played with wonderful precision.
On this occasion, moreover, there was no repeat of the patchy starts Murray had made in his first three matches here. The 30-year-old Scot was on his game from the very first point.
A gusting wind posed occasional problems for the players, but the temperature was a refreshing 20C on a glorious Parisian spring afternoon when the match started just after 12.30.
In the 38-minute first set Murray made only one unforced error and conceded just five points on his own serve. The only break came in the sixth game, Murray taking his chance after a rally typical of so many he has won over the years. Dogged defence kept the Scot in the point until he forced Khachanov into a forehand error.
Khachanov was given little chance to unleash his thunderous ground strokes thanks to the depth of Murray's shots. The Russian had not done much wrong in the first set, but a loose game at 1-1 in the second cost him another break. A wild forehand beyond the baseline handed Murray a break point and a double fault followed.
With Murray leading 3-2 Khachanov turned up the power to retrieve the break, only for the Scot to respond in kind in the following game. Once again Murray served out for the set in emphatic style, holding to 15.
Andy Murray's projected route to the final

Show all 8
There was no let-up in the third set as Murray broke in the opening game. Khachanov again raised his supporters' hopes by breaking back to level at 4-4, only for Murray to break again in the following game. After two hours and four minutes the Scot served out for victory, which he completed when Khachanov hit a forehand long.
When he was interviewed on court at the end of the match, Murray wanted to talk about the terrorist attack in London at the weekend and other recent incidents around the world.
"I'm sure everyone would join me in sharing our thoughts and prayers with everyone who has been affected by this," he said. "I appreciate everyone still coming out to support the tennis and creating a fantastic atmosphere. I'm grateful that I can come out and perform in front of you."
Murray said later that one of the strengths of tennis was its global nature. "For the most part the players get on very well with each other," he said. "We travel all around the world. We play in cities all over the world and different continents. We get fantastic support everywhere we go. I do think that sport, and tennis in particular because it is by nature such a global sport, brings lots of people together from many different places."
Register for free to continue reading
Registration is a free and easy way to support our truly independent journalism
By registering, you will also enjoy limited access to Premium articles, exclusive newsletters, commenting, and virtual events with our leading journalists
Already have an account? sign in
Join our new commenting forum
Join thought-provoking conversations, follow other Independent readers and see their replies