Andy Murray: 'I always believed I was going to make it'
In the first of a series of major interviews with sporting figures who shaped the last 12 months, John Roberts talks to the great hope of British tennis about finding his feet on tour, fighting back from injury, and facing Roger Federer for the first time
Wednesday 21 December 2005 01:00 Comments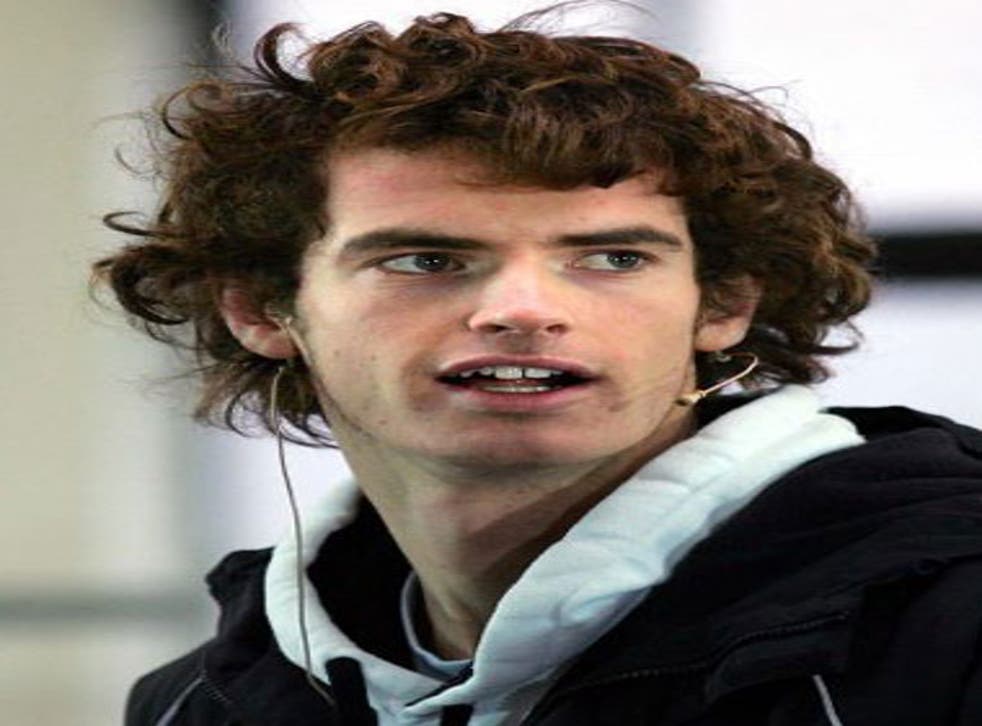 Seated in the lobby of Aberdeen's Marcliffe at Pitfodels hotel, Andy Murray is reflecting on the impact he has made in 2005, his rookie year on the ATP Tour. By any standards it has been an extraordinary 12 months.
The lanky 18-year-old from Dunblane won the US Open junior title in 2004, ending that season ranked No 411 in the world. He has since established himself as a contender and is about to unlock tournament doors with a ranking of No 64.
Named Player of the Year by the Lawn Tennis Association, Murray may be ready to sweep past the ageing Tim Henman and Greg Rusedski as leader of a sparse British pack.
Before reminiscing about the key moments of the season, however, Murray has cause to wince when recalling how it had started. "I hurt my back in January, when I was in South America," he says. "I think it was because I was growing a lot. So the first three months didn't go very well for me. I had to take some time off, and I didn't really enjoy that too much, because I'd been out with a knee injury for six months at the start of 2004."
Murray underwent a medical examination in Dijon, France, in November. "I just need to do a lot of work on my back, which is a bit weak," he says. "Basically what happened was that when I was around 16, when I was doing most of my growing, I was playing a lot of tennis and the bones hadn't finished developing. The two bones on my lower spine is where the problem is. I just need to get my back strong and then, hopefully, the bones will fuse together, and then it'll be OK."
He is looking forward to a pain-free start next month en route to the Australian Open. "This year, I missed pretty well all of February and half of March, and then I played a few Futures tournaments in Spain in April and then in May I played the French Open juniors.
"It was after the French Open juniors that I started to play well. I got the wild cards into Queen's and Wimbledon and had some good wins. I lost two very close matches to two guys who were in the top 10 after Wimbledon, and obviously [David] Nalbandian went on and won the Masters Cup."
Nalbandian, who defeated Murray after five sets at Wimbledon, ended the year on a high, defeating Roger Federer in the Masters Cup final in Shanghai, and the Czech Tomas Berdych, defeated by Murray in Basle, went on to win the Paris Masters.
"If you look at the results I've had," Murray says, "there's only one result that I can look at and say I haven't done myself justice, and that's when I lost [to Antony Dupuis] in the second round in Newport. But the grass courts there weren't great. I wasn't enjoying playing there too much.
"I played against [Marat] Safin [at the Cincinnati Masters]. I took a set off him, and he had won the Australian Open. I played Federer [in the final in Bangkok], and had a close match with him. I was quite happy with the way I played. And Nalbandian, five sets with him. And I almost won against [Thomas] Johansson [at Queen's]. All the matches I've lost have been kind of close, bar the one in Newport. So it's been a good year for me, the last three or four months in particular. I'm just looking forward to starting next year now."
Murray twisted his left ankle during the match against Johansson and continues to wear a support. "Basically, I twisted that ankle when I was younger and it didn't heal properly," he says. "It's not that it's weaker. It's just much more flexible than my right one, so there's more chance of me turning that ankle. The support that I use doesn't actually restrict my movement and it doesn't stop my ankle doing anything it should do. It's just like running normally, but it gives me a little bit of extra support on the wide balls if I'm going to twist it. It's very light, so I'm going to play with it on all the time now."
He changed his coach midway through the season, parting from the Colombian guru, Pato Alvarez. "He's coached so many good players, and he wanted me to get to the top very quickly," Murray recalls. "At the start of the year, he said, 'Top 100 by the French Open and top 50 by the end of the year'.
"If I hadn't got injured at the start of the year and missed the first three months, he wouldn't have been that far off. A lot of people were saying, 'He doesn't know what he's talking about'. But in the end you can't really complain about what he said.
"He taught me a lot. He has a lot of experience and he taught me how to play basic tennis, which is great. But I think for me to reach my full potential I needed someone to teach me other things. Mark [Petchey], for example, is perfect for that because he used to play the serve-and-volley and use a lot of slice, and played a little bit different."
Did Alvarez want Murray to play a more defensive game?
"He wanted me to play on clay courts all the time. I do like playing on clay courts, but I probably have my best results on hard courts, so I thought it was better to change the surfaces of the tournaments I was playing. But I don't really have anything bad to say about him. He's a very good coach.
"He coached Emilio [Sanchez] when he was in the top 10. He's coached 30 or 40 players that have been in the top 50. He's coached a No 1 doubles pair. It was difficult for someone my age to be travelling alone with him, but he is one of the best coaches in the world."
Perhaps the experience of winning the doubles with David Sherwood in the Davis Cup tie in Israel in February gave Murray the feeling that he was moving towards the big-time?
"That was the first really big match that I'd played," he says, "but afterwards I didn't feel much different. It maybe gave me a bit more confidence, but I was still ranked around 400 in the world. It was only a doubles match. You can't really say that just because I won one match in Davis Cup I was going to go on and do well.
"The one thing I did know was that I could deal with the pressure. There was a lot of pressure on that match, because if we'd lost we'd have been 2-1 down and it would probably have gone to the deciding match, and I was going to play in it. And that would have been difficult, playing my first Davis Cup singles match in a decider."
A wild card for the Stella Artois Championships at Queen's Club was the prelude to Murray's breakthrough. "I got a lot of confidence from there. I play OK on grass, but I had a good first-round draw against [Santiago Venura] a Spanish guy who hadn't been playing that well. I won against him quite easily, and then won against Taylor Dent, who's a very good grass-court player and in the top 30. And then to play against Johansson and to twist my ankle when I was two points away from winning was pretty hard to take.
"I had to take eight or nine days off after that. I didn't have great preparation for Wimbledon, which might be one of the reasons why I got tired in my match with Nalbandian."
The spotlight was on Murray in every match of his first Wimbledon campaign. "Tim [Henman] maybe puts a bit of extra pressure on himself, because grass is his best surface," Murray reasons. "Wimbledon for me is obviously a big tournament, but I don't see it as my biggest opportunity to win a Grand Slam. When I was playing there I didn't think I was going to do that well, so maybe I was a bit more relaxed than I might be at some of the other Grand Slams. Obviously, there's a lot of media hype, but it doesn't really affect me that much. I don't concentrate on it."
Apart from the blip in Newport, Rhode Island, Murray's build-up to the US Open was promising, and he qualified for the main draw at Flushing Meadows. Many people thought that qualifying for the US Open was one of his best achievements, but he was annoyed that he was not given a wild card.
"It was quite hard for me to be told that I wasn't going to get a wild card," he said. "I thought I was going to get the support from Wimbledon, which could be a tournament where I could be the main player in the next few years after Tim and Greg stop.
"I got told [I wasn't getting a wild card for the US Open] just before I went on court against Safin [in Cincinnati], and it wasn't really the best way to prepare for my match. The reason why I wanted a wild card was because I'd been playing eight weeks in a row in America, and I'd been doing well and had done a lot of travelling. I was a bit tired. It would have given me five or six more days to rest before I played, but I had to go and qualify, which is never easy because the players all play so well now, and you have to be up for every match. It was difficult, but I was happy with the way that I played in New York. I was a bit unfortunate against [Arnaud] Clement."
Had he felt pressure at the US Open, having won the junior title the year before?
"I've never really felt any pressure in any of the matches that I've played, because it was my first year on the Tour and everything was a new experience. So all the matches I played I went into not really knowing what to expect. I wasn't thinking I was going to win against a lot of the top players, but I managed to do it. I don't think [pressure] was a problem in any of my matches. I won against a very good player in [Andrei] Pavel, who has been in the top 20. And I almost won against Clement. But I didn't put any extra pressure on myself."
Grass may not be Murray's best surface, but Henman and other attacking players reckon the Wimbledon courts now play slower than they used to do.
"When I played the juniors there for the first time, when I was 16, the courts were really quick," Murray says. "When I played this year, Court One was really slow. The ball does stay quite low, and the guys who serve-volley can still play well on it. There's more chance of the guys from the baseline doing well now. I think it suits all games now. I think the guys who are going to do best on grass are the ones who can do everything, all-round players, like a Federer."
Murray likes the rubberised concrete courts in America, and the hard courts at the Australian Open may also suit his game. "I think the courts in Australia are quite sticky," he says, "I've heard that when you go for the wide balls it almost feels like it's hard to get back into the court. I'll just have to wait and see. Everybody who I've spoken to thinks that it will probably be my best surface, so I'm looking forward to it."
Although he had predicted that he would finish his first year on the Tour in the top 100, did his success surprise him?
"It didn't really surprise me. At the start of the year I had my goal. I wanted to get into the top 100 and I believed I was going to do it. Maybe it came a month earlier than I might have expected, but I knew I was going to get my chance around Queen's/Wimbledon time. It's just about taking your opportunities when you're coming through. And I did that. I always believed in myself.
"A lot of people, after the start to the year that I had, were saying, 'Maybe he should keep his mouth shut'. It's difficult now to know what to do when you're a Briton. If I had said, 'OK, I want to get into the top 300 by the end of next year', what's the point in that? Nobody's going to take any interest. Let me believe what I want to believe."
Murray's year
BEST MOMENT OF THE YEAR
'Around Queen's/Wimbledon time is when I really started to take off'
WORST MOMENT OF THE YEAR
'There's only one result that I can look at and say I haven't done myself justice, and that's when I lost [to Antony Dupuis, of France] in the second round in Newport [Rhode Island]'
AMBITIONS FOR 2006
'I just need to win seven or eight matches in the first six or seven tournaments of the year, then I'll be in the Masters Series events. I want to be seeded around Wimbledon time'
TOMORROW 'I did promise myself just one quiet moment in the Twickenham tunnel. Those five or six seconds were the highlight of my career...'
Martin Corry looks back at his 2005
Register for free to continue reading
Registration is a free and easy way to support our truly independent journalism
By registering, you will also enjoy limited access to Premium articles, exclusive newsletters, commenting, and virtual events with our leading journalists
Already have an account? sign in
Join our new commenting forum
Join thought-provoking conversations, follow other Independent readers and see their replies