Andy Murray says he is too young for a knighthood after brilliant year ends with ATP Finals victory
The Scot is the favourite for BBC Sports Personality of the Year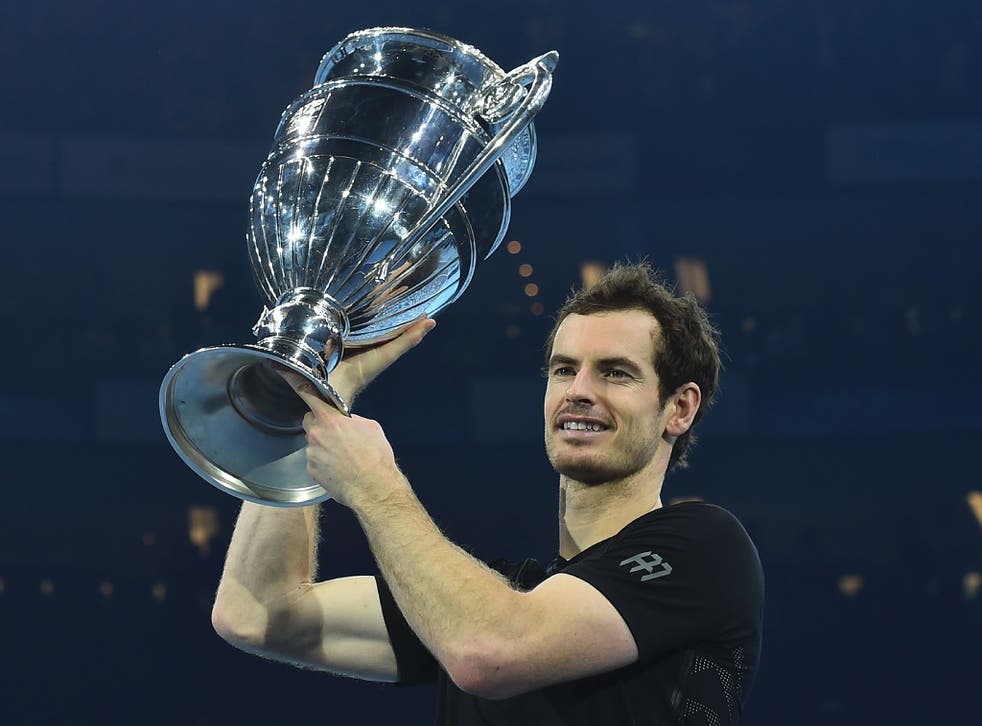 Arise, Sir Andy? With Andy Murray looking a racing certainty to become the first man ever to win the BBC Sports Personality of the Year award for a third time, odds-layers are looking for new ways to honour the world No 1.
One bookmaker is quoting odds of 2-1 against Murray being knighted in the New Year honours list, though the man himself insists that what he calls "the highest honour you can get in this country" is not on his radar.
"I don't know, I feel like I'm too young for something like that," Murray said in the wake of the victory over Novak Djokovic in London on Sunday that clinched not only his first title at the Barclays ATP World Tour Finals but also the year-end world No 1 ranking.
Andy Murray finishes 2016 as world number one
"I don't think much about that stuff really. When I win any award or am presented with anything it is nice because it is recognition for what you have given your life to - up to now anyway. I am still young and there are still a lot of things that can go wrong. I could still mess up and make mistakes. I am just trying to keep doing what I am doing, working hard and achieving stuff."
Murray is a red-hot favourite to win the BBC award ahead of fellow Olympic gold medal winners like Alistair Brownlee, Laura Trott and Mo Farah. "I have no idea who will win it, but in an Olympic year it's always tough to pick because there are always so many great performances," Murray said.
The Scot recalled the performances of Alistair and Jonny Brownlee, who won gold and silver respectively at the Olympics. "What they have done throughout the whole year is pretty amazing and I see that as pretty cool because I have a pretty similar thing with my own brother."
Murray was on hand to pick up his BBC award last year but received it at his winter training camp in Miami in 2013. He expects to be in Florida again when the award is announced on Sunday 18 December. Murray often takes a holiday as soon as the tennis season is over but will be in Britain over the next fortnight because his father is getting married the weekend after next. He will then head for Miami in readiness for the new season, which he will start in the first week of January at the Qatar Open. The Australian Open begins just a fortnight later.
"I would have [gone to the Sports Personality of the Year] if my Dad wasn't getting married," Murray said. "I would have gone to Miami a bit earlier and then would have come back for it, but because I am not able to go to Miami until I am, I am only going to get in two weeks' training. I can't really afford to come back and lose a few days."
Murray thinks that being No 1 has already provided him with fresh motivation. He took over top spot from Djokovic a fortnight ago and needed to out-perform the Serb at the O2 Arena to hold on to it. He did so with victories over the players ranked No 7 (Marin Cilic), No 5 (Kei Nishikori), No 3 (Stan Wawrinka), No 4 (Milos Raonic) and No 2 (Djokovic). It was the perfect response to critics who had said that he had not had to beat the world's best players during his remarkable autumn run.
Murray was the long-time world No 4 behind Djokovic, Roger Federer and Rafael Nadal, but after his autumn run of 24 successive victories and five titles has become the 17th player in history to hold the year-end No 1 position.
"When I was always fourth in the world, I never liked losing, but it didn't have the same kind of impact because I wasn't No 1 and it wasn't like I was holding on to something," he said. "Fourth place in the world is still great but it isn't No 1.
"Maybe now, especially the last few months when I have had that goal and have been trying to get there, I want to stay there. I feel motivated to keep going. I've enjoyed the last five or six months the most I have in all of my career. That is probably because I have won a lot, so I want to keep going."
Murray's lead at the top of the rankings – he will start the new year 630 points ahead of Djokovic – means he cannot be caught until the end of the Australian Open at the earliest. Indeed, it would take a major turn-around in form for the Scot not to be world No 1 by the time the clay-court season starts in April.
The world rankings are decided on a rolling total of points won over the previous 12 months. While Murray will have plenty of chances to improve his tally in the first three months of next year, Djokovic will be hard pressed just to tread water.
Having won the Qatar Open, Australian Open and Masters Series titles in Indian Wells and Miami in the first three months of this year, Djokovic will have 4,340 ranking points to defend before the clay-court season. Murray, who did not perform well in Indian Wells and Miami this year, will have just 1,290 points to defend over the same period, 1,200 of which will be at the Australian Open, where he lost to Djokovic in this year's final.
Register for free to continue reading
Registration is a free and easy way to support our truly independent journalism
By registering, you will also enjoy limited access to Premium articles, exclusive newsletters, commenting, and virtual events with our leading journalists
Already have an account? sign in
Register for free to continue reading
Registration is a free and easy way to support our truly independent journalism
By registering, you will also enjoy limited access to Premium articles, exclusive newsletters, commenting, and virtual events with our leading journalists
Already have an account? sign in
Join our new commenting forum
Join thought-provoking conversations, follow other Independent readers and see their replies