Andy Murray bristles at John McEnroe's suggestion he's 'a distant fourth' behind old rivals as he prepares for Queen's
McEnroe claimed this week that Murray remained a 'distant fourth' behind the likes of Roger Federer, Rafa Nadal and Novak Djokovic, but Murray disagrees with his assessment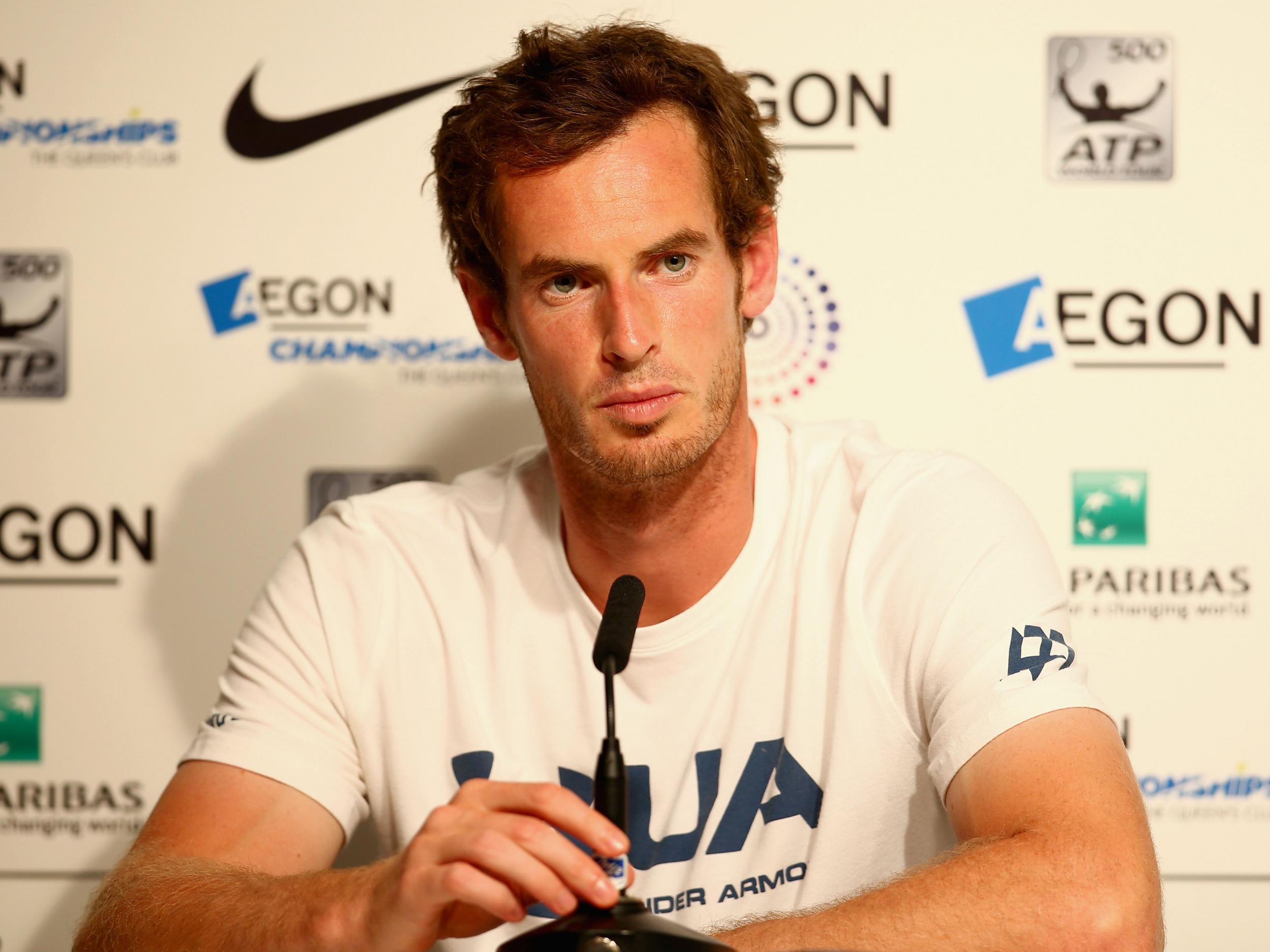 Andy Murray is not usually one to talk up his own achievements, but the Scot does not agree with John McEnroe's assertion that he is "still a distant fourth" in comparison with the three other members of the sport's so-called Big Four.
Asked here on the eve of the Aegon Championships about McEnroe's comments, Murray agreed that Roger Federer, Rafael Nadal and Novak Djokovic had achieved more over the course of their careers but added: "It's not true of the last year because I'm ranked No 1 in the world. I've been better than them for the last 12 months. That's how the ranking systems work. It took me a long time to get there.
"It's not true of the last year, but in terms of the career as a whole, if I could swap careers with those guys I obviously would because they've won a lot more than me."
He added: "If you look at the titles and everything those guys have won, I can't compare myself to them. There's maybe one or two things that I have done that they won't have, but for the most part I would have been fourth. That's if you look at a whole career."
In an interview in the Sunday Times McEnroe had suggested that Murray had always been one of the top four, but "it's been a distant fourth" and "in a way, he's still a distant fourth."
The veteran American thought that even Murray had been shocked at becoming world No 1 and added: "Those three guys are better than him. No disrespect. They're better overall. But you're talking about three of the five greatest players that ever lived, so it's a tall order."
Murray, who will be seeking his sixth Queen's Club triumph this week, has won three Grand Slam titles, while Federer has 18 to his name, Nadal 15 and Djokovic 12. Murray, nevertheless, is the only man in history to have won two Olympic singles gold medals.
"Everyone's criteria for judging a player will be different," Murray said. "If it's purely on Grand Slams, then my Olympic medals mean nothing to that person, but they mean a lot to me."
Andy Murray's difficult 2017
Show all 13
He added: "Within tennis, a lot of people just say: 'Oh that guy was a better player because he won more Grand Slams than that one or that woman was better because she won more Grand Slams.'
"If that's the case, then what is the point in all of us being here today? Why is everyone here covering this event? There are other tournaments outside the Slams as well. Most of the players enjoy competing in them. This tournament over my career is for sure my best tournament and I love playing here."
While Murray has been world No 1 since the end of last year, his position could be under threat from Nadal, Djokovic and Stan Wawrinka in the coming weeks, despite the fact that the Scot got what had been a moderate season back on track by reaching the semi-finals of the French Open earlier this month. His run at Roland Garros had followed a period when he was troubled by illness and injury.
"I am happier with where my game is at," Murray said when asked about his current form. "I feel more comfortable."
Murray, who plays his first match here on Tuesday against his fellow Briton Aljaz Bedene, said that the expansion of the gap between the French Open and Wimbledon to three weeks was a big help in his grass-court preparations. He has been practising on grass for a week now.
"Getting 10 or 11 days after the French Open makes a really big difference compared to just having literally one or two days," Murray said. "It's so much better having the week between them now. It makes a huge difference. It gives you more time to adapt to the courts and let your body get used to playing on grass again."
The second seed here is Wawrinka, who beat Murray in the French Open semi-finals nine days ago before losing to Nadal in the final. Wawrinka will go to Wimbledon needing victory to become just the ninth man ever to win all four Grand Slam singles titles, but the Swiss has rarely played his best on grass – he has never gone beyond the quarter-finals at the All England Club - and insists that he is not thinking along those lines.
"To win a Grand Slam is really tough," Wawrinka said. "I know people are going to ask me that question [about the career Grand Slam], but it's too far to even think about it. There are many, many things that you have to do before to get to the point where you think whether you might win it or not."
Wawrinka, who has brought in the highly experienced Paul Annacone to work alongside his coach, Magnus Norman, described grass as "a challenging surface for my game for sure".
He explained: "It's a little bit faster and you need to adapt your game a little bit. You have less time. You need to think a bit less. You need to be more sure of your confidence and what you're going to do. It's also a shorter season. There are not so many matches to get there. It's always been challenging."
The No 3 seed is Milos Raonic, who lost to Murray in the finals here and at Wimbledon last year but has struggled with some fitness issues in the ensuing 11 months.
However, the Canadian said he was now fully fit again after making changes to his training regime. "I'm doing more of my fitness on the court rather than off the court and in the gym," he said.
"Sometimes maybe I just didn't listen to myself well enough. I thought: more is better. And it didn't seem to pan out that way. The results were good, but just the ability to be able to go out there day after day wasn't what I wanted."
Bedene squeezed into the Queen's Club draw because of late withdrawals. Kyle Edmund is also here by dint of his world ranking, while James Ward and Cameron Norrie have been given wild cards.
Edmund meets Canada's Denis Shapovalov, who in their only previous meeting in the Davis Cup in Ottawa earlier this year was defaulted after accidentally hitting the umpire in the face when smashing a ball away in anger. Ward meets France's Julien Benneteau while Norrie faces Sam Querrey, a former champion here.
Join our commenting forum
Join thought-provoking conversations, follow other Independent readers and see their replies