Andy Murray relishes putting Richard Gasquet's mental toughness to a home test
Paul Newman
Monday 04 June 2012 11:56 Comments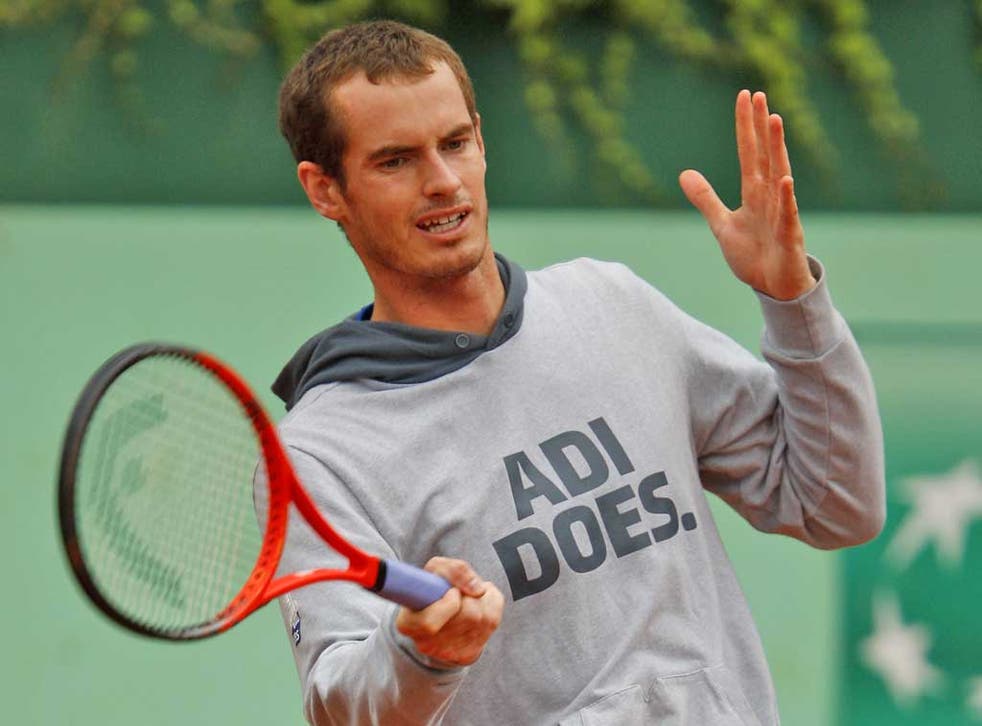 When Richard Gasquet won a 38-stroke rally during his second-round victory over Grigor Dimitrov last week, the effort took so much out of the Frenchman that he could not stop himself vomiting on the court. As Andy Murray looked ahead to his fourth-round French Open meeting with Gasquet today, the Scot was asked if he planned to inflict similar suffering on the world No 20. "That's the plan," he said, with a broad smile.
Virginia Wade may have called him a drama queen after his back troubles against Jarkko Nieminen last week, but Murray loves it when the going gets tough and Gasquet is on the other side of the net. The world No 4 has won all three of their Grand Slam meetings – Gasquet has won all three of their matches in other tournaments – and he has twice done so after losing the first two sets.
Murray's fourth-round victory over the Frenchman at Wimbledon four years ago showed the benefits of the Scot's fitness regime. At the end of the match Murray celebrated by rolling up his sleeves and flexing his bulging biceps.
It remains to be seen how he will be affected in the coming weeks and months by the back problem he has had since the end of last year, but during his hugely impressive victory over Santiago Giraldo on Saturday there were no signs of any repeat of the back spasm that had affected him in his previous match.
As for his overall fitness, Murray does not expect to suffer like Gasquet did last week if they play any similarly long rallies. "In practice you try to replicate stuff you might do in a match," Murray said. "Points like that can be hard to come back from, but you hope you're conditioned well enough to deal with it."
For all Gasquet's wonderful skills – he comes the closest of any player to matching Roger Federer's elegance – the 25-year-old Frenchman does not have a reputation for mental toughness. He has often performed poorly in the Davis Cup and he has a poor record at his home Grand Slam tournament. He has lost in the first round four times and in eight visits to Roland Garros had reached the fourth round only once before this year – he lost to Novak Djokovic 12 months ago.
When it was suggested that Gasquet's victory over Murray in Rome last month might have been a sign of new mental strength – Gasquet fought back to win after losing the first set – the Scot did not sound impressed.
"It depends on how you go about the match against him," Murray said. "In Rome I don't feel I played particularly well. I hope I'll keep my foot down a bit better than I did there. That's the key. I don't know if he's changed. You would need to ask him."
Murray said he would relish the challenge of playing Gasquet in front of a partisan home crowd. "You can often draw energy from a crowd that is against you," he said. "If you don't want to play in those sort of matches, with that sort of crowd, there is not much point in playing tennis. You should really try and enjoy that and I'm sure I will."
While Murray said he did not necessarily regard himself as the favourite, Gasquet disagreed. "I think it's always better to play him on clay than on grass, but he's in the top four and has been for quite a while," the Frenchman said. "It's up to me to play a big match, to play really inside the court, which is what I managed to do in Rome during the third set."
Grand slammed: Murray v Gasquet
Wimbledon 2008 4th round:
Murray won 5-7, 3-6, 7-6, 6-2, 6-4
Gasquet served for the match at 5-4 in the third set, before Murray mounted a thrilling comeback.
French Open 2010 1st round:
Murray won 4-6, 6-7, 6-4, 6-2, 6-1
Murray trailed by two sets and a break but Gasquet tired quickly from that point onwards.
Wimbledon 2011 4th round:
Murray won 7-6, 6-3, 6-2
After a tight first set, Murray dominated, playing some of his best tennis of the tournament.
Register for free to continue reading
Registration is a free and easy way to support our truly independent journalism
By registering, you will also enjoy limited access to Premium articles, exclusive newsletters, commenting, and virtual events with our leading journalists
Already have an account? sign in
Join our new commenting forum
Join thought-provoking conversations, follow other Independent readers and see their replies