Andy Murray vs Marinko Matosevic: Murray unruffled by 'pig-headed' opinions of Aussie Mad Dog on women coaches
Marinko Matosevic caused offence with view on women coaches but Scot says his next opponent at the Australian Open is 'just a bit different'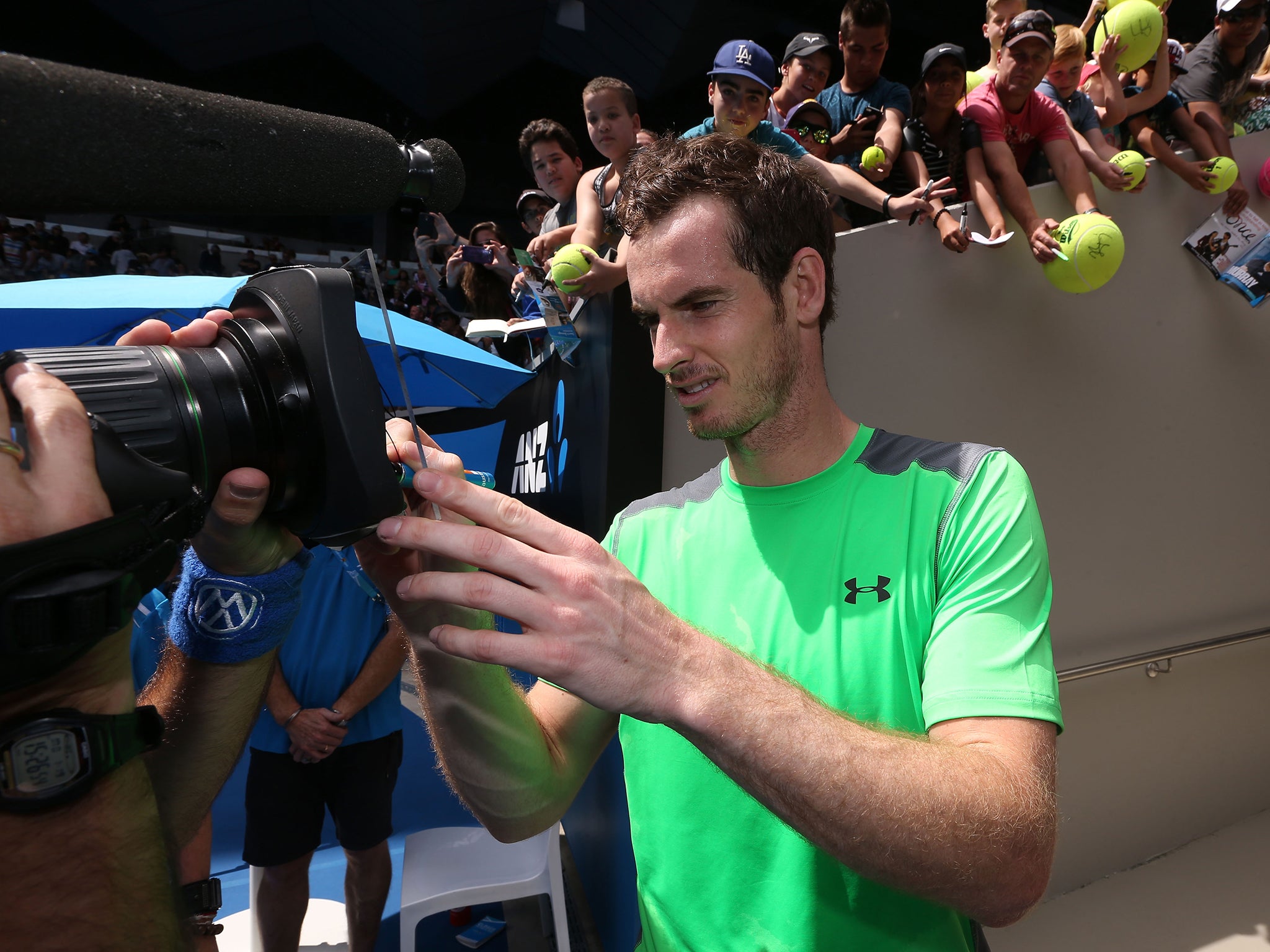 It was no surprise that Marinko Matosevic, who meets Andy Murray here on Wednesday in the second round of the Australian Open, was not asked the same question that was put to the Scot at his post-match press conference on Monday.
Murray, who enjoys watching women's tennis, was asked for his opinion of a young Czech player, Karolina Pliskova. The world No 6, speaking after his 6-3, 6-4, 7-6 first-round victory over India's Yuki Bhambri, gave a detailed response, noting in particular Pliskova's big serve and aggressive returns but suggesting she could work on her movement.
Matosevic's views on women's tennis became clear last summer when he was asked what he thought about female coaches in the wake of Murray's appointment of Amélie Mauresmo. "I couldn't do it since I don't think that highly of the women's game," Matosevic said. "It's all equal rights these days. Got to be politically correct. So, yeah, someone's got to give it a go. Won't be me."
Sam Stosur called her fellow Australian "pig-headed" at the time. Murray, however, likes Matosevic and thinks he is misunderstood. He revealed last night that the 29-year-old had been quick to apologise for those comments.
"He spoke to me immediately about it when it was in the papers," Murray said. "He spoke to my mum about it and apologised and he apologised to Amélie. He's the sort of guy who can say something and he doesn't necessarily mean anything bad with it, if that's his opinion.
"If he doesn't want to work with a female coach then that's absolutely fine – and that's the case with many players. But I'm not offended by it and I get on absolutely fine with him. He's just a bit different. When someone's different, people want to have a go at them but he's a good person."
Matosevic has a reputation as a joker and drew a laugh from Rafael Nadal when they played in Monte Carlo two years ago. On the brink of defeat, Matosevic deliberately kicked over the Spaniard's meticulously positioned water bottles.
The world No 81, who is 6ft 4in tall and weighs nearly 14 stone, is nicknamed "Mad Dog" by some Australians but does not like it. "Some idiot put it on Wikipedia," he said. "Mad Dog, what is that? Like a dog with rabies?"
Murray said: "He's one of those guys who in some ways gets a bit of a hard time. He's a bit different, he's a bit out there, but he works exceptionally hard, he doesn't mess around when he's practising and he respects all of the players.
"He's a good guy. I get on well with him. As a player he's just a bit erratic, but when he plays well he's a tough guy to play against because he's strong, he's a good ball striker and he's a very good athlete. He is just a bit up and down from time to time."
In Matosevic's three career meetings with Murray – at Queen's Club two years ago, at the French Open last year and at the Hopman Cup in the first week of the current season – the Australian has not won a set.
Australian Open 2015 in pictures
Show all 54
It was at the French Open last summer that Matosevic finally won a match at a Grand Slam tournament at the 13th attempt. He said the win felt like "a huge gorilla off my shoulders". On Monday he made hard work of winning here for the first time in his career, beating the world No 127, Russia's Alexander Kudryavtsev, 6-4, 6-7, 4-6, 7-5, 6-3 after three and a half hours.
Murray was not at his best but never looked in trouble against Bhambri, a former world junior No 1 who is now No 317 in the senior rankings after missing a substantial part of last year through injury. Although Murray was broken twice, he was generally pleased with his serve.
"I need to continue serving well," Murray said. "That helps against whoever you're playing against. When you play against a big guy [like Matosevic], who likes to go for his shots, if you can keep good weight and depth behind your shots, that can frustrate them. I'll try and use some variety to throw his timing off a little bit.
"I'll just continue doing what I've been doing the last few weeks," he added. "I've been playing very well in the practices and striking the ball cleanly in the matches. If I keep that up, I'll keep getting better each round."
Join our commenting forum
Join thought-provoking conversations, follow other Independent readers and see their replies