Angelique Kerber enjoying the benefits of being leaner and meaner
German is in fine form having lost weight and adopted a more aggressive game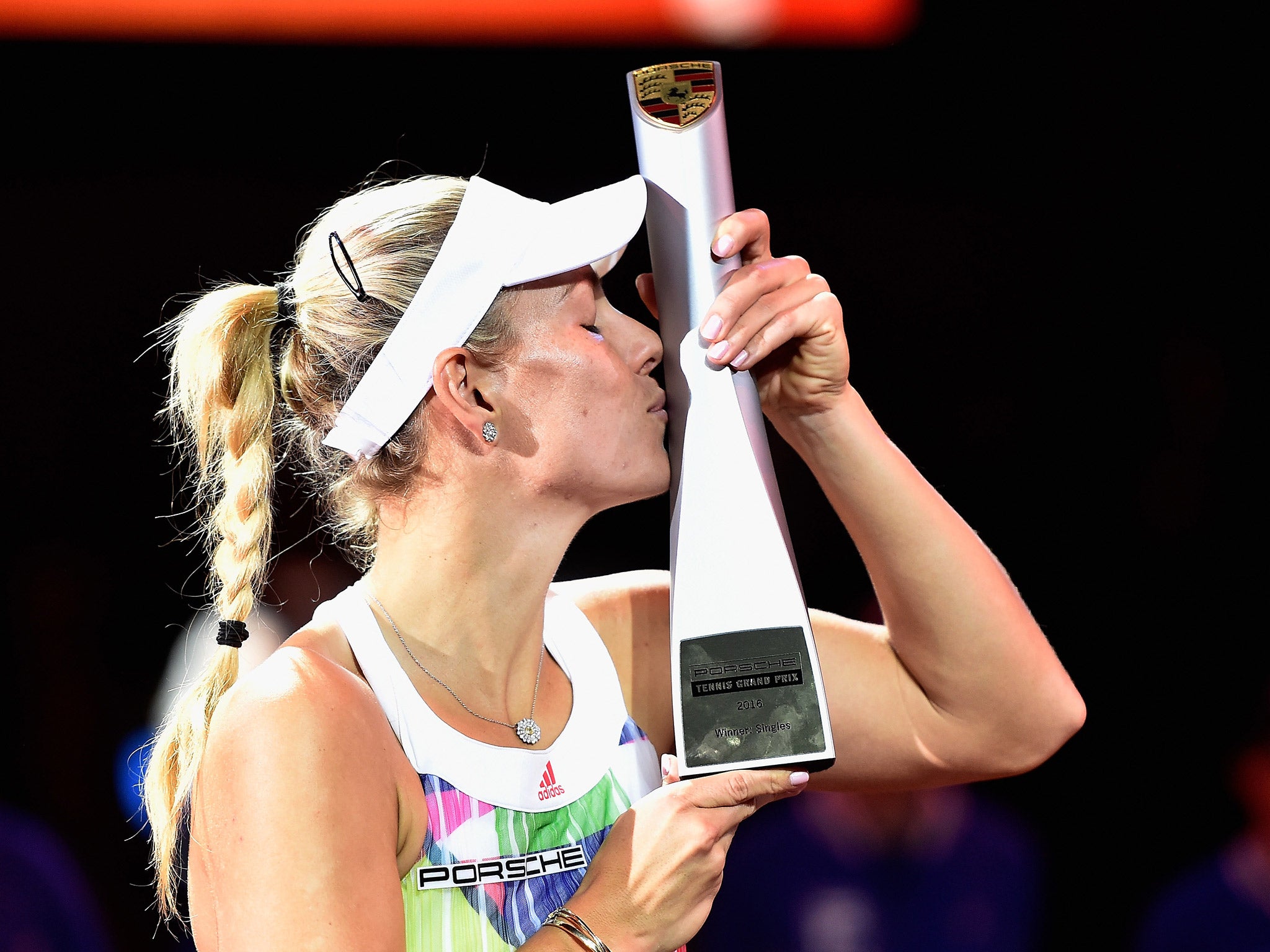 What Angelique Kerber has lost in kilogrammes she is gaining in the weight on her trophy cabinet shelves. The 28-year-old German, who won just three tour-level titles in her first 12 seasons following her professional debut in 2003, claimed her first Grand Slam tournament at this year's Australian Open and took her trophy haul to six in the last 13 months with her victory at the Porsche Tennis Grand Prix in Stuttgart on Sunday.
Improved fitness has been a key to Kerber's success this year, which has seen her become a major contender for the sport's biggest prizes. If her victory in Melbourne came out of the blue – she won her first Grand Slam title in her 33rd tournament at that level - Kerber's latest success in Stuttgart has established her as one of the favourites for the forthcoming French Open, which starts in less than a month's time.
"I'm feeling quicker and I'm feeling that I can run for longer because after a long point I feel can go again immediately," Kerber tells The Independent. "I'm feeling fitter than I did in previous years, though of course it's something I've always worked on.
"I think in the last pre-season I maybe improved my fitness by two or three per cent. It's given me a lot of confidence when I go into, for example, three-hour matches. It also helps me to recover faster between matches. What also gives me a lot more confidence is that in the biggest moments I can beat very good players."
She adds: "I lost a few kilos [over the winter] and I think that has helped me to get quicker and helped me run better and longer. I wasn't focusing on losing weight and I don't know exactly how much I lost, but I think it helped."
While Kerber never looked like a player with a weight problem, she is noticeably leaner than last year. There also seems to be extra confidence about her. As she sits back in a chair between training sessions, she is clearly at ease with her new-found status as one of the big names in women's tennis. The first German to win a Grand Slam singles title since Steffi Graf claimed her last in 1999, Kerber is in big demand with the media in her own country, as was evident in the presence of so many journalists in Stuttgart last week.
Being quicker and fitter has been one reason for Kerber's success this year, but other factors have also been important. She has always had a reputation as a great defensive player who could keep forcing opponents to hit the extra ball, but this year she has added a more attacking dimension to her game. When the opportunity is there, Kerber will go for her shots in an attempt to finish off points.
Kerber decided to change her approach in consultation with her coach, Torben Beltz. "In the middle of last year we had the feeling that to improve my game we needed to do something – not big things, but some things to improve," she says. "It was tough to do that in the middle of the season, so we sat down after [the end-of-season WTA Finals in] Singapore and discussed what we should do. He suggested these changes, but I was feeling the same way. We were speaking the same language.
"My game was always about good defence. What I've been working on is the change from defence to being more aggressive. This is what worked very well for me in Australia and I've tried to keep on improving that. I want to be good on the defence, but when I get the chance I want to go for it."
Until last spring it seemed that Kerber's best chances of success would always be on quicker surfaces. She had reached her first Grand Slam semi-final at the 2011 US Open and made the last four at Wimbledon the following summer. She still has only one quarter-final to show from her eight appearances at Roland Garros, but three victories since last April at important clay-court tournaments – two at Stuttgart and one at Charleston – have proved that she can compete with the very best on this surface.
"On clay you know that you have much longer rallies and you must run for maybe two or three hours," she says. "I've played some great matches on clay courts, so I hope that this year will be one of my best clay-court seasons."
By the middle of last summer Kerber had won titles in 2015 on three different surfaces – on clay at Charleston and Stuttgart, on grass at Edgbaston, and on hard courts at Stanford. "Last year gave me a lot of confidence," she says. "I had a lot of long, three-set matches and I knew that I could still improve."
Whatever happens on clay Kerber will also be looking forward to the grass-court season. Last summer she won her first grass-court title at Edgbaston, beating Jelena Jankovic, Sabine Lisicki and Karolina Pliskova along the way, and she usually performs well at Wimbledon, where she has lost to the eventual runner-up in three of the last four years: to Agnieszka Radwanska in the semi-finals in 2012, to Eugenie Bouchard in the quarter-finals in 2014 and to Garbine Muguruza in the third round last year. She has also lost to British opponents at three Wimbledons: to Elena Baltacha in the first round in 2008, to Naomi Cavaday in qualifying in 2009 and to Laura Robson in the first round in 2011.
"Everybody loves Wimbledon, with all the tradition and everything else," Kerber says. "I've played well there. I've reached the semis and the quarters. I like to play on grass. It's good for my game."
Beltz, as her coach, has played an important part in Kerber's tennis development, while one of the greatest influences on her career has been her grandfather, who owns the tennis centre (which is named after her) in the Polish town of Puszczykowo where she lives. Kerber, who lives next to her grandparents, having moved there from Kiel in Germany three years ago, usually trains between tournaments in Puszczykowo, which is near Poznan. She also did her off-season training there over the winter.
"My grandfather has always believed in me and was always supporting me," she says. "He's always been a very close person to me. I think without him and my grandmother I wouldn't be here. There were a lot of tough moments in my career when I was wondering what I should do and they always said: 'If this is what you want to do, just do it.' They have always been behind me."
Kerber, who was born in Bremen but moved to Kiel when she was one, has Polish blood on both sides of her family and has Polish and German passports, but insists: "I feel German, that's for sure. I grew up in Germany, I went to school in Germany and most of my friends are there. I play for Germany. There's no question about me not being German."
Not surprisingly, the Polish tennis federation have tried to persuade Kerber to represent their country. "They came to me and we had a discussion, but for me I'm German."
Germany's other female Grand Slam singles champions
Steffi Graf holds the Open era record for Grand Slam singles titles (22). She won Wimbledon seven times in nine years between 1988 and 1996
Cilly Aussem was the first German of either sex to win Wimbledon. She beat her fellow countrywoman Hilde Kranwinkel in the 1931 final. Aussem also won the title in Paris that summer
Hilde Sperling won the French championships three years in a row from 1935, beating France's Simone Mathieu on each occasion
Join our commenting forum
Join thought-provoking conversations, follow other Independent readers and see their replies