Aryna Sabalenka: I don't support war so I don't support Alexander Lukashenko
The second seed did her first press conference in six days after beating Elina Svitolina to reach the semi-finals.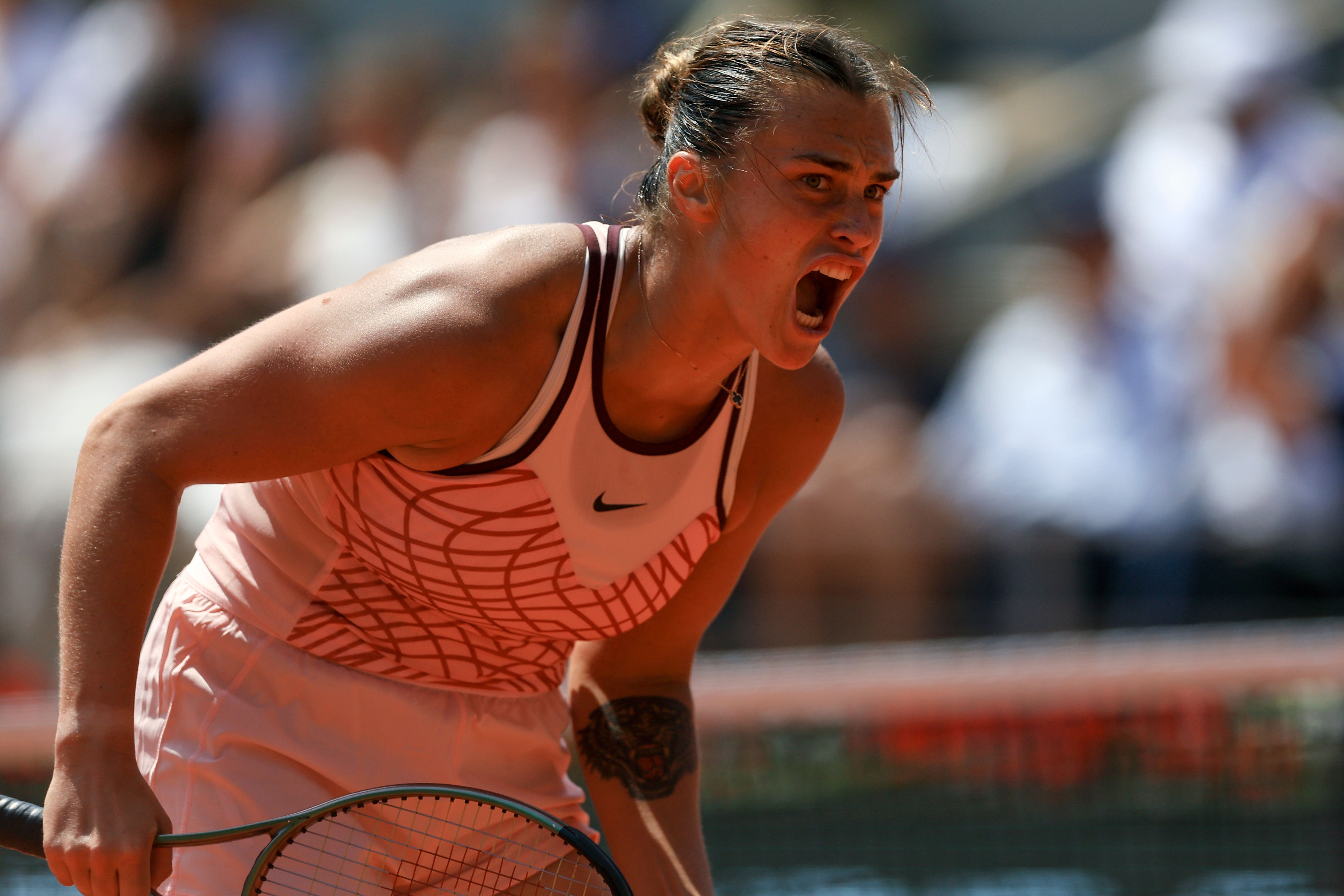 Aryna Sabalenka came out against Belarusian president Alexander Lukashenko after returning to the French Open press room and facing another barrage of off-court questions.
The Australian Open champion refused to speak to the general tennis press after her third and fourth-round matches following tense exchanges with a Ukrainian journalist.
She changed that stance after beating Ukraine's Elina Svitolina 6-4 6-4 in the quarter-finals amid more boos from the Roland Garros crowd and immediately was pressed further on her political stance.
Sabalenka has previously been pictured with Lukashenko and, asked if she still supported him, the 25-year-old said: "It's a tough question. I don't support war, meaning I don't support Lukashenko right now."
Sabalenka said she had struggled to sleep after the incidents in the previous press conferences, which she claimed left her feeling unsafe, but did not regret her decision to step away from the press room.
"I always really respect press conferences," she said. "I'm always open in my answers. I really felt bad not coming here. I couldn't sleep. Like all those bad feelings were in my head.
"I don't regret the decisions. I felt really disrespected, and I felt really bad. I mean, grand slam, it's enough pressure to handle, and I just tried to focus on myself, on my game.
"I'm always open. You can ask whatever you want. You will get all the information. But, in the last press conference, I felt like my press conference became a political TV show, and I'm not an expert in politics. I'm just a tennis player."
Sabalenka also came under scrutiny for her conduct at the end of the match against Svitolina.
Ukrainian players have been resolute in their stance of not shaking hands with Russian and Belarusian opponents but Sabalenka stood at the net apparently waiting for the gesture she must have known would not come.
Svitolina, who had given a thumbs up to previous Russian opponents Anna Blinkova and Daria Kasatkina, walked straight past her and was loudly booed, with more jeers accompanying her as she walked off court.
Svitolina was distinctly unimpressed, saying: "I don't know what she was waiting (for), because my statements were clear enough about the handshake.
"My initial reaction was like, 'What are you doing?' I made multiple statements that I'm not shaking hands, and she played obviously Marta (Kostyuk) as well the first round. So it's quite simple."
Asked if she felt Sabalenka had inflamed the situation, Svitolina said: "Yeah, I think so, unfortunately."
The Belarusian insisted it had not been deliberate, though, saying: "It just was an instinct like I always do after all my matches."
On the reaction, Sabalenka added: "I think she didn't deserve all this boos. I'm giving such a big respect to her, what she's doing after giving birth. It's impressive and I'm really impressed by what she's doing."
In her first grand slam since the birth of daughter Skai last October, Svitolina has enjoyed one of her best grand slams.
A handful of Ukraine flags were evident among a sparse crowd as the match began and Svitolina traded game for game until Sabalenka forced a first break point at 4-4 and crunched away a return off a weak second serve.
Svitolina made a fast start to the second set, moving 2-0 ahead, but could not convert a game point in the next game and Sabalenka began to really make her extra power count, moving into a 4-2 lead.
With the patrons now having finished their lunch and fully engaged, they tried to will Svitolina – who was watched by husband Gael Monfils – into a comeback, but Sabalenka held her nerve.
Despite the defeat, it has been a brilliant fortnight for Svitolina, who will return to the top 100 next week.
"This year was difficult and different on the court, off the court, with you guys here, with your difficult questions, and overcoming difficulties, as well," she said.
"Even though I'm sitting here dealing with it today, I feel like I won in so many ways."
Sabalenka is not the only player to have skipped press conferences this tournament, and Svitolina added: "Definitely, I think it should be equal for everyone.
"I faced difficulty also with the question about Novak (Djokovic), about his statement about Kosovo. So I'm not escaping. I have my strong position and I'm vocal about that. I'm not going to try to (make people like me) by betraying my strong belief and the strongest position for my country."
In the last four, Sabalenka will meet unseeded Karolina Muchova, who earlier defeated Anastasia Pavlyuchenkova 7-5 6-2 to reach her second grand slam semi-final.
Muchova, 26, suffered an abdominal injury during her run to the semis at the Australian Open that kept her out for seven months and she was ranked outside the top 200 as recently as September.
With her run here, Muchova is set to return to the top 20, and she said: "It's been an incredible two weeks and I'm just glad I'm still in the competition."
Pavlyuchenkova has also found form here after knee surgery kept her out for most of last season but the 2021 runner-up is now set to miss the grass-court season because her ranking was not high enough to get her into Wimbledon.
Join our commenting forum
Join thought-provoking conversations, follow other Independent readers and see their replies