Australian Open 2018: Home hope Ashleigh Barty thriving under the pressure ahead of season opening slam
Exclusive interview: A run to the third round of last year's Australian Open helped launch Barty's remarkable comeback and she's in even better form this time around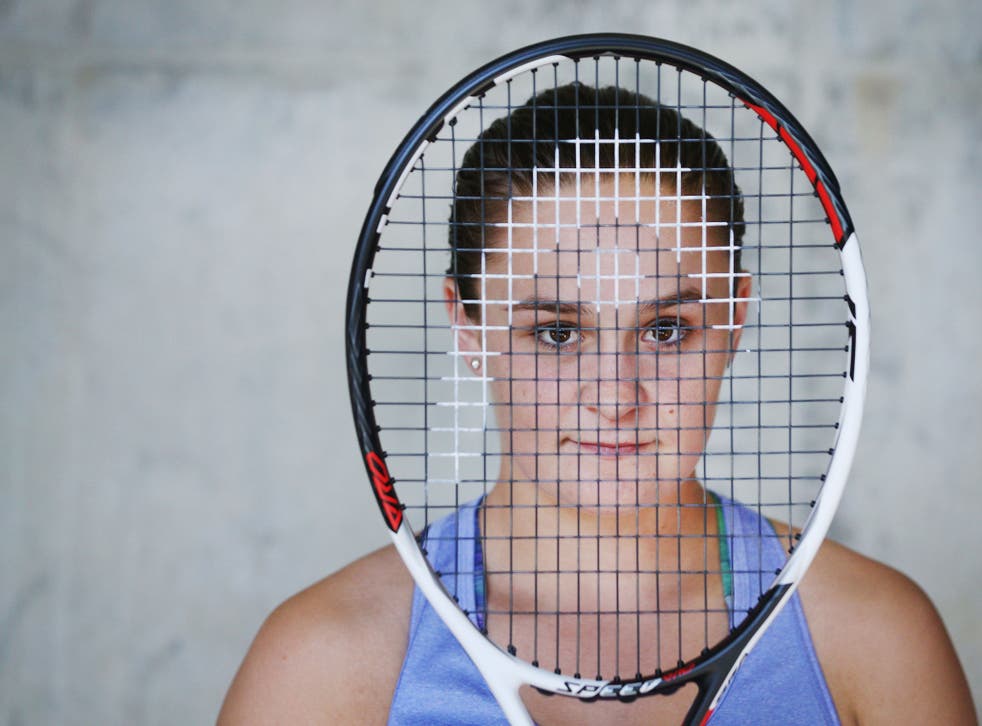 Playing in your home country can be tough. Sam Stosur, a former US Open champion and world No 4 who was for so long the standard-bearer for women's tennis Down Under, has never gone beyond the fourth round in 15 appearances at her home Grand Slam tournament here at the Australian Open.
When you consider that Ashleigh Barty, Stosur's successor as Australian No 1, gave up the sport for 18 months after apparently wilting under the pressure of life on tour, you might have expected that the 21-year-old Queenslander would also struggle with the weight of expectation in her homeland.
So far, however, the world No 19 appears to be relishing the experience. A run to the third round of last year's Australian Open helped launch a remarkable comeback and Barty has been cementing her place in her fans' affections this week at the Sydney International. A 3-6, 6-4, 6-2 victory on Friday over Daria Gavrilova sent Barty into tomorrow's final and underlined the good form she has found going into the Australian Open, which starts here on Monday.
This week's triumphs followed a great sequence of results in 2017, which Barty started ranked No 325 in the world, having begun her "second" career in the sport the previous summer.
Barty was an outstanding prospect when she won the girls' title at Wimbledon in 2011 and was soon knocking on the door of the world's top 100, but after the 2014 US Open she walked away from tennis. Instead she turned to cricket and played for the Brisbane Heat in the Women's Big Bash League, Australia's domestic Twenty20 competition.
"I had my break for certain reasons, personal reasons," Barty said. "I think it was just that I knew in myself that was what I needed. If I was going to play tennis, if I wasn't going to play tennis, for me that didn't matter. I just needed to take a break and mentally refresh and restart."
She added: "For me, it was a no-brainer to take a break. Where I was in my life, at that stage, it was the only way for me to have a possible career in tennis, if that makes sense. I just knew I needed to step back and refresh. It was a really, really good 18 months of my life. I was able to relax and just enjoy. I feel like I'm much better for it now."
Barty enjoyed being out of the personal spotlight. "I had never played a team sport when I was younger," she said. "I think the group of girls that I played with were a really genuine group. They just made it a really good time."
Having quit tennis, Barty had taken a phone call from a physiotherapist working with the Australian women's team. "I knew her from when I was 10 or 11 years old," Barty said.
"She just called me and said: 'The Aussie girls are up here for a training camp. Do you want to come out to dinner?' I was like: 'Yeah, sure, I'll come and catch up with a few of them, share a few different experiences.'
"Then they invited me to a training session. I had a bit of a bat and a bowl, tested out a few of the skills. The Queensland team just kept inviting me back."
Johanna Konta's route to the Australian Open final

Show all 8
Barty had "never really held a real cricket bat" before and her only experience of the sport had been "mucking around in the backyard" with a tennis ball.
"It was an exciting challenge," she said. "I think the girls in the group could have easily just dismissed me and left me on my own, but they welcomed me with open arms and made me feel a lot more comfortable."
Although Barty said she was "very mediocre" at all aspects of cricket, she insisted it had been "a good experience".
One thing Barty had missed most during her spell out of tennis was spending time with her fellow Australian player, Casey Dellacqua, who eventually helped to persuade her to return.
"Casey is like a big sister to me when we're travelling," Barty said. "I didn't know that I was going to start playing again until I went and saw her. We had a hit, just went out for a bit of a hit and giggle. She was coming back from a bit of a rough period she had as well.
"So it was good to see her again, to see my mates. Tennis has been a part of my life since I was five years old. It felt natural for me to come back eventually."
While she had enjoyed playing a team sport, Barty said it was the individual nature of tennis that she found most appealing. "You love the competitive one-on-one aspect, where you look across the net and you're trying to beat your opponent," she said. "You're doing everything you physically can to win on that day. I think every single girl in the locker room is super-competitive and that's why we're here."
Barty began her comeback two summers ago at the Aegon International in Eastbourne, where she reached the semi-finals. By the following February her first WTA title in Kuala Lumpur had taken her into the world's top 100. She reached the finals at Eastbourne and Wuhan and by the end of the year was in the world's top 20, while in doubles Barty and Dellacqua became the first all-Australian pair to make the French Open final for 46 years.
"She's a great player," Johanna Konta said this week. "She's been playing better and better. It was very impressive and incredible what she did last year, having not played for a bit of time and taken time away from the sport."
Stosur believes that one of Barty's biggest strengths is her tennis brain. "We spent a little bit of time together playing Fed Cup," Stosur said. "She always had a really good tennis head. We would be talking about whoever it was we were playing against and she would say: 'I played her and she does this, this and this. When I did this, she didn't like that.'
"She's really analytical and picks up different plays from different players really quickly. I think she reads tennis really well.
"She's got every shot that you need out on court. She's comfortable slicing, she can hit a big first serve, she can kick her second serve. She's a very talented player. She's got everything. It's just a matter of putting it all together."
Barty puts her recent progress down to maturity. "I've been in the situations a few times when I was younger, so I'm able to handle them a little bit better now," she said. "I feel like I'm stronger on the court. My game's more complete. I've moved in the right direction."
Register for free to continue reading
Registration is a free and easy way to support our truly independent journalism
By registering, you will also enjoy limited access to Premium articles, exclusive newsletters, commenting, and virtual events with our leading journalists
Already have an account? sign in
Register for free to continue reading
Registration is a free and easy way to support our truly independent journalism
By registering, you will also enjoy limited access to Premium articles, exclusive newsletters, commenting, and virtual events with our leading journalists
Already have an account? sign in
Join our new commenting forum
Join thought-provoking conversations, follow other Independent readers and see their replies