Roger Federer sees off Alexander Zverev to book his place in the last four of the ATP Finals in London
Federer was too strong in the final set, winning 7-6 (8-6) 5-7 6-1
Luke Brown
Tuesday 14 November 2017 23:55 Comments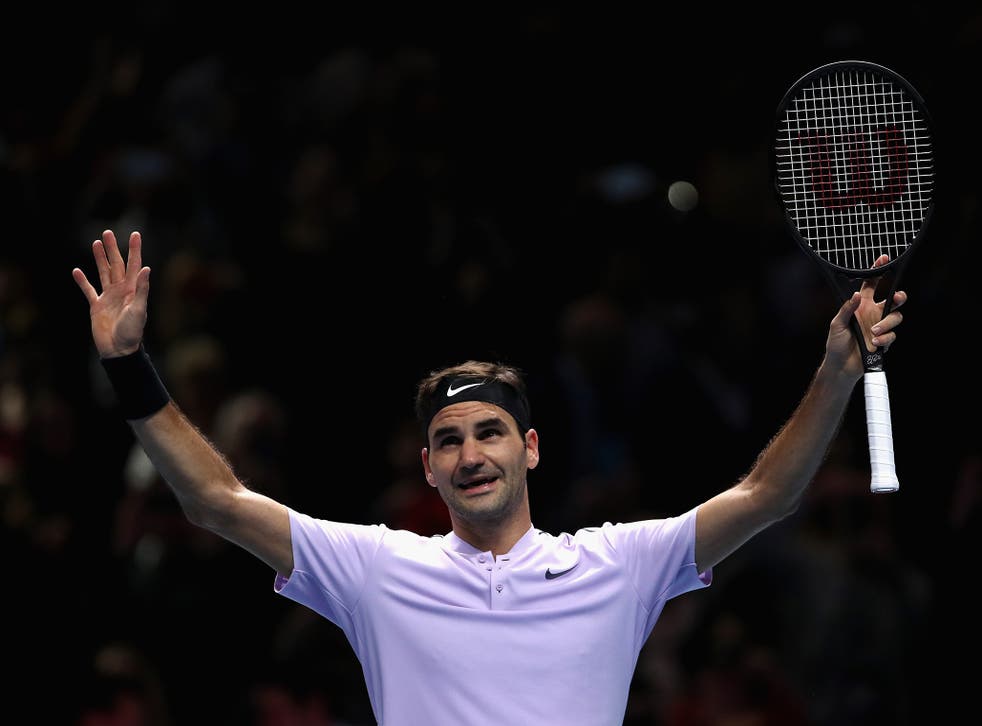 Roger Federer kept his campaign for a record seventh World Tour Finals title on track at the O2 Arena last night, as he saw off the challenge of 20-year-old Alexander Zverev to book his spot in the semi-finals of the tournament.
36-year-old Federer dropped the second set against his younger opponent but won the third at a canter, to take the match 7-6 (8-6) 5-7 6-1.
Zverev can still join Federer in the semi-finals but must now beat the American Jack Sock in his final group match on Thursday.
"It was a good battle and I always enjoy myself at this beautiful arena," Federer commented after his win. "I have so much fun playing in London and I have been so successful here. Thank you for making it such a special night."
But, having lost the second set to Zverev, it almost threatened to be a disappointing night for Federer, who is the overwhelming favourite to win the tournament after Rafael Nadal withdrew with a knee injury on Monday.
Federer was a set and a break up when Zverev rallied in the second, fighting back to take the Swiss into an unexpected third. But the youngster, who was in Milan for the Next Gen Finals last week nad played in an exhibition match, tired in the third and was unable to prevent Federer from breaking him three-times in a row to take the match.
After his win, Federer was keen to offer his young rival some words of encouragement, ahead of his showdown with Sock later in the week.
"I don't think I qualified for this event until I was 21 in Shanghai," he said. "It was a dream for me to be part of it, where the best players take part and you can slog it out against them, knowing you're only going to get better.
"I'm excited for Alex's future. He's a wonderful guy and a great, great player.
"I am happy and relieved that I can play freely against Cilic, instead of it being a nail-biter. It's been a tough group so to be through in two matches is great."
Earlier, Sock kept his hopes of reaching the knockout stages alive by fighting back to beat the Wimbledon runner-up Marin Cilic in a dramatic final-set tie-break.
Just days after Cilic threw away a break in the decider to lose to Zverev, he managed the same against Sock, who prevailed 5-7 6-2 7-6 (7/4).
Sock was the last man to qualify for the season-ending tournament and is the bottom seed in London, but now knows a victory over Zverev will seem him progress to the semi-finals.
And, on court after his victory, Sock revealed he was particularly pleased with the result considering his less than ideal preparation.
"That was a tough one for sure," Sock said. "It's been an interesting morning, a fire alarm went off at 4am and we all had to exit our hotel so it was a long morning.
"My coach growing up nicknamed me 'showtime' when I was young because I loved playing in front of people.
"There's always a lot going on in my game. Even I don't know what I'm going to do sometimes but it keeps it fun and I'm looking forward to the next one.
"I'm just excited to win and keep myself alive."
Register for free to continue reading
Registration is a free and easy way to support our truly independent journalism
By registering, you will also enjoy limited access to Premium articles, exclusive newsletters, commenting, and virtual events with our leading journalists
Already have an account? sign in
Join our new commenting forum
Join thought-provoking conversations, follow other Independent readers and see their replies